Bhargavi Swami is combating corporate stress with classical music
Updated on Feb 26, 2020 01:59 PM IST
Enlightened with the fresh knowledge of science behind music, propelled her interest in it beyond just a medium of expression. Soon it transformed into livable, provable, tried-and-tested therapy.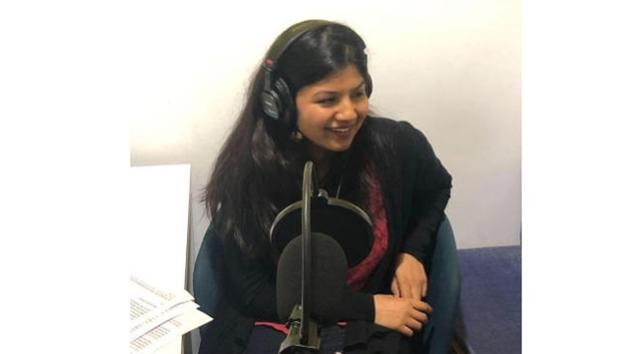 The endeavour to stay calm in a highly stressful corporate environment is definitely a tough ask. Add to it the strain of being a second generation entrepreneur to corporate culture. Bhargavi Swami, the CEO of Excel Corporation, a HR and Brand consulting company, can vouch for that.
Amid walking a tight rope of wearing several hats, Bhargavi is an entrepreneur as well as a Podcaster, it becomes all the more imperative to maintain one's equanimity. And it is here that her love for music comes in handy as being a musician herself, it helps her beat all the stress that her work entails.
Coming from a family of musicians, it's no surprise that Bhargavi started young. She remarks how most South Indian families pick out certain encouraging routines for their children to be good in academics, classical dance, music lessons and training their inexperienced palate to savour the vast flavour profile of south Indian cuisine.
Bhargavi's mother, who herself is a Veena player, exposed her and her sister to the world of music at tender ages of 2 and 4, respectively. As a child, she was listening to Abba, Eagles, Michael Jackson alongside the great legends of Indian Classical Music like Smt. M.S. Subbalakshmi, Pt. Ravi Shankar, Zakir Hussain, Hariprasad Chaurasia and many more.
"Music has always been and still is a big part of my life. I trained under exceptional Carnatic Classical teachers with my longest association being the Belur Sisters - Smt. Radha Thandaweshwar. It was during this training I got introduced to the theory behind classical music which fascinated me. The association of rhythm and beat with Math, Physics and Biology with sound resonance – both within our body and in the instruments we play – captivated me beyond measure," says Bhargavi.
Enlightened with the fresh knowledge of science behind music, propelled her interest in it beyond just a medium of expression. Soon it transformed into livable, provable, tried-and-tested therapy that is now ever so popular in aiding treatments for conditions ranging from mental illnesses to chronic diseases.
Bhargavi has been singing, listening to music and composing tunes for as long as she can remember. She believes she has improved and is much better at it after having performed across country and a few international venues with her 'Guru', Smt. Radha Thandaweshwar. With the blessings of her 'guru', Bhargavi has also essayed into teaching students the basics of Carnatic classical music to adults in a modern manner, being a big believer of 'no such thing as age to learn music'.
Performing and playing for assorted, distinguished crowds has imparted valuable lessons that she has been successfully implementing while being at the helm in a corporate boardroom. A sure-shot boost to her confidence, personality development, self-belief, open-mindedness, and critical thinking are just a few of the positive takeaways from her experience as a performer.
Being deeply associated with Classical Music didn't deter Bhargavi from getting influenced by mainstream Bollywood tunes. Being a linguist, she enjoys and admires music in various languages, with the Maestro A.R. Rahman being her all time favourite Indian composer. "Call me biased, but being a native Tamilian from Bangalore, the chances of not having been influenced by his music is super rare," Bhargavi says. Apart from A.R. Rahman's compositions in all languages, she loves the music produced by Salim-Suleiman, and Amit Trivedi , especially for his brand of quirky soulful music that today's millennial generation connects with. Bhargavi adds: "I sometimes believe I am an old soul trapped in a younger body. I would have loved to live and belong in the 60's and 70's era of Classical Music across the world - from Jazz and Blues to Ghazals and Kalaams."
Apart from her musical endeavours, Bhargavi's business podcast show, aptly named, 'People Who Matter' has seen some crazy creative methods of promotion – like releasing a teaser promo video for its second season - a first of its kind done anywhere in the world! Drifting along with her creative stream, she is presently exploring the exciting world of OTT Platforms.
Soon enough, Bhargavi will be donning yet another hat which is of script and screenplay writing for web series. "This is truly an interesting phase and I believe I am only getting started," she says.
Starting out young has given her the benefit of age and time on her hand, and keeping that in mind she is absolutely determined to take full advantage of it. Bhargavi is currently working on multiple ventures she has invested in.
Her HR firm, Excel Corporation has been awarded as the top HR consulting company by Insight Business Magazine and one of the top 5 by Silicon India. Her Podcast has recently been noted as one of India's Top Podcasters via OpenTalk and boasts a Subscriber base of over 2 Million across the world.
At the moment, her company is working on new training programmes on leadership, spear-heading and moderating various Panel Discussions on 'AI in Talent management', 'Revolution of HR in Fintech and Startup Hiring', and many more business endeavours. Bhargavi says., 'this is definitely the next phase of my career, where I will spend more time on innovation and reinvention of existing ideas and formats of work."
Disclaimer: This is a company press release. No HT journalist was involved in the creation of this content.
Personalise your news feed. Follow trending topics