Bringing a paradigm shift in UI/UX training with skill-based programs
Updated on Oct 21, 2020 03:01 PM IST
ITLH, a skill-based learning and training center emphasizes on a pool of real-time projects for students to enhance their skills.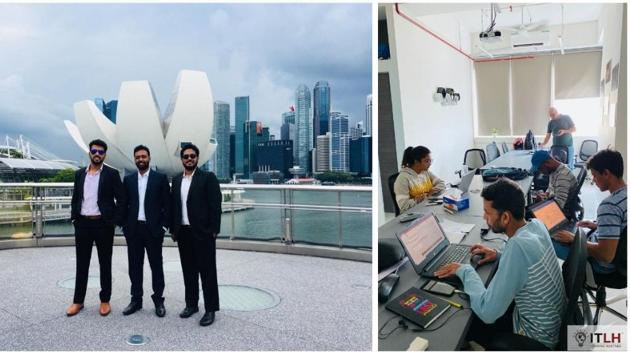 This is the story of how and why an IT company felt the need to redefine learning by creating their training centre - ITLH. Here's a bit about their journey and what they are trying to achieve. The sole reason that made them look into this new domain was the realization of the dire need for redefining learning.
In a conversation with founder Alex George, he said, "It is no new information that there needs to be a major upgrade in our education system. We have still not completely adapted to project-based learning, which is focused on skill development, aligning with the industry demands and standards. This disparity causes a major hindrance for students across the country to secure a job. That is also one reason why our employability rate in today's time in various industries is a single-digit figure. Mind you, there is no dearth of talent in the country, but rather they lack a platform."
How did it all begin?
ITLH is a sister organisation of Centillion, an IT company based in Singapore and Mumbai. At Centillion, they observed a recurring talent crunch in the design and development niche. This became the conceptualization point for ITLH. As they say, necessity is the mother of invention.
Alex further added, "When there is a burning problem faced by all that can no longer be ignored, when we truly understand the pain point, one has to do something to fix it. The team sat to brainstorm and identify the problem - the rising unemployment and poor quality of education. We aimed to build an institute, which in its ethos would bridge the gap between students and the industry. Our entire program was built on the foundation of practical and experiential learning.
We roped in industry experts who trained our students as per the industry norms and our students worked on real-time projects. ITLH being an initiative led by Centillion, we had a pool of real-time projects that our students could work on. Soon, our community grew and our organization evolved into an established independent functioning unit. 5 years later, we have a community, where our students have become entrepreneurs, secured great packages in companies, some have joined us as trainers and facilitators for our programmes."
Global alignment
Earlier this year, Google announced that the degree doesn't matter for the UI/UX role in the company. Not only this tech pioneer, but many other companies are also about to follow the same trend.
One thing that is common between Google, Apple, Ernst & Young, Tesla, IBM, and Hilton is - they don't want you to flaunt a degree. ITLH gives students a chance to understand how design functions across various countries. This awareness makes you a professional fit for a global platform.
For the past five years, the institute has been busy crafting some of the highly seasoned professionals in the field of Full Stack Web Development, Mean Stack Development, Machine Learning, and UI/UX.
Amith Mohan from ITLH says, "One of the key reasons why companies are eyeing for ITLH graduates is its extensive learning program. Here, a student gets a chance to gain impeccable competency in UI/UX concepts. If you think about it, the lack of employment is an outcome, not the reason. We are tackling the problem of employability here." Amith Mohan is one of the Co-Founders of ITLH and also the Director of UI/UX of Centillion Tech PTE Singapore.
The student journey is designed in a way that it includes ample assignments and projects for every module that are being taught. At the end of the program, they are given a final project from Centillion. On successful completion of the same, they are given an internship letter from Centillion. ITLH has their own freelance community, wherein they get modules of projects from Centillion and the students can bid for these projects and constantly build their profile and become more efficient with their hands-on skills.
This is their humble way of providing the kids with a platform which is a part of their journey. Their mission just gets stronger when Google and the likes of it are also adopting a similar path of skill-based learning and skill-based hiring.
Unhindered Learning
The training institute backed by UI/UX experts in the IT industry also believed that the pace of quality content has been maintained even in the time of the pandemic. The institute uses best-of-breed online learning methodologies to ensure learning shouldn't be hampered. Even the online sessions are kept one-to-one for the same reason. Keeping the Covid-19 situation in mind, ITLH has encouraged partnerships towards companies that offer remote work. They offer ample job opportunities to students and give them a platform to explore their skills and cement their feet in the world of UI/UX designing.
ITLH Success Stories
Shardul, an alumnus of ITLH says, "The way ITLH infused practical knowledge on key UI/UX concept was commendable. The institute has highly skilled faculties who don't mind going the extra mile in helping the students." At present, Shardul is enjoying a stable career in a top-notch firm."
Faisal, another alumnus of ITLH, is currently working at BookMyShow. From a stable job to even self-made entrepreneurs like Chirag, who founded the company Betmount or Daphne, who was one of the only 4 students in her college to have bagged a job at Ingram Micro, one of the world's largest IT distributors. Our students have chosen diverse paths and continue to excel in it.
"One of the most beautiful moments of self-accomplishment that we get out of ITLH is when we see our students get placed on the basis of their skill set and hard work, and we have just been the platform providers of their growth," says the Co-founder of ITLH, Sudhir Jadhav. On a closing note, the team stand remains, "We won't stop till we have achieved our goal - to redefine learning and to provide a global platform for skill-based learning. Join us in our movement."
Source: Digpu
Disclaimer: This content is distributed by Digpu News Network. No HT journalist is involved in creation of this content.
Personalise your news feed. Follow trending topics