Bt cotton drives socio-economic transformation among Indian farmers
Published on Jun 04, 2021 03:32 PM IST
Despite the challenges of misinformation, the technology has enjoyed the confidence of farmers, researchers and policymakers, due to the attributes of genetically engineered hybrid seeds and the results observed in the field in terms of pests control.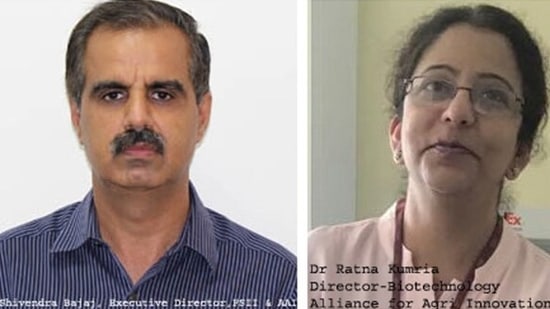 In the year 2022, Bt cotton will complete two decades of cultivation in India. Despite the challenges of misinformation, the technology has enjoyed the confidence of farmers, researchers and policymakers, due to the attributes of genetically engineered hybrid seeds and the results observed in the field in terms of pests control that lead to increased yield and farm remuneration. The extent of achievement can be drawn from the fact that about 11.7 million hectares (93.6 percent) of total 12.5 million hectares under cotton cultivation in 2019-20 was planted with Bt cotton seeds.
There is no doubt that Bt cotton has not only benefitted the farmers, but also the textile industry, oil industry and boosted our economy. According to the Directorate of Economics and Statistics, Ministry of Agriculture, Government of India, over the last decade, cotton yields in the country increased by more than 300%; pesticide consumption reduced by ~ 50%; acreage increased by 150% and production increased by 400%. This technological advancement enabled over 7 million farmers earn an additional farm income of USD 16.69 billion. While yield increase was not a claim for the Bt technology, excellent control of bollworms led to reduced stress on the crops that resulted in higher yields. Before Bt cotton was used, the total income per hectares was ₹7,558 in the rain-fed area. However, it went up to ₹16,000 in rainfed areas and even up to 25,000 in irrigated areas within a decade.
Over the last 20 years, the partnership between farmers, seed and biotechnology companies, agriculture universities and scientists, rural trade, Central and State Governments and the user industry have enabled India's cotton revolution by doubling production to claim the world's second highest producer and exporter spot. The benefits of Bt cotton technologies in high-yielding hybrid cotton seeds along with improving farming inputs and favourable market conditions has helped create Rs. 31,500 crores (PG Economics, UK) additional value for cotton farmers by significantly reducing insecticide usage and increasing yield1.
It took 36 years to double the yield per hectare in India from 100 kg in 1950-51 to 200 kg in 1986-87. From 1992 – 2000, the decade average was 300 kg/ ha. Biotechnology in cotton, post its introduction in the year 2002, has led to nation-wide transformational changes in cotton cultivation with doubling of cotton yields from 241 kg/ hectare in 2002 – 2003 to 541 kg/ hectare in 2018 – 2019. According to the BKS-CSD study2, this has led to significant increase in farmer incomes from higher yields and reduced usage of insecticides thereby helping generate an additional farm income of over Rs. 42,300 crores.
A paper published in Proceedings of the US National Academy of Sciences3 stated that Bt cotton adoption has raised consumption expenditures, a common measure of household living standards by approximately 18%. It added that Bt cotton had created large and sustainable benefits which have contributed to positive economic and social development in India.
The benefits of Bt cotton have spread beyond just the farming community. Since 2002, Bt cotton technology has boosted the fortunes of the Indian cotton seed industry by giving technology access to small and medium-sized seed companies. This has enabled companies to invest in innovation, improve their cotton seed germplasm and adopt various mechanization options in the fields. Numerous stakeholders across the cotton value chain – seed industry, ginners, textile industry have benefitted from the technology. Not surprisingly, over the last decade, while the cotton seed industry (consisting of more than 90% share for Indian seed companies) has grown 8 times from Rs. 0.45 billion in 2002 to Rs. 40 billion in 2018, the Indian textile industry which today employs over 0.04 billion workers continues with large-scale investments. Besides India, farmers in many other nations have benefitted due to Bt cotton cultivation e.g. USA, China and Australia.
Several studies by third-party economists, sociologists and others2,4,5,6,7 have established 85% of hybrid Bt cotton seed farmers and farm workers invested in better education for children; 77% reported better intake of nutritious food; 75% better health of their family members; 64% invested on health of livestock; female workers on Bt cotton fields earned average 55 per cent higher income; and 42.4 crores additional days of rural employment have been generated in recent years by farmers doubling cotton production using hybrid Bt cotton seeds on over 90 per cent of acres. In a study conducted by IIMA, the performance of Bt cotton relating to other factors and inputs like Bt genes, hybrid, pesticides, fertilizer, irrigation and agroclimatic zone was affected by multicollinearity but indicated a significant impact of Bt as yield determinant. Its estimated impact on yield and profitability was found to be 22 and 35% respectively8, 9.
It is important to understand that it is not just the technology that contributes to increasing yields. India's farmers face numerous uncertainties and crop management challenges, which affect farm yields and incomes and knowledge of cultivation and correct agronomic practices make a significant impact. What is required today is an increase in extension efforts, to help increase knowledge of good agricultural practices amongst India's agrarian communities. It would also be worthwhile to note that GM seeds have helped conserve biodiversity with higher productivity from limited acreage, thus the expansion of agricultural land into forest areas has been greatly curtailed in several countries.
Farmers continue to face numerous challenges in their fields – increasing labour costs for cultivation – cost of labour is more than 40% of the total cost of cultivation in many crops as per the statistics published by the Government of India - or pest attacks where crop protection challenges exist. Increasing temperatures and climate change pose new challenges. Even today farmers are using a 15 year old technology to mitigate latest pest incidence in Cotton. Indian agriculture today needs new technologies to maintain the competitiveness of its farmers on global platforms.
Disclaimer: This is a company press release. No HT journalist is involved in the creation of this content.