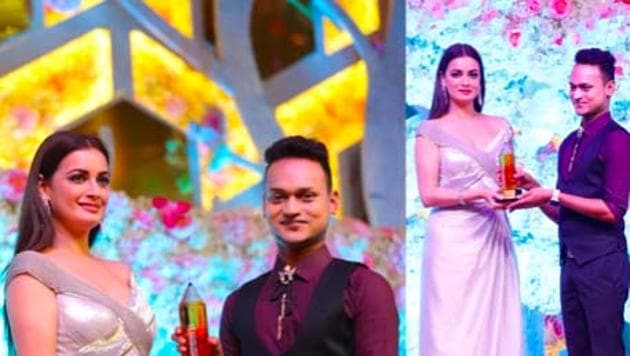 Celebrity makeup artist Aditya Kumar Sharma awarded by Dia Mirza
Aditya believes that makeup is a powerful form of expressing who one truly is and works around this ideology while styling someone.
UPDATED ON SEP 28, 2020 05:41 PM IST
Aditya Sharma, a renowned and well-established name is the make-up industry, was duly rewarded with the national level Ravishing Design Awards which was presented to him by Dia Mirza under the category of Best Bridal and Celebrity Makeup Artist in 2018. This was a huge milestone in his journey which began initially, in 2015, when he started freelancing as a stylist and worked diligently for two continuous years with his eyes on the final picture. Intrigued by the art of makeup since childhood, Aditya Sharma envisioned a dream and sprinted towards the finish line without thinking about the hurdles and criticism that might come his way for choose an unorthodox career path. At a young age of 24, this truly self-made man, has succeeded in making a respectable place for himself in the makeup industry. Coming down from Lucknow to the city of glamour, Mumbai, Aditya knew that not everything will be served to him on a platter.
After gaining some on-ground experience as a free-lancer he went onto take up a professional course at the Balaji Group of Institutions, Faizabad. Then there was no stopping him, he moved on to work with esteemed banners like SaReGaMa, ZeeTv and various other shows where he styled numerous contestants as well as jury members. In 2017 he was awarded to be the Most Favorite Makeup Artist in the Ravishing Beauty & Wellness Awards which was presented to him by Raveena Tandon. He continued to perform his exquisite make-up skills on celebrities like Himesh Reshammiya, Raveena Tandon, Neha Kakkar, Pooja Gaur, Ridhi Dogra, Aditya Narayan, Mohit Malik, Samiksha Jaisawal, Ratan Rajput and wishes to put his skills into use and style Kangana Ranaut. Since then he has been hosting various makeup seminars and workshops to take his art forward and keep evolving with the latest trends.
Within a few years he has become a very popular name amongst the celebrities all because of how deeply he relates with hair-styling and makeup and how effortless yet elegant his work is. His ability to perceive the right kind of look keeping in mind the occasion and his subject is uncanny. Aditya believes that makeup is a powerful form of expressing who one truly is and works around this ideology while styling someone. He aims to achieve international recognition for his work.
Coming from a city like Lucknow, he always wanted to set up his own makeup studio in his hometown and make celebrity level makeup available there, and like every other thing on his checklist, he has managed to tick this off as well. Aditya has his own makeup studio in Lucknow named 'Aditya Makeup Studio Academy & Unisex Salon' and he takes pride to have brought such respect and recognition to the town where his roots are.
As a beauty influencer he has motivated individuals that no dream is ever too big. Aditya has had the experience to work in possibly every stream of styling from bridal makeups to fashion show, portfolio shoots to party makeovers. The secret ingredients to this story definitely are the hunger to make a name for oneself and the happiness that your work should bring to you.
Disclaimer: This is a company press release. No HT journalist was involved in the creation of this content.
Close