Dinesh Shahra Foundation conducted a host of activities for people affected by floods & lockdown in Maharashtra
The Foundation was also bestowed with an Award for Excellence in Philanthropic Contributions by the Times of India Group.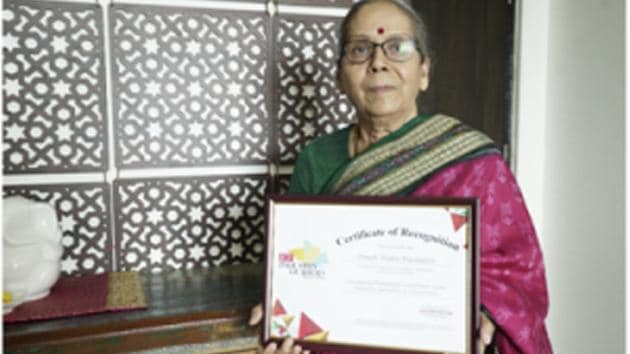 Updated on Dec 07, 2020 05:50 PM IST
Mumbai: Providing relief to victims of flood and other natural calamities has been of the prime objectives of the Dinesh Shahra Foundation (DSF). With this motto in mind, Team DSF along with few village volunteers and local government bodies of Varai Taluka of Raigad district in Maharashtra recently carried out a food donation drive for flood hit people. Varai area of Raigad is in the interior and not much relief aid had reached out there to people who had lost their loved ones, homes, means of income and farmlands during this calamity.
The food relief contained ration supply of essential grains, groundnuts, ghee, jaggery and sanitizers. The food distribution was conducted under the presence of village Sarpanch of Varai in a local municipality school. Moreover Gausewa (Service to Cows) was also undertaken by the Foundation along with a Tree Plantation initiative in the area.
During the lockdown phase due to the pandemic outbreak, people who were daily wage earners had to face a severe financial and existential challenge. The most one can do during such crisis times is to help as much as one can in whatever ways possible. DSF believes that the essence of spirituality & service is a conscious response to the present moment out of care and compassion. With this philosophy DSF team in collaboration with Gagan Giri Seva Trust distributed meals to needy people in various locations of Mumbai during the lockdown.
DSF also bagged a coveted accolade for 'Outstanding Philanthropic Contribution across Education, Spirituality & Environment' from the Economic Times (Times of India Group). Prominent actor and Padma Bhushan & Padma Shri Awards recipient – Anupam Kher presented the honour to the Foundation through a virtual awards ceremony televised recently. Ms Meera D Rajda, Director received the accolade on behalf of the Foundation.
The Dinesh Shahra Foundation has been founded out of gratitude for all the knowledge capital gained by Shri Dinesh Shahra, over the last 50 years. The Foundation is built with an intention to 'Give Back' to the entities that are responsible for material and spiritual development of the society. Spirituality, Sustainability and Education are the core causes of DSF. Besides, the Foundation also contributes its bit for disaster relief like victims of floods, earthquakes, and other natural calamities.
For more information, log on to: https://www.dineshshahrafoundation.org/
Disclaimer: This is a company press release. No HT journalist was involved in the creation of this content.
Close Story
Personalise your news feed. Follow trending topics