e'clat makes mark in skin care with users leading marketing campaigns
Updated on Sep 21, 2020 04:36 PM IST
Incidentally, the advent of social media has made customers aware of brands and multiple options available in the online space.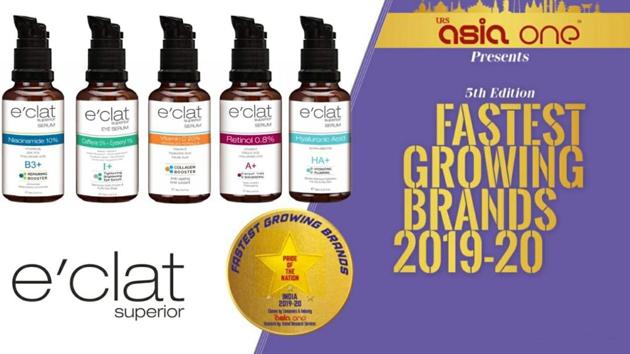 Atifa Akbar, a home-maker and mother of two kids from Moradabad, Uttar Pradesh, had recently been worried with a host of skin issues. Concerned with the facial skin issues, Atifa reached out to her cosmetologist to get the remedies. She had firstly tried home-remedies, but there were no immediate benefits.
With worries mounting, Atifa's cosmetologist prescribed use of "e'clat Superior Facial Serum". Launched for the first time in India, e'clat has been steadfastly working on innovation in designing and formulation of skin-care products. Its primary focus has been using best ingredients and combining them in a way to help their products target specific skin concerns for customers.
Within weeks of using the serum, Atifa pleasantly noted her skin getting better and better. With regular application of the serum, she found that her skin was more hydrated, growing plump and youthful. With improvements in the skin texture, she sensed confidence coming back, and she took to social media to share her experiences of using the "e'clat Superior Facial Serum".
With a large number of people facing skin issues, Atifa began getting audiences on social media, as her videos hit more views. Atifa's personal experience and the first hand use of the serum in a way helped "e'clat" become a popular brand among the Indian skin-care enthusiasts. She even started a cosmetic line of her own.
With confidence regained, Atifa by dint of her dedication and hard-work was able to dream for a better life and her family, and set out to make it a reality. She now runs her business successfully with a sense of empowerment and self-assurance gained from "e'clat".
Incidentally, the advent of social media has made customers aware of brands and multiple options available in the online space. With numerous brands and products available across various platforms, customers are in a constant dilemma in making the right choice from a big pool of options. To help them make informed decisions in choosing the right products, customers themselves are sharing their reviews of products, ranging from cosmetics to gadgets, on the online platforms. Referred to as an influencer culture, this trend has made it easier for customers to get their queries and doubts addressed from persons who have already used the products. With customers gaining more brand awareness even while competition in the market gets more stiff, it has become imperative for brands to be careful of products and their claims while launching them in the market. Indeed, from the constitution of the product to packaging, each step has become crucial for careful planning.
In fact, skin-care is seen as an area neglected in daily lives of the people. With pollution levels rising in cities, skin care is all the more important, remarks the experts. Customers, naturally, are always on the lookout for products that could address their skin concerns, besides saving their precious time and money by avoiding buying too many unnecessary products. With consumers becoming conscious over time, brands are now under pressure to deliver high quality products and focus more on developing targeted solutions to address skin issues.
Disclaimer: This is a company press release. No HT journalist was involved in the creation of this content.
Personalise your news feed. Follow trending topics