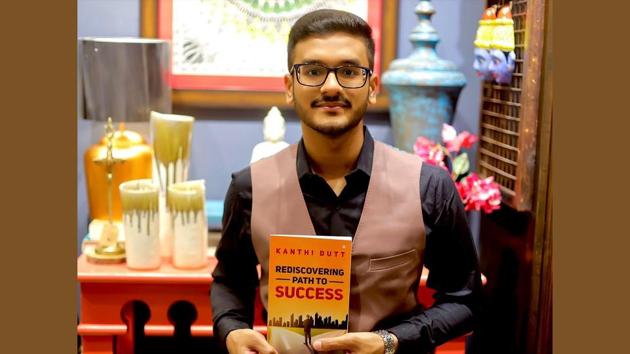 Entrepreneur & author Kanthi Dutt's tailored path to success - from Zilch to Bigwig
Kanthi has proudly launched his book, 'Rediscovering Path to Success', which handholds you through the Y-junctions of your life while helping you understand the hows and whys of the life-altering decisions.
PUBLISHED ON AUG 20, 2020 07:28 PM IST
Age was truly no bar for Kanthi Dutt, who had set out on a journey to break stereotypes and carve out a unique niche for himself in the business world. Starting his career at the age of 12, Kanthi Dutt is a well-established businessman from Hyderabad, India, and is a proud owner and CEO of a branding solutions & entertainment company named Spartans Media.
Currently at the age of 20, on his 8th work anniversary, Kanthi proudly launched his book Rediscovering Path to Success, a self-help book that handholds you through the Y-junctions of your life while helping you understand the hows and whys of the life-altering decisions. Within the covers of the simple yet majestic self-help book, find practical solutions to rediscover your path to success. (grab your copy at https://www.amazon.com/dp/1649517122).
For this youngest self-help author & entrepreneur, coming from a non-business background, pushed him through a lot of challenges of which ageism was a major concern in shaping his career. Ageism played with his emotional strength. Over the years, Kanthi has worked with many leading brands like Freedom Healthy Cooking Oils, Bajaj Electricals, Colors TV, Reebok, TruJet Airlines, Coca-Cola to name a few. He has closely worked with several politicians in building the right campaign strategy during the elections.
Understanding the importance of literacy and basic education, Kanthi Dutt has also founded 1CroreTees, a smart social initiative to raise funds for creating better literacy standards in rural areas. For his huge body of work, Kanthi has been awarded the Best Young Entrepreneur by Vizag District Business Forum and Telangana Rashtra Sarwabhowma Award 2019 by the Government of Telangana.
Kanthi has had made his mark as a business strategy consultant as well. His mantra of hard work, determination and smart managerial skills have gone ahead to prove that age is no bar to achieve anything in life. Apart from acing his entrepreneurial ventures, Kanthi is also focused on helping enterprising young minds by investing in several startups. Kanthi says, "One should have an immense interest along with the zeal to attain proper knowledge about a subject to choose a career path."
He stresses on few critical skills every entrepreneur should focus to develop - Research, Focus, Effective Communication, and Cash Management – which will help one to understand the market, increase productivity, build connections and ensure profitability in the long run.
Kanthi adds, "One should pursue the dream goal with utmost self-respect & consciousness. Knowing your true self is very important in your journey." His book talks about reinventing interests and redefining goals at any point of time in life regardless of one's age.
He believes that it is never too early or late to become successful in your life. Being an entrepreneur comes in with a lot of responsibilities. The constant hustle to the hit the ground running and carve a place for themselves in the competitive business world always brings in a lot of excitement and jitters at the same time. He added, "Having a successful career depends on cultivating an enterprising mindset."
Discover more about the young business legend at www.kanthidutt.com.
Disclaimer: This is a company press release. No HT journalist is involved in creation of this content.
Close