eVIDYA : The digital new for success in-view
Nov 17, 2020 04:57 PM IST
It is a digital coaching-training platform to ensure success of even small town aspirants combating the eternal problems of preparation resource accessibility & affordability.
The modern-day teaching-learning strategies have outsmarted the conventional mindset and outgrown physical boundaries. A greater emphasis also needs to be laid on potential jobseekers dwelling in towns other than metros or tier-1 cities, especially in and around North India. The aspirants for a coveted government job in a vast Indian state like Uttar Pradesh are numerous. Thus, this justifies the need for instant and convenient delivery of quality learning resources at their doorstep. This was sufficient motivation for Vidya Prakashan, a National Award Winning Publication Giant, to launch its latest of digital coaching-training platform - eVIDYA, the mobile app to ensure success of even small town aspirants combating the eternal problems like preparation resource accessibility & affordability.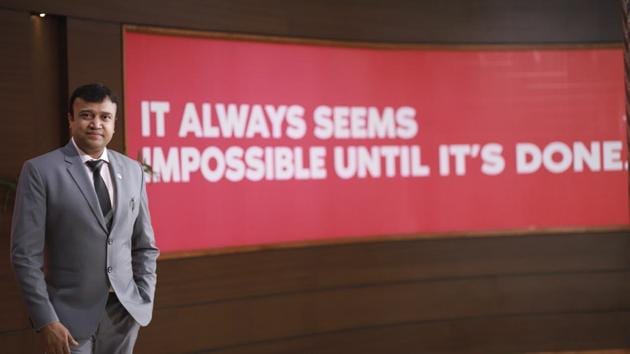 eVIDYA is Future in Making
India has shown tremendous growth in digital education sector in last decade. The phenomenon is even more robust when it comes to online Coaching portals. Besides this, there are lakhs of aspirants residing in tier-2 and tier-3 cities who desire to land a government job but fail to do so for lack of availability, ease and appropriate coaching availability.
"I have always desired to make my parents proud by what I achieve through my academics. I have been looking forward to seal a spot as a government functionary but for the able guidance to sail unscathed through the turmoil around a tricky competitive exam. I couldn't avail best of the coaching as it came expensive and that too at a far-off destination. If eVIDYA can fit the bill, life will certainly become easy for aspirants in a city like ours", told Afsha Ansari, a forward-looking student of BSc final year in Saharanpur, an industrial town in West U.P.
Without a sincere doubt, these competitive tests are tough nuts to crack in absence of well-trusted-brands in this mid-urban coaching segment to score a job in the much-sought-after government sector. 'Vidya Prakashan' has finally come up with its start-up eVIDYA, to address all your coaching needs and long-pressing-concerns.
Realise Your Dreams through eVIDYA
On a thorough scrutiny we find that famous institutes for such a preparatory program have minimal facilities in not-so-privileged cities as tier-1. Moreover, many of the future-breeders can't even think of taking the giant leap by moving to a metro for paucity of funds and other family-related issues. The eVIDYA is all set to change things for these would-be government top-notches by providing them most suitable learning resources on a click and at negligible costs.
"The challenges infront government job-inclined modern-day-students, especially those who reside in tier-2 and tier-3 cities, prompted us to perceive eVIDYA as a pathbreaking solution to all their woes. Preparing for crucial government Competitions was never so convenient and affordable, as on offer now, through our comprehensive online- coaching-interface. The students who have successfully cleared their Class 12th Boards are eligible to apply for our e-coaching regimen now. I would put it simply as a Phenomenal Confluence of Technology and Coaching for the benefit of all its stakeholders," remarks Saurabh Jain, MD, Vidya Prakshan, and an entrepreneur-of-recognitions abound.
It's not all but just a prelude to a brilliant script which is yet to unfold. The 'eVIDYA' initiative shall also involve major stakes of other key players in the e-coaching industry in shape of Mentors and Institutes of repute.
eVIDYA's Launch Pad : The State of Uttar Pradesh
With Vidya Prakashan having its operational base at Meerut & Delhi, eVIDYA commences its maiden journey from the historic city of Meerut itself. As a matter of Corporate Social Responsibility, the digital coaching initiative aims at catering to the government competitions-tied aspirants all across Uttar Pradesh initially. The State of Uttar Pradesh offers a huge challenge to the digital education markets with its 75 districts and 67.68 % literacy rate (2011 Census). The new-to-horizon eVIDYA is expected to rise to the demands of its next-door consumers through its innovative e-coaching facility which is going to bridge the existing social and learning gaps, for sure. eVidya, an easy ecoaching solution serve the learning needs keeping strong emphasis on the ease in the language of instruction.
" Preparing for different departmental exams to grab an otherwise-elusive job, with the Indian government at State or Centre, has been a monumental task for me. I kept hopping coaching institutes in search of a deserving one that provided quality-oriented instruction in English but couldn't find one. The one that could have served the purpose well was as far away as Delhi. This left me stuck in despair and nowhere to go. I am sure that eVIDYA will provide respite to many-a-me while assuring the deserving ones of their Selection in government competitions galore " conveyed a dejected Kapil Gupta, a BSc Computer Science final year student hailing from Allahabad.
The eVIDYA Cutting edge
Once you are a registered user on the eVIDYA app or website you would be able to access the package-of-your-choice on your mobile or desktop and take advantage of all, inclusive in offer. We would customise study plans, conduct two-way live classes, prepare notes for you, clear your doubts, design mock tests for you and even let Toppers from earlier editions reveal it all for you. We intend to let you climb up the ladder to glory sooner than later.
"We at eVIDYA are a 360 degree learning opportunity through e-coaching facility for millions of enthusiastic aspirants along thousands of ready-to-help mentors. We wish to provide a hassle-free digital coaching experience-of-a-lifetime at student's convenience without burning a hole in pockets.", conveys Saurabh Jain, the one who conceived the concept and is at helm of affairs at eVIDYA. Saurabh is an Alumnus of internationally acclaimed Harvard Business School, US and Cardiff University, UK.
We urge you to download our app as soon as you are over scrolling through this to get registered and explore our humble effort for lasting impact on the Aspirants, Mentors and Coaching-hubs with a call "Let's Crack Exams".
Disclaimer: This is a company press release. No HT journalist is involved in creation of this content.
"Exciting news! Hindustan Times is now on WhatsApp Channels
Subscribe today by clicking the link and stay updated with the latest news!"
Click here!