Finding the greys amidst the blacks and whites – the story of a Social Influencer, Abhinav Bhardwaj
A 25-years-old fashion blogger and digital content creator from Ghaziabad, Abhinav has brought new insight into the Indian VFX and animation sphere.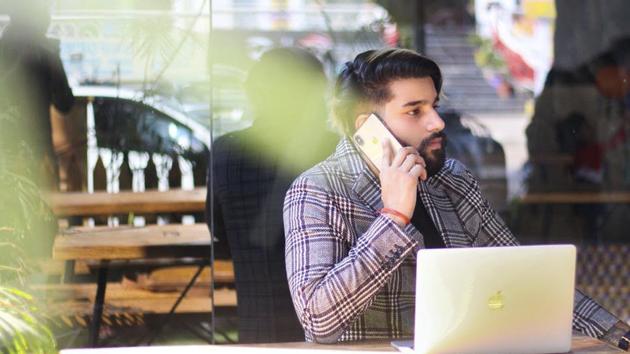 Updated on Oct 30, 2020 07:56 PM IST
Art is the pursuit of perspectives, searching for the conventional in the unconventional and Abhinav Bhardwaj's life story is a testament of the same. A 25-years-old fashion blogger and digital content creator from Ghaziabad, Abhinav Bhardwaj has brought new insight into the Indian VFX and animation sphere. While we normally find inspiration in the conventional good, Abhinav found his inspiration from the story of the king of Lanka, Ravana. Abhinav believes that there is goodness in everyone, even someone we perceive to be the epitome of evil. Ravana, with his many dark attributes, was also a learned scholar, a connoisseur of art and architecture and a just king to his subjects. Abhinav tries to bring the thought that between black and white, it is the grey that is predominant in the spirit of humanity.
Having completed his degree in VFX and Animation from Mahatma Gandhi University, Abhinav went on to show his version of art and graphics to the world which was duly loved by all. His attractive content on his social media has captured the attention of many, with a follower count of 20,000 on his page. He engages his viewers through his stories and posts, each simple yet profound in its expression. His philosophical outlook on life is what drives his urge for creation.
Abhinav aims to bring a positive change in society through his art. The power of simplicity drives home with his work as he promotes the essence of the simplistic vision. This highly creative ingenuity got him to work with big brands like Paytm, Apple, the Cricket Lounge, the Funniest Indian, Confused Indian and more. He has also created promotional graphic designs for several Instagram fashion icons and the Indian Political Party, AAP. His works convey an innate Indianness in them. He takes up recent issues and gives them an artistic outlook, something he believes can change the way people think and can influence their ideas on every aspect. Not only the graphics, but Abhinav has also attracted many through his unique fashion sense. He is regularly active on social media and continuously shares his fashion tips and tricks with his audience. Social and digital marketing strategies shared across his page are also another reason his followers love his posts. His stories and live sessions are interactive and each of them contains a lively discussion on fashion, art, and marketing strategies.
Abhinav Bhardwaj has found his calling in creating art and graphics, and he is passionately following it through. This zeal to bring change through his work is bound to inspire the present generation. At the peak of his life, he is reaching for the stars. While his inspiration is quite unconventional, he inspires thousands quite conventionally. After all, the greys of humans are what defines them - the good and the bad, and the mix of both. Abhinav's art carries its very essence.
Disclaimer: This is a company press release. No HT journalist is involved in creation of this content.
Topics
Close Story