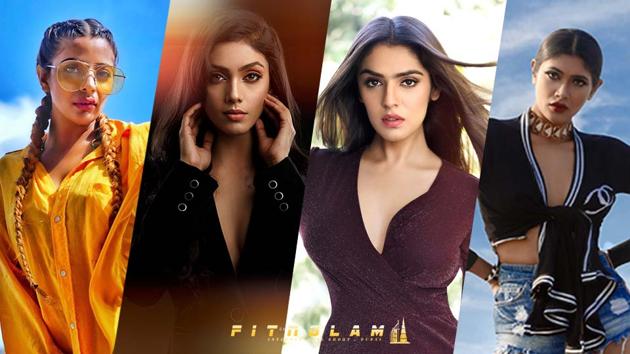 FITNGLAM international shoot season 2 all set to raise temperature in Dubai
Just like the bygone year, the Fitnglam Calendar, season 2 is surely going to be a treat-to eyes with better-looking locations, more svelte models coupled with a lots and lots of oomph.
UPDATED ON SEP 30, 2020 06:58 PM IST
Putting behind the Covid-blues, the young fashion magazine meant for millennials, Fitnglam, is all set for its second edition of calendar shoot event titled – FITNGLAM international calendar shoot, season 2, Last year, the team forayed into the international fashion market with its first edition – which emerged as a huge success. Held in Dubai, UAE during October 9-14 2019, the event garnered rave reviews across the Indian as well as UAE's fashion circuit. In fact, the shoot was such a massive hit amongst the fraternity that the team is doing at the same location "on-demand" and despite the current gloomy times. The founders of the fashion publication Vijay Singh and Sanjeev Jain said, "their email boxes were loaded with requests from several strategic associations from many esteemed organization of abroad" and it was then they decided to take the plunge. The shoot will be again supported by Filmfare Middle East alongside the benign guidance of Mr Rizwan Sajan, Chairman, Filmfare ME.
Just like the bygone year, the Fitnglam Calendar, season 2 is surely going to be a treat-to eyes with better-looking locations, more svelte models coupled with a lots and lots of oomph. To turn this edition more extravagant, Fitnglam magazine will this time shoot at picturesque spots of uber-cool luxury yachts, swanky premium wheels such as, Rolls Royce, Ferrari, Bentley. Talk about locations and the ultra-glam shoot will be shot inside the legendary Burj Khalifa, on sunny beaches as well as sultry UAE desserts.
The models who will be putting the luxury international shoot on fire would be, Sidhika Sharma, Niharikaa Agarwal, Komal Sinha, Natasha, Jahanvee Verma, Aanushka Ramesh, Malvi Malhotra, Ashwini Aher, Renu Kaushal. The international calendar shoot will be amazingly captured through the lens of celebrity photographers, Rajesh Gopinath and Shivam Dua alongside the diligent direction of Cinematographer and art director, Rohit Kumar.
The Event Director of the international fashion shoot, Vijay Singh is a seasoned mediapreneur founder of Fitnglam Magazine. Also a Movie Critic and a Writer, Singh seems greatly delighted on his magazine's second innings. "Our motto has been always to provide quality, global content in print as well digital wings alike. Today with this International Shoot, I am thrilled to see Fitnglam emerge as a constructive disruptor in the media & lifestyle segment and we are basking on this opportunity to take our magazine's reach more forward. We truly feel this is an embark of a new chapter for our brand.," says an elated Singh.
The event will again be spearheaded and curated by the Editor-in-chief of Fitnglam Magazine, Mr Sanjeev Jain, who's also an Investment Banker & Director of Ace Advisors India – a company that deals in Investment abroad, international business expansion.
"Our models are confident, proud of their bodies. They work hard to be fit and signify the strong character of an Indian woman. Our team is professional & thorough with international shoot. We have a team assigned to work for each vertical, right down to the smaller details, supervised all aspects of the shoot and always ensure smooth operations", Sanjeev says.
"The post-Covid UAE and of course Dubai is the safest city to organise a shoot as restrictions are gradually relaxed. If health & safety protocols are followed one can easily roam in and around Dubai," he added.
The models will be styled by Style and Fashion Curators Sanya and Anshula – a duo handling with niche expertise in creative fashion styling. Both are elated to be on-board once again for season 2 of ICS as the team's official styling partners. They are all super-pumped and looking forward to show-off their styling creativity with one of the best team around. For ICS season 2, they will showcase a combination of high-end western wear and high fashion street style and extraordinary extraordinary designs by Neha Mehta Couture, Shilpi Ahuja, First Resort by Ramola Bachchan, Ashish Kumar, Ashfaque Ahmad, Vencer, Luu Liu, Blanche by Vineeta. With an experience for over 5 years, stacking an extraordinary work profile in all fields, they make sure to fulfil the client's needs, while their goal remains to make their clientele stand out.
On the other hand, Shradha Kapoor, a subtle freestyle makeup artist would be joining the team this year as their Makeover Partner. Shradha who's known for keeping it natural yet beautiful is contradictorily planning to create a "pop of colour" "peach and glossy" and an overall playful makeup looks for the International Calendar Shoot, season 2.
Rashi Garg, the Beauty Partner explains her gladness, and says "This is my second season with Fitnglam calendar shoot and I am truly excited to create latest trendy serene looks and to witness a rage that is fast becoming a norm."
The travel for the luxury shoot will be managed by Canvastrips – a fully licensed and bonded destination management firm known for its stupendous work.
Fitnglam International Shoot, remains an initiative to bridge the gap between Indian Fashion Brands and Designers, Fashion and Fitness Models, Makeup artists, Social Influencers by bringing them together on an International Forum. The fashion shoot is expected to see a participation of people from all walks of life and a great media coverage.
Disclaimer: This is a company press release. No HT journalist was involved in the creation of this content.
Close