Five reasons to choose a black diamond engagement ring from flawless fine jewellery
Jan 06, 2021 05:10 PM IST
Black diamonds have an absolute enigmatic beauty and charm, and as such, are perfect for those looking for an engagement ring or wedding band.
If you're looking for an engagement ring for yourself or your partner, you might want to consider a black diamond as the centrepiece for your ring. Here are the top five reasons to choose a black diamond for your engagement ring as well as explain why the 'Black' of Black Diamonds is so different and unique!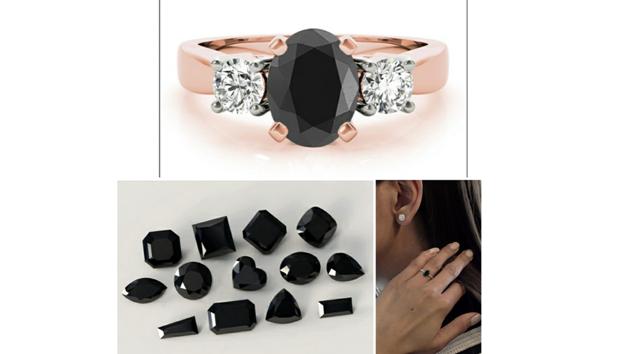 So what is a black diamond ring?
Today, black diamonds are highly sought after. The typical design of black diamond engagement ring will have a large black diamond at the centre which will be paired with a number of smaller, dazzling white diamonds for contrast. The distinctive black appearance of the diamond is due to the large number of minerals within them, particularly graphite. Because of this, Black diamonds have to be cut and polished with extreme caution before being implemented into a jewellery. The overall effect? Black diamonds have an absolute enigmatic beauty and charm, and as such, are perfect for those looking for an engagement ring or wedding band.
It's nothing far from abundance when you enter the Flawless Fine Jewellery showroom in Hatton Garden, London. With so many ring styles to choose from, you are bound to find something that suits your personal taste. But even if you are spoiled for choice, it can sometimes be a little confusing deciding what ring really suits your personal expression and style. With a team of well trained jewellers, their focus is on uncovering the gem that suits your personality, taste and style.
Why choose black diamond?
1. They suit your Unique Style
If you are someone looking for something extra unique and want to stand out from the crowd, Flawless Fine Jewellery can be your go-to choice offering unique and trendy diamond collections for your special day. Over the years our Black Diamond collection has become increasingly popular among people. But what people love about Flawless Jewellery is their diamond collection paired perfectly with people who want something extra unique, often with a gothic, country vintage or art deco aesthetic. Black diamonds also tend to be one of the most neutral stones and are ideal for both men and women. And the best part is that you can see these stones in life in their Hatton Garden showroom.
2. Black diamonds are out of this world, quite literally!
Black diamonds are incredibly beautiful, but one of the biggest questions people generally have about these deluxe precious gemstones is: where do they come from? One theory is that black diamonds may originate from outer space. This notion has been backed up by scientists who believe these carbonado diamonds were formed in supernova explosions, and that they were once the size of giant asteroids! Rare black diamonds have only been found in two places on Earth - Brazil and the Central African Republic - and there is the belief that they fell from space to earth.
But Is this true? Scientists certainly seem to think so, and this is as good as an incentive to consider a black diamond engagement ring when choosing something from our collection. You will carry around a little bit of outer space with you, and if you're buying for your loved one, you will be able to tell them that they are 'out of this world' in line with the ring you are giving them.
3.Black diamonds will impress your Loved one and your Family
A white diamond engagement ring is often seen as the gold standard for proposals, so if you're looking for a ring for the one you love, you have probably considered this option. However, in recent times, there has been a move away from traditional white diamonds to black diamonds instead. While most people tend to go for something traditional, black diamond rings are the perfect choice for those who want to stand out, express personality over old traditions, and who want to have something uniquely beautiful to show off to their friends and family members. This kind of ring will not just tell a story about your love, but about who you are.
4.Black diamonds are at the centre of celebrity fashion
Black diamonds have also seen a rise in popularity because of the famous celebrities that adorn them. A decade ago, Carmen Electra made headlines with her black diamond engagement ring, when she was given it after being proposed to by her Rockstar boyfriend. At the time, she claimed her gorgeous ring was the "perfect" aesthetic for her loving relationship, as like the couple, it was something against the status quo.
Other famous faces who have been spotted with black diamonds include tattoo artist Kat Von D and NSYNC band member Lance Bass, who both sported elegant black diamond rings. Sandra Bullock and Will Smith have both been seen in public wearing black diamond studs. And although she's a fictional character, nobody seems to be able to forget the deluxe black diamond ring that Sex In The City's Carrie Bradshaw wore after being proposed to by Mr Big, a man who clearly had an exquisite taste in jewellery. If the rich and famous are wearing black diamonds, then you know you will receive added kudos! If you're curious to see what the hype is about, start browsing our online black diamond ring collection now.
5. Black diamonds contain the 'wow' factor
Although all diamonds, be they white, yellow, blue, or black, possess the 'wow' factor, It could be said that black diamond rings are the most impressive of them all thanks to their rarity and general unique look. But you should be able to decide this for yourself when browsing their collection, as they have created a collection of the most coveted designs available. Diamonds are beautiful to behold, and they take the breath away of anybody who sees them. You will surely take the breath away of the person you love with a unique, out of this world Black Diamond, and in turn they will impress their friends and family.
Their eccentric collection includes the stunning Black Diamond Solitaire Engagement Ring and the supremely elegant Round Black Diamond Hidden Halo Engagement Ring, both of which are fine examples of the type of ring that will cause anybody to utter the word 'wow' when they get a closer look.
Check out their website for more options
You can find a large range of options at their website or you can also visit their Instagram page. For your peace of mind, they also offer a 30-day return policy and a money-back guarantee, and make sure you won't be disappointed by the engagement rings options they have for you.
Disclaimer: This is a company press release. No HT journalist was involved in the creation of this content.