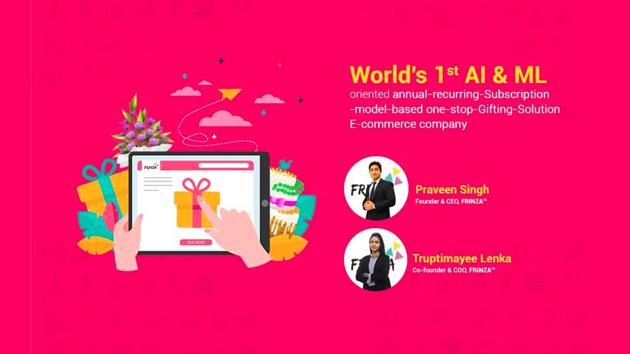 Frinza: An AI-ML powered start-up making digital gifting easy with innovative solutions
FRINZA is from those rare businesses that have prospered during this pandemic.
UPDATED ON SEP 29, 2020 04:02 PM IST
The world in general and India in particular was already moving towards digitization at a rapid pace but the Corona virus has forced us to adapt to that change even more quickly. According to a report by Mckinsey and Company on consumer sentiment and behaviour, 91% Indians changed their shopping behaviour due to the crisis and now prefer online mode.
While the Coronavirus has disrupted many industries for the worse, especially tourism and hospitality, there are some industries which have prospered during this time. India's gifting industry is one such that has witnessed a sea-change with technology coming into the scene. Online gifting has gained massive popularity in recent times and is expected to reach $84 billion by 2024.
One such startup which is making most of this opportunity is FRINZA : a rapidly growing online gifting organization, that provides a range of premium and high-quality gifts. The gifts range from an exquisite collection of souvenirs, cherry-picked flowers, luscious cakes, scrumptious chocolates, a wide array of personalised products and many meaningful gifting categories planned with a befitting sense of elegance for every occasion.
"Gifting someone on their special occasions like birthdays, anniversaries, promotion or any other special occasion is a chance to deepen your love and connection with the person. The feelings and emotions involved behind gifting is what people value more than the actual gift", says Praveen Singh Rajput, Founder and CEO, FRINZA.
"Covid 19 may have forced us to adopt social distancing and thus physical interactions have gone down but you can still remind someone that you love and care for them through FRINZA's digital gifting solutions. The Idea is to keep the joy of gifting alive in these hard times", adds the young Founder.
The leadership team
FRINZA is the brainchild of Praveen Singh Rajput, Founder and CEO who holds an MBA from SIBM, Bengaluru and is also one of the youngest Penguin India authors of the book titled "Locha 20+".
Truptimayee Lenka is Co-founder and COO of FRINZA. Trupti has done her B.Tech. in E&TC. She has more than 5 Years of experience in order processing, Vendor management, Operations and Logistics in the Gifting Industry.
Countering Corona with innovative gifting solutions
FRINZA is from those rare businesses that have prospered during this pandemic. FRINZA works on the concept of cloud kitchens and hence they did not see much disturbance in their business.
"There is one curve we have to flatten and then there is another that we have to stay ahead of," remarks Praveen Singh Rajput.
FRINZA also has recorded a year-on-year growth (YoY) of +137.6% for the year 2019-20.
"Considering the current pandemic situation, we have decided to diversify our Category & product portfolio, we will now have 60% gifts that will be delivered physically and 40% digitally," remarks Trupti.
"We have also expanded our product category to include E-greeting cards, kindle books, customized wishes website, personalized- poems, birthday wishes and online performance by favourite celebrities /influencers/artists," adds Trupti.
"Being a dynamic organization, we are always prepared for change and hence we have diversified our product portfolio to adapt to this change because of Covid-19," remarks Praveen.
The grand plan
Frinza started in 2018, with their website going fully functional only in January 2019. In less than 19 months Frinza expanded its delivery network to more than 650+ cities in India and most cities of the USA, UK, UAE, Canada and Australia. FRINZA aims to add 25+ major gift categories, 1500+ sub categories, more than 10000+ child categories and nearly 5L+ products by the end of year 2021.
Praveen Singh Rajput is on a mission to make gifting subscriptions as easy, widespread and familiar as milk and newspaper subscriptions.
"As a part of our grand vision 'of making Frinza a synonym of gifting', we have also decided to make our annual recurring subscription completely free for the first year and we aim to get more than 1 lakh subscribers within the first week of launch," remarks Praveen.
"FRINZA is here, not only to deliver gifts, but to dominate, disrupt and redefine the global gifting industry. We are going to change the way the word 'gift' is currently perceived," says Praveen Singh Rajput.
Disclaimer: This is a company press release. No HT journalist was involved in the creation of this content.
Close