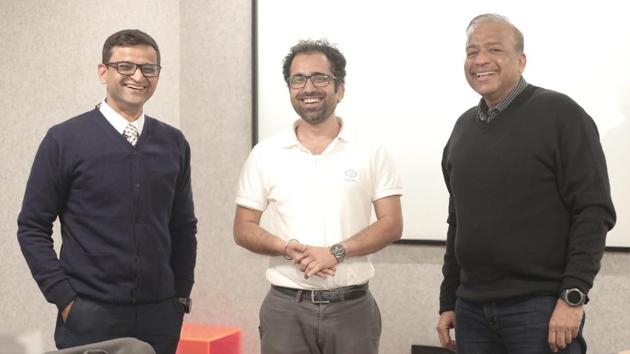 Gurugram-based, Manipal boy bootstraps a deep tech venture Com Olho to dampen the rising tide of digital fraud
The company uses proprietary machine learning algorithms to help enterprises understand how digital data footprints can uncover most sophisticated fraud methodologies using behavioural analytics.
UPDATED ON AUG 20, 2020 07:55 PM IST
Com Olho is a SaaS (Software as a Service) platform built for Advertisers, Banks and Insurance companies to reverse the rising tide of digital fraud and misinformation. The company uses proprietary machine learning algorithms to help enterprises understand how digital data footprints can uncover most sophisticated fraud methodologies using behavioural analytics. According to the RBI, US $ 10 million was lost to various kinds of banking fraud in 2019.
The company primarily targets CXO's of mid to large size companies as it believe tackling digital fraud should be a top down mandate. Com Olho's platform doesn't just empower the risk mitigation teams with their customized solution but also helps leaders strategically dismantle the infrastructure hurting their brand's budgets, revenues and reputation. In 2019, US$42 billion worth of digital advertising was lost to fraud.
Com Olho's product suite comprises an end-to-end AI based solution from identifying sources of malpractice, empirically proving the fraud and providing a ready real time dashboard with interpretation resulting in deterministic savings.
The company works with some of the leading global financial and e-commerce companies, and hopes to soon collaborate with government to enhance their visibility on various kind of digital fraud and methods plaguing our societies.
Today, India holds more than 5.3 million domains on internet and more than 150,000 apps on the g-play store. More than 40% of these websites and apps cannot be traced back to their owners and companies. These websites and apps are often loaded with malware's and user tracking scripts which allows fraudsters to learn about user activity and commit fraud. Monetization of these apps either happens through ad networks in the market or through walled gardens.
Fraudsters often build these websites/apps, and outsource its operations, to keep their image in-front of advertisers and agencies clean, while on the programmatic backend, they often use these apps to hijack user conversions and serve such conversions under a random publisher ID. In technical terms, these websites/apps when organized form a network of bots or a botnet.
In digital banking fraud, these websites/apps serve as gateway to take over consumer mobile screens, hijacking keypad for PIN/Net banking access or even requesting new OTP's for debit or credit card skimming.
Over last 1 year, we are building a machine learning model which trains on OEM's device details, and we are very confident that pre-installed apps in device sets that are leveraging ad-networks to monetize their user base might be the next biggest playground for fraudsters to build a financial surplus.
Com Olho is a recognized startup by Department for Promotion of Industry and Internal Trade, Ministry of Commerce and Industry, Government of India and leverages startup India portal to widen reach within global enterprises and government units.
Milestones Ahead
As we embrace the new normal triggered by the global pandemic, Com Olho aim's to build a comprehensive AI powered platform for brands allowing enterprises to monitor their digital presence and track down brand in-personification, misinformation, phishing affiliates, programmatic manipulation of user acquisition data and retargeting fraud.
The company aims to build partnerships with forensic teams globally and support them with necessary tools to uncover most sophisticated forms of digital fraud.
Abhinav Bangia, Founder & Director of Technology at Com Olho, says Digital fraud is slowly and steadily corrupting our vision of fast paced digital society. Misinformation, fake news and digital fraud in advertising, banking and insurance industry is becoming hideous and intentionally organized. We wish to support our government and global enterprises with our proprietary technology to fence down this growing menace.
Well known marketer Lloyd Mathias, who was the former Asia-Pacific marketing head of HP Inc., and a Seed Investor in Com Olho says that with more and more marketing budgets going digital and companies switching to programmatic buying of media, the extent of advertising fraud has increased significantly. Com Olho is just the solution many brands will need to fight this scourge.
Have you been a victim of digital fraud? We would love to hear your use-case. Reach out to us with #cleantheinternet on any social network you use.
Disclaimer: This is a company press release. No HT journalist is involved in creation of this content.
Close