Health missionary-entrepreneur Sajeev Nair's Vieroots App holds the promise to futuristic AI-enabled well-being
Dec 03, 2020 04:57 PM IST
The app will offer 'personalised' recommendations to clients based on the individual's genetic make-up and requirements. This Matrix-version of your local gym may look a bit intimidating at first but, believe us, this venture has its heart in the right place.
Artificial Intelligence (AI) is not a buzzword anymore! With his Wellness start-up, Vieroots, Kerala-based serial entrepreneur Sajeev Nair has turned a new page in physical and mental wellbeing of Indians. Vieroots' mobile app is going to offer AI-based Personalized Epigenetic Lifestyle Modifications (EPLIMO) to individuals seeking a healthier lifestyle. In other words, the app will offer 'personalised' recommendations to clients based on the individual's genetic make-up and requirements. This Matrix-version of your local gym may look a bit intimidating at first but, believe us, this venture has its heart in the right place.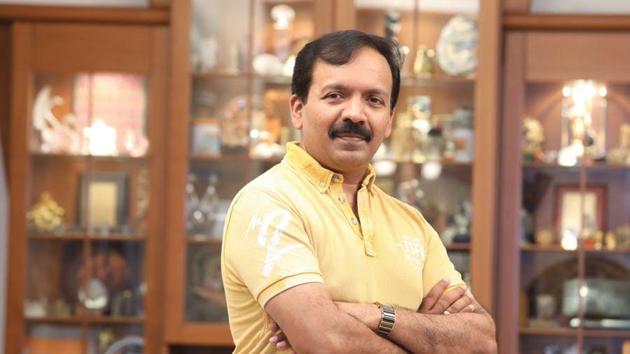 'Anna' Vouches For Vieroots
Bollywood actor and fitness icon Suniel Shetty agrees too since he has invested in Vieroots too. The current value of the start-up is being pegged at Rs. 100 crore. Sajeev, who has authored "The Making of a Super Human" and who provides consultancy on peak performance, realised that even with best intentions in mind, an individual is unable to reach the optimum performance in life because of his compromised physical and mental health. To overcome that, Sajeev thought, one would need a serious motivator and who better than AI to take up the job. Though Sajeev already doesn't require any introduction for himself but that hasn't stopped him from adding new feathers to his cap, from time to time. Be it network marketing, direct selling, writing or, now, personalized lifestyle modification using AI, Sajeev carves a niche for himself wherever he goes.
Why Vieroots?
Sajeev is not new to the wellness industry. Though he started his career in this field with selling nutrition supplements and went on to operate a wellness clinic in Kochi, he slowly moved on to a more specialised approach to the wellness industry in the form of research focused on longevity of human life and performance. Sajeev says, "In India, the average life expectancy was 48 years, which has now increased to 69 years. It is expected to move to 75 years by 2025. One thing is for sure that with the advancement in medical science and healthcare, people are living longer. The only question is whether they are living longer or is their death getting extended." Considering the born motivator that Sajeev is, he worked in India and Middle East to make concepts like Peak Performance Consulting and Thought Process Reengineering more popular than they already were! That thought process led to the inception of Vieroots.
Peak Performance Consulting
Being a double postgraduate in Business and Chemistry, Sajeev devoted ample time towards studying latest medical research on physical and mental performance because he was troubled by the fact that lot of people weren't able to reap the full benefits of psychological motivation techniques because of their poor physical fitness. The problem worsened in those facing advanced age and serious medical conditions. Vieroots Wellness Solutions (available online at Vieroots.com), was born out of Sajeev's long quest in this direction. To be formally launched on November 1, 2020, this is Sajeev's most ambitious projects so far because it has an added element of unpredictability in the form of use of AI. For most of us, AI might be limited to watching Will Smith fighting for his life against cold-steel robots, but for the Peak Performance Consultant-entrepreneur like Sajeev, AI is the means for humans to take charge of their "health, wellness and peak performance."
Smartphone Brings You Ideas
The Smartphone app, EPLIMO, makes use of Epigenetics to find out the cause of our unhealthy lifestyles and also the future of our bodies. The lifestyle modifications that EPLIMO would suggest would help an individual prevent his problematic genes from getting triggered. EPLIMO is the first-of-its-kind product in the country and, even in the world, it is one of a handful of similar entities. This is a wholly personalized app, which takes into account three individual inputs – 1) Genetic susceptibilities; 2) Gut Microbiome assessment; and 3) A Metabolism questionnaire. In addition, the Vieroots Wellness Solutions also brings you Ayurvedic supplements to improve your physical as well as mental health capabilities. The most notable among these is "Thoughtbiotics", multiple Ayurvedic formulations to achieve mental and physical wellbeing, focused on your Gut-Brain-Axis or GBA.
This young start-up is already catching eyeballs among fitness enthusiasts and corporates devoted to enriching their employees' lives. We are sure it won't be long before EPLIMO becomes part of the health lingo of an average Indian too!
Disclaimer: This is a company press release. No HT journalist is involved in creation of this content.
"Exciting news! Hindustan Times is now on WhatsApp Channels
Subscribe today by clicking the link and stay updated with the latest news!"
Click here!