HostBooks Selected as GST Suvidha Provider (GSP) by GSTN
Dec 04, 2019 04:16 PM IST
GST Suvidha Providers (GSP) are empowered with technical capabilities to handle multiple services related to GST. With this announcement of GSTN, HostBooks now becomes part of GSTN privileged service providers.
New Delhi: HostBooks, a FinTech company based out of Gurgaon, with its all-in-one cloud accounting, GST & other compliance solutions, has been selected as a GST Suvidha Provider (GSP) by the GST Network (GSTN).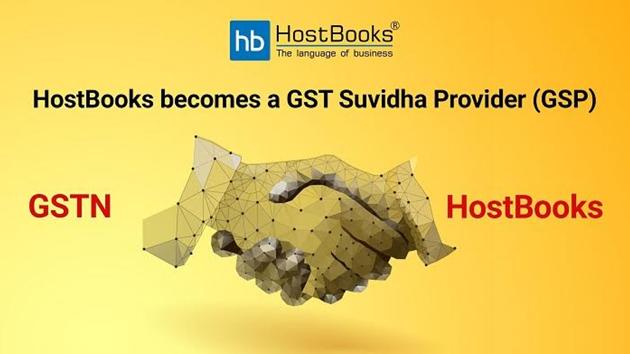 How are GST Suvidha Providers selected?
GST Suvidha Providers (GSP's) are selected based on their financial and IT capabilities to provide the essential services to taxpayers making them GST-compliant. GSP's are required to provide a wide range of services, like GST registration, GST return filing and GST reconciliations to ASP's and taxpayers.
The role of HostBooks as GSP and its aim to serve the industry
HostBooks' all-in-one accounting solution helps businesses in managing their sales, purchase and other transactions efficiently and facilitate automatic GST reconciliation of customer's data with GSTN data i.e. GSTR-1A, GSTR-2A and GSTR-3B. HostBooks ensures that all its software upgrades are in sync with GSTN ensuring complete GST compliance by providing innovative and efficient software solutions.
HostBooks has revolutionized the accounting procedure by bringing compliance through multiple ways:
1. Simplification of GST
HostBooks is one such accounting software offering a seamless GST billing and return filing experience. All activity regarding GST issues such as GST return filing, GST bill preparation, mismatch reconciliations, calculation of penalties and interests can be done electronically through HostBooks.
2. Automation of repetitive tasks
Most of the processes such as invoicing, statements, payments reminder & collection, reporting and budgeting are required repeatedly consuming a lot of time and increasing the employee costs. In such a case, HostBooks works through automation and performs such repetitive tasks without undergoing manual calculations. It can also extend services like payment reconciliation and payment reminder to its consumers.
3. Cloud computing
HostBooks is a cloud computing software that boosts productivity and cuts down operational costs.
4. Real-time insights with powerful dashboard
To fuel the growth of your business, HostBooks provides the employees with insights in real-time relating to the margin goals of your organization. This enables the user to take immediate measures to improve business functions and avoid future errors.
5. Easy accessibility
All HostBook applications are on the mobile app or are mobile optimized, providing immense ease to the customer.
Talking about the achievement, Kapil Rana, founder of HostBooks said, "although GST has completed two years, taxpayers and businesses are still facing challenges. HostBooks is continuously working toward providing seamless cloud-based GST solutions to help them manage their compliances, regardless of the size and nature of the businesses. Now, being a GSP will help us to serve businesses and taxpayers even better. We, as a company are growing at a faster rate and serving more than 40K users currently. As an organization, we are focusing on customer satisfaction and profitable business matrixes. We are also in discussion with various investors for our future growth plan."
Media contact details: Kapil RANA, HostBooks, kr@hostbooks.com, +91-9999262777
Disclaimer: This content is released by Business Wire India. No HT journalist was involved in the creation of this content.
"Exciting news! Hindustan Times is now on WhatsApp Channels
Subscribe today by clicking the link and stay updated with the latest news!"
Click here!