How to become a data science architect?
The experts predicted that by 2020, there will be 40 zettabytes of data in existence, and this will make career opportunities in Data Science shoot up drastically. And the shortage of skilled professionals makes Data Science a hot career opportunity for the related candidates.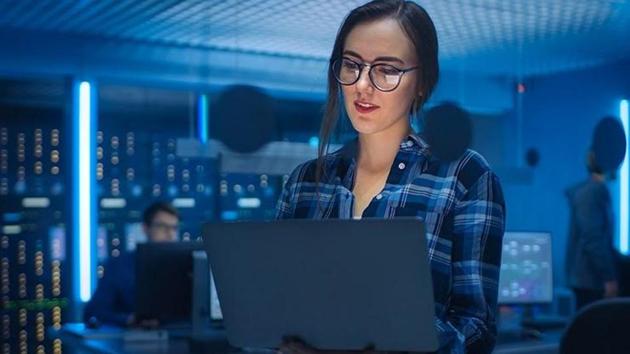 Updated on Jul 23, 2020 08:18 PM IST
Whenever we use our smartphone or any other similar gadget, we do something over data. Data is generated enormously with every passing second, just because the number of people using the internet is increasing, as well as the time they spend over the internet is also increasing exponentially.
The data that is generated is unstructured. It has to be analyzed and organized according to the company's requirements. The data is generated from various resources and simple BI tools are unable to process that data. Here, Data Science comes into play. The need for more complex and advanced analytics algorithms and tools for processing, analyzing, and making meaningful conclusions and insights out of it, has made Data Science a crucial and inevitable requirement of every business.
The experts predicted that by 2020, there will be 40 zettabytes of data in existence, and this will make career opportunities in Data Science shoot up drastically. And the shortage of skilled professionals makes Data Science a hot career opportunity for the related candidates.
When we are living in the era of Big Data, you would wish to launch a career in the field of Data Science. This article will let you know how promising the future becomes if you take up a Data Science online course and become one of the hottest certification holders.
Data Science as a Career
Data Science abbreviates statistical preparation, programming skills, visualization techniques, and a good deal of business sense which refers to the ability to turn business matters into answers with current or upcoming data.
So, you need to have a blend of skills in mathematics, spotting or finding out trends, and computer engineering. The main role of a data scientist is to decipher large volumes of data and prepare a plan for further analysis to find out trends and other meaningful insights.
Since the field of data science is so vast that there is no perfect definition for it, so is the career in Data Science. You may have many options to choose from as a data scientist. Some roles that come under data science are:
●Data Analyst
●Data Architect
●Statistician
●Data Mining Engineer
●Business Intelligence Analyst
●Data Scientist
●Senior Data Scientist
●Analytics Manager
●Research Analyst
●Data Science Architect
The above list shows you that there are many career options in Data Science and every position requires you to have some specified skill-set. You can choose any of the job roles according to your area of interest and the level of knowledge.
To start a career in Data Science, you must possess hard skills like machine learning, analysis, statistics, Hadoop, etc. apart from these, depending on the job role you may need to excel in persuasive communications, critical thinking, and problem-solving.
In this article, we will discuss the job role of "Data Science Architect".
Data Science Architect
Data Science Architect is considered as a new role in data that businesses should take into account. A Data Science architect is a job role that is a mix between a data scientist and a data engineer.
We have already read about data scientists. Now, a data engineer is a candidate who is involved in preparing data for operational or analytical uses. The task of data engineer may typically include building data pipelines to bring together information from various sources, integrating, cleansing, and structuring data for usage in individual analytics applications.
The Data Science Architect or DSA comes in between the two. The task of DSA is to deal with the design of data, analysis, and storage processes while taking into consideration cost and time trade-offs and requirements of the business.
A DSA starts with an analysis of a company's requirements with the end goal of using data to generate values. With the goal in mind, DSA needs to design the architecture and the analytics pipelines along with considering appropriate time frames, and costs.
For the best structuring data strategy and the roles in an organization, Data Science Architect can provide great assistance.
Let us now see how to become a Data Science Architect.
How to Become a Data Science Architect?
The main task of a data architect is to create a blueprint of the data management system. That strong background in computer science. Let us look at the steps required to become one.
1.Pursue a degree in computer science, computer engineering, or related field.
A strong background of computers includes coverage of data management, big data developments, system analysis, and technology architecture.
2.Technical and business skills.
Technical skills required for a data architect include data modeling tools, application server software, Database Management system software, agile methodologies, user interface, and query software, UML, ETL Tools, Hadoop, and NoSQL databases, machine learning, data visualization, development environment software, etc.
Business skills for data architects include analytical problem-solving, expert management, effective written and verbal communication skills, and understanding the way your industry functions.
3.Go for Certification and training.
A certification always keeps you ahead of other similar candidates when it comes to job opportunities. There are many certifications to choose from to become a data architect.
Taking up an online training course for getting certified is the best choice you can go for. This is because becoming a data architect involves studying a lot of material and expertise in many technologies.
The training providers make it easy for you to sort the things and prepare the study material that is specifically designed according to your knowledge level.
Conclusion
Becoming a Data Architect in the world of Big Data can really be rewarding. The average annual salary of a Data Architect is $123,680 according to Glassdoor, and that of senior data architect is $132,312.
With such a high salary and shortage of skilled professionals, this position has become one of the favorite career options among IT professionals.
Taking up an online training course for getting certified has several benefits. It gives you the flexibility of learning at your own pace and learning hours according to your convenience. It gives you options to choose from modes of learning as well. You can go for online training, blended learning, or instructor-led training.
So, go ahead and get your registration done so that you can get certified.
Disclaimer: This is a company press release. No HT Journalist is involved in creation of this content.
Close Story
Personalise your news feed. Follow trending topics