If you are a student looking out for accommodation, WeSettle can help!
Sep 14, 2020 06:47 PM IST
WeSettle being India's first accommodation and community provider, aims at helping students to make the most of their time in Delhi.
In the rat race of "placements" and the vicious cycle of entering into better colleges and better corporates, dreaming of something out of the box is nothing short of an act of bravery. Being a part of the generation of millenials that is driven by name and fame influenced by social media, it has become very common to dream big and then never have the courage to bring it to all its practicality.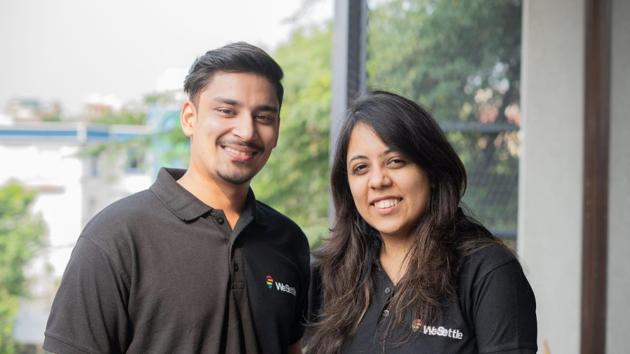 But, breaking all such stereotypes and hurdles, two young students dared to pursue their dream and establish themselves as ethical entrepreneurs. WeSettle has been co-founded by Manas Garg and Pragya Arora. Manas is a third year student of B.com. Hons. from VIPS, IPU having 1.5 years of experience in sales and marketing and Pragya Arora is a third year psychology student from Indraprastha College for Women, University of Delhi having 2 years of experience in sales and marketing.
The two of them come from very different but equally trusted and respected backgrounds. Manas comes from a business background providing him with the basic idea of setting the plinth and building a business while Pragya comes from an exceedingly reputed Civil Services background, so it is safe to assume that ethics and sincerity is a subconscious reflection in her character.
WeSettle is a platform to make accommodation search smooth and hassle free for the migratory students and assist them in the transition from school to college. WeSettle being India's first accommodation and community provider, aims at helping students to make the most of their time in Delhi. From assisting in finding a comfortable, safe and sanitized accommodation, to delivering enormous opportunities, to discover this place–recreational or productive, WeSettle takes the pride to settle it all. We Settle strives to solve all student related problems from searching for an appropriate PG, confusions about the near future, college admission hindrances and many more such tribulations, and doing it all while providing family memories to cherish. It is a free learn-grow-fun accommodating platform which breaks the brokerage legacy to provide a hassle free homely experience at zero cost. As Manas believes, "We aim to leave people better than we found them."
The founders recall that the seed of their vision of giving out a smooth experience to students in an alien city was sown in their hearts long back when they had to face the difficulties themselves. They had both fallen into the cycle of frantically looking for a place to settle down and not finding anything that met their requirements. Coming together, the college students in their early twenties decided to make sure the coming batches don't have to fall prey to the same circumstances and face the toil they went through!
A spark! Yes, a spark is where it all began. The journey kick started when two "colleagues" and "best friends" joked about starting a business and becoming brokers. Over time, the apparent joke was structured with potential ideas and detailed plans of action. The founders grew in this whole process as they kept on coming face to face with problems they hadn't anticipated. This company gave them a better understanding of building and managing a business while being a part of a huge family.
A completely customer-centric startup, WeSettle believes in complete customer satisfaction policy. WeSettle has its accommodation services spread out to over 1000 PG accommodations and hostels located at multiple cities in India and having their monthly rentals ranging from Rs. 10,000-25,000. The individual interests and requirements are taken into consideration and the best suited options are offered to the students. Unlike most of the other housing companies which are centered in and around a particular campus, WeSettle plans to cover every college that has a gap between the number of hostel seats and the number of outstation students. Currently strengthening its roots in the national capital and one of the primary educational hubs of the nation, Delhi (NCR), the company has plans to venture into 11 other cities in the near future.
It is known that student accommodation is an ever growing industry, and there would be many competitors to come. But both the founders unanimously believe that they are their only competition. The company strives to be better and progress a little more every passing day. On the same note, the company adds that it plans to be in this sector for a long time in the future and believes to grow with its (family) members. WeSettle aims at the progress of the people it progresses with, and hence, makes a cut for them above all others. It solemnly believes that the development and welfare of the family is the welfare of the company.
The company, to its very core believes in the policy of "word of mouth". The company's penetration into the market is based more on trust and less on social media stunts and pompous shows. They put confidence in the marketing strategy that has minimal customer acquisition cost as they aim to integrate social media with consumer behavior and psychology.
With the whole population locking themselves in, the founders believe that nothing could have been a greater setback for their budding startup than the very discourse of this pandemic. Yet, the company stood head first against its challenges and braved it with a rather more optimistic outlook and focused on their branding,market expansion and public reach. The founders take pride in helping the whole fraternity of interns to run with a productive and better development of skills along with getting a complete and wholesome family experience. Understanding that these are dire times, the company comes up with interactive and relaxing live sessions and boosts up the morale of its family by conducting various educational webinars.
The company doesn't just focus on making your college memories, but also looks forward to making a big, happy family.
Disclaimer: This is a company press release. No HT journalist was involved in the creation of this content.