Indian décor & design platform, Housethome, sees a 600% growth in its reader base
Oct 26, 2020 05:39 PM IST
The Bangalore-based startup, founded by Ashok Bharggav and Nalini Bharggav, features a handpicked curation of the best home décor content on the internet.
Inspiration is everywhere, especially in this age of social media. This maxim is particularly true when looking for ways to spruce up your home décor. In recent years, there has been a new wave of content creators providing the hottest home style trends on their aesthetically curated social platforms. Apps like Instagram & Facebook have created a unique space for brands to engage with their target audience directly using a visual-first approach. Home Décor enthusiasts, today actively look for décor inspiration, content, resources and ideas online and on social media platforms before they go ahead and make an informed decision. Housethome is one such homegrown platform allowing us to visualize our dream living space through their social media pages and web platform that caters to the palette of an Indian audience.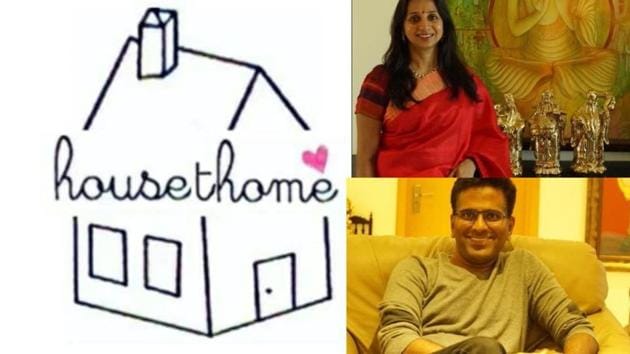 The Bangalore based startup founded by Ashok Bharggav and Nalini Bharggav features a handpicked curation of the best home décor content on the internet. The founders, who are design enthusiasts themselves, created Housethome as a Home Style curated platform, that showcases Indian home décor gems, as they felt the pain of having to sift through the endless and widely dispersed and at times very average quality resources online. The duo initiated the venture with a website and soon supplemented it with an Instagram page along with a presence on other social media platforms. This two-fold strategy has been immensely successful for them, witnessing a 600% increase in viewership in a short time since their launch, to over 225,000 readers now. 'Housethome was created with the 'singular focus' of curating & showcasing the 'Very Finest' of Indian Homes & Indian Décor Inspiration for our readers to help our readers 'create' their dream home. With over 225,000+ readers across our digital platforms, Housethome today helps it's reader's create a home that reflects their dreams, what their life is all about & a home that inspires both the people who come to visit & the people who live in it!' shares Co-Founder Nalini Bharggav, who heads up the Business Development Team at Housethome.
Today, Housethome is India's premier design and décor resource appealing to a broad section of the home décor market. Their followers range from decor enthusiasts, interior design professionals, and architecture firms. Their content feed has something for everyone covering everything in between space-saving bachelor studios to opulent 25,000 sq.ft homes. Their social media presence has been incredibly useful for them to interact and engage with their audience affording them a chance to create a direct and intimate relationship. Housethome recognizes social media today is the fastest vehicle for word-of-mouth promotions. Their platform invites active discussion and peer review, which in turn provides them with an overview of market trends and direction for future content.
"We have frankly been overwhelmed with the response we have got since we launched a few months ago. We do try to thoughtfully curate content for the diverse reader base we cater t. We showcase Design Firms & Homes spread across the country, of different experience, styles, price range, and cities. We do try our best to provide a platform to the new, fresh Design Firms, to reach out to a pan India audience base, as we do feel these young firms are not getting an adequate platform to showcase their works, compared to the larger well-established ones. We just love it, when we receive words of appreciation from young firms, when some of their projects receive an overwhelming response from our readers, at some with over 400,000 views too.
Apart from showcasing Design Firms, what has truly received a massive response from our readers, is the Housethome Art Series, where we showcase India's leading and emerging Artists & their artwork to our readers and allow readers to buy curated art for their Homes", shares Ashokh Bharggav, Co-Founder, Housethome. Whether you are looking for a perfect corner art piece or designing your dream washroom, Housethome provides all the inspiration, tips, and reputed design firms that can help you make your vision a reality.
Disclaimer: This is a company press release. No HT journalist is involved in creation of this content.