Is online horoscope matching correct: Dr. Vinay Bajrangi
The Kundli matching by name and date of birth is typically known as comprehensive matching of horoscope, which cannot be accomplished with an online Kundli analysis. Understand what all factors we match in a comprehensive horoscope marriage for marriage: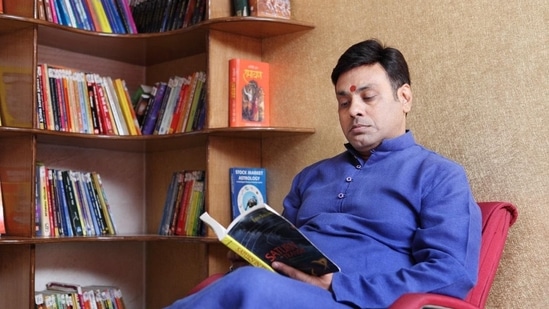 Published on Jul 29, 2021 09:50 PM IST
Horoscope matching for marriage ensuing Vedic astrology rules guarantees a long, happy, and prosperous married life. But how come that many who matched the horoscopes for marriage but still have a troubled married life? Where lies the flaw? Has the horoscope matching erred and cannot accommodate the present changing times, or is there something else?
The problem is the high dependence on online horoscope matching and believing and applying the results of online Kundli analysis without consulting the specialist marriage astrologer. It is like trying to decipher the CT scan without the help of a specialist doctor.
Can we rely on online horoscope matching?
The Kundli software available of most of the Astro-marriage sites gives Asthakoot Milan results. The misconception is that the Asthakoot Milan is enough to decide upon the fate of a marriage alliance. The results shown through a Kundli software on an online horoscope matching platform are just a primary indicator; the final decision is always to be supplemented by taking the help of a marriage specialist astrologer who does the Kundli matching by name and date of birth.
The Kundli matching by name and date of birth is typically known as comprehensive matching of horoscope, which cannot be accomplished with an online Kundli analysis. Understand what all factors we match in a comprehensive horoscope marriage for marriage:
Venus, the karaka or doer for marriage: This ensures a strong physical bond between the couple.
Jupiter, the karaka or doer for marriage: A compatible Jupiter ensures longevity in marriage.
The 7th Lord: this is the manager of marriage, which should be matched for ensuring everlasting bond.
Compatible second house: This ensures the growth of the family formed by the union.
Compatible fourth house: This ensures peace and prosperity.
Compatible twelfth house: This ensures sustained bed pleasures.
An unblemished and compatible eleventh house: The infidelity factor is checked, and the compatibility is evaluated.
The Mangal or Mars Milan: This compatibility is checked to ensure that Mars is not playing any spoilsport in marriage.
The Navamsa check: Navamsa is the main chart evaluated for marriage. The compatibility should be checked to ensure a long and happy married life.
The Trishamsa check: The female nativity's Trishamsa chart is also evaluated while matching horoscopes.
Apart from the Asthakoot Milan, the check of all the above points is run on the charts. Then only the compatibility in horoscope matching is pronounced. No horoscope calculator for marriage can evaluate the above points; therefore, online horoscope matching should not be believed for a final marriage decision. Moreover, those who reject certain matches due to low Asthakoot points are also not following the proper practice, for even a low Asthakoot Milan points can also prove to be a good match.
Now, do not get scared by looking at the above ten comprehensive matching points. Please do not think that it will be impossible to find a compatible match if all the above checks are to be run to match the compatibility. When the right time comes for marriage, the native is bound to get a suitable match. Refine your search to Know your life partner by date of birth.
However, there may be a challenge in locating someone in your vicinity who is competent enough to run the above ten checks in horoscopes that are to be matched. I assert this because I find many couples with marriage issues claiming that they had the Kundli matching done with many so-called learned persons. Therefore, this article of mine shall help those wanting their horoscopes matched from a competent astrologer.
I would further want to clarify a few frequently asked questions about the matching of charts.
What happens if the Gun-Milan is low?
Answer: Gun Milan is just 20% of the comprehensive Kundli Milan. Even if the score of Asthakoot Milan is low, further comprehensive matching has to be necessarily carried out. I have seen many marriages prosper with low Asthkoot matching and many marriages perishing even after high Asthakoot points.
What if the marriage happens without Kundli Milan?
Answer: if the marriage is running perfectly, assume that the horoscope matched. If there are troubles, one can seek a post-marriage Astro-counselling. Post marriage Astro-counselling helps to reconcile as it teaches the ways and tricks to come out of a troubled marriage. One should not hesitate to take an Astro-counselling session if they fail to provide the healing touch themselves.
What is the difference between Asthakoot or Gun-Milan and Kundli or comprehensive Milan?
Answer: Asthakoot Milan is just 20% of the Kundli Milan process. Unfortunately, many believe that getting enough points in Gun-Milan is sufficient for a happy marriage.
Does comprehensive Kundli Milan guarantee a happy marriage?
Answer: A correctly done Kundli-Milan indeed guarantees a long, happy marriage. But, the process of comprehensive Horoscope matching has to be done by an accomplished marriage-astrologer.
Can the marriage happen and survive even if comprehensive Kundli Milan says 'No'?
Answer: Ideally, the marriage should not happen. But in some circumstances where the spouses are not life-threatening to each other, the nod for marriages can be given. In these cases, the complete pre-marriage Astro-counselling should be taken and adopted by the intending couple. The practical karmic methods get deduced from the horoscope and taught to the intending couple. If these methods are adopted, then there is likelihood for the survival of the marriage.
Is Kundli Milan important for second marriage as well?
Answer: Yes, very much. Kundli Milan for subsequent marriages is even more important than for the first marriage. By separating from the first or previous marriage, the native has necessarily activated the separation Yoga present in the horoscope, which has to be addressed by matching or otherwise it can disturb the subsequent marriage as well.
So, find best life partner by date of birth, go for right way of matching horoscopes and enjoy a happy married life. Get connected with Dr. Vinay Bajrangi, your true marriage astrologer. Apart from the comprehensive horoscope matching for marriage he can suggest ways to deal with the delay in marriage, troubles in marriage, Mangal Dosha, and no-marriage yoga in the horoscope. Connect with him at vinaybajrangi.com or his office nos +91 9278665588 / 9278555588.
Disclaimer: This is a company press release. No HT journalist is involved in creation of this content.
Close Story