Is plywood good for furniture?
This article will explore the advantages and disadvantages of plywood. Read on to see what it's all about!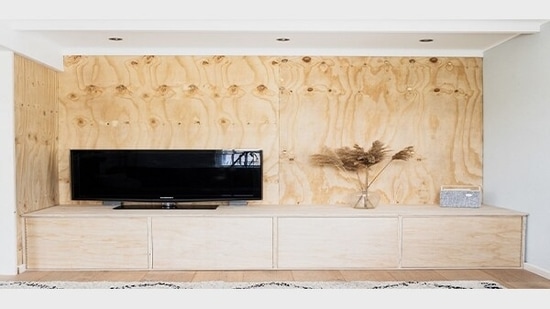 Published on Jul 28, 2021 07:01 PM IST
Plywood is a versatile building material. It is made from thin layers of wood that are glued together under heat and pressure. It can be used in many different ways, including for furniture, cabinet doors, table tops, and wall paneling. Plywood is a type of engineered wood that is used widely in building and construction. It can be cut, sanded, and painted easily.
But as with all materials, it has its advantages and disadvantages. There are many kinds of plywood available for different uses. It's important to know the difference between them and which one you should use in each application. Here are some of the advantages and disadvantages of plywood.
This article will explore the advantages and disadvantages of plywood. Read on to see what it's all about!
Benefits of Plywood
Cost: The most important advantage of plywood is its low-cost relative to other building materials. Solid lumber is very expensive. It also takes a lot of effort to make wood joints to create wide boards of solid wood. Plywood on the other hand, can be made into whatever size we need since they are engineered wood. When it comes to flooring, only laminating floors outperforms plywood in regards to pricing when it relates to wood floors. Most other products, notably hardwoods, tiling, and bamboo, among the others are more expensive to purchase than plywood.
Lightweight: Plywood has a high strength to weight ratio, which means it is relatively lightweight but also durable. This makes it easier to transport than solid wood or other materials like steel.
Easy to Work: You can easily cut the plywood to desired size when building furniture or cabinets. The assembly installation of plywood does not require any rocket science. Effectively chop the plywood into pieces, polish them, place them on the ground, screw or use adhesive to keep them in place, and wrap it up with painting or polishing them as desired.
Even better, you can purchase plywood from a provider and have it cut to your specifications. This cuts down on setup time and expenses significantly.
It is also easy repair plywood furniture. If you see a section of plywood that's deteriorating, you can effortlessly remove it and exchange it with a new one.
Can Be Used in a Variety of Environments: Due to its low contraction and expansion, plywood boards can be utilized in both cold and hot environments. It also doesn't break easily as a result of environmental changes.
Furthermore, it is more waterproof than competitors such as oak or other cheaper wood. And that is since the surfaces of wood are firmly compressed together, allowing no area for moisture to absorb, except the edges.
Good Finish: There are numerous ways to improve the appearance and texture of plywood without causing problems. You can stain it or paint the furniture entirely to achieve the look you want.
Pros:
● Plywood is less costly than solid wood because it doesn't require a tree to be cut into planks.
● In many cases, plywood does not require much maintenance.
● Plywood is durable and may last longer than solid wood depending on what you are using it for and how often it gets wet.
● Plywood can take stain or paint well making it easier to change its look if needed.
Disadvantages of Plywood
It Isn't Very Long-Lasting: Plywood is a frail product that can hardly support itself on its terms. When placed on the surface, it gets stronger, yet it still lacks the prolonged sturdiness of hardwoods and bamboo, for instance.
It is Soft: Compared to other expensive wood such as teak it is soft. Because of its softness, it is extremely susceptible to scratching and other sorts of deterioration. When you drop anything sharp on the plywood, it will almost certainly leave an unsightly dent. When your cat tries out its nails on a plywood flooring, it can end up leaving scratches.
There is not much you can do to improve plywood's resistance to most scratches and damages from sharp objects. As a result, you should put it in an area where there is not a lot of activities.
Low Resale Value: Unlike furniture made of expensive wood, plywood items have very low resale value. If you had plywood for flooring, it may cause problems when it comes time to sell the property. Because of its flaws, plywood may not be accepted as a flooring product in some circumstances. As a result, replacing it with traditional flooring materials such as laminated or hardwoods flooring may be a hurdle when reselling your home.
Other disadvantages include the fact that it is not very strong against compression or impact forces. Another disadvantage is that there can be issues with burning through the veneer during manufacturing and transportation due to the heat applied during gluing the plies together to build large boards of plywood.
Regardless of these disadvantages, plywood is still a fantastic building material and an excellent replacement for expensive wood.
Disclaimer: This is a company press release. No HT journalist is involved in creation of this content.
Close Story