Jagdish Italiya's "JAB KOI BAAT/Vhalam Aavo Ne" gains over two million YouTube views
The music is re-arranged by Hardik Tailor.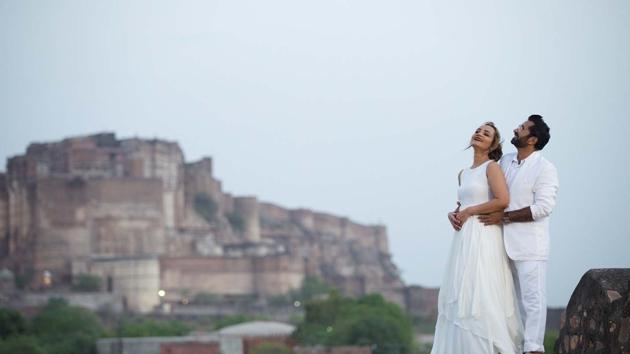 Updated on Sep 30, 2020 06:53 PM IST
Surat-based singer Jagdish Italiya has set YouTube buzzing with his melodious song, garnering over two million views in a quick time, setting a trend. Music is known to be an explosive expression of humanity, and all feel touched by the soulfulness of the lyrical rhyming. Almost every human being on the planet has a deep connection with music irrespective of the cultural background.
Gujarati song " JAB KOI BAAT/Vhalam Aavo Ne" sung by Surat-based singer Jagdish Italiya is one such musical that connects with hearts instantly. The musical was shot at Jodhpur and has achieved more than two million views on YouTube worldwide.
The music is re-arranged by Hardik Tailor. Lyrics were penned by Prem Dave, while Aman Sukhadiya directed the shoot. The youth is seen appreciating western music more. But the new age composers have taken to the fusion music to connect the youth with the traditional music.
It was the abiding purpose of Jagdish Italiya and Ajita Italiya to reconnect the youth with the traditional music that he recomposed "Vhalam Aavo Ne". Originally composed by famous music director duo Sachin-Jigar & Sung by Jigardan Gadhvi. In fact, Gujarati music is gaining much popularity because of the efforts of the likes of Ajita Italiya. The effort is predictably paying rich dividends as the youth tilted towards the rock and pop culture are getting back to appreciate the traditional folk music.
The original song Jab koi baat was from the Movie "Jurm", sung by Kumar Sanu and Sadhana Sargam, and the music was given by Rajesh Roshan, while lyrics were penned by Indivar.
Recently, his song that he had uploaded in 2015 created a milestone, clocking more than six million views. It was admired by listeners and broke the internet records.
Apart from being a singer, Jagdish has been a part of "Sarkar Ki Duniya", the biggest reality show. The show was aired on Real Channel in 2008. The concept of the show was to put 18 contestants on an island away from the real world to fight for their bread and butter. Ashutosh Rana was playing SARKAR as a host of the show, Jagdish as one of the contestants managed to survive on the island for four months, away from the real word.
Disclaimer: This is a company press release. No HT journalist was involved in the creation of this content.
Close Story