Jimmy Mistry Launches Della Leaders Club's Pune Chapter
Updated on Dec 02, 2021 06:08 PM IST
DLC is the world's first business platform, created to provide a strong support system for executives in a variety of industries around the world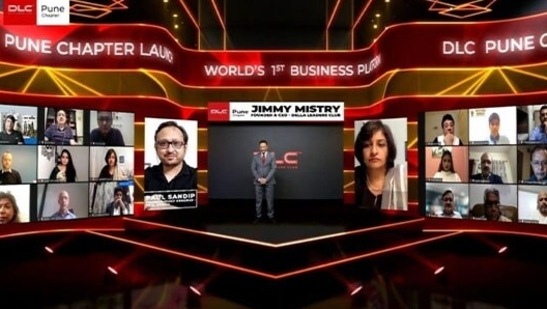 India, December 2nd 2021: Jimmy Mistry, Founder of Della Leaders Club (DLC) a global community of entrepreneurs, young leaders and professionals — has launched their Pune Chapter recently to come up with a support system for budding bigwigs.
DLC launched its chapter at the city well known as Oxford of East, inaugurated by Pune Police Commissioner Mr. Amitabh Gupta, IPS as the Chief Guest. Guests of Honor at the event were Municipal Commissioner of Pune, Mr. Vikram Kumar IAS; Principal Commissioner of Income tax- Pune, Mr. Ashok Kumar Pandey IRS and Independent Director – SBI, Dr. Ganesh Natarajan.
DLC is the world's first business platform, created to provide a strong support system for executives in a variety of industries around the world. DLC focuses on information exchange, lifestyle coaching, and social responsibility while also creating a global support environment for leaders. DLC is a global community of Entrepreneurs, Professionals, and Young Leaders who are eager to contribute, share and give back to society. The global community is made up of International Chapters and members in 26 Business and Lifestyle domains.
Mr. Mistry was appreciated by Chief Guest, Mr Amitabh Gupta, IPS, "It's an honour to be part of your endeavour. I know your commitment, I know your creativity and I am very sure that your creativity and your vision will take this DLC Pune Chapter a long way ahead."
"I am clearly fascinated by the mission of what you are trying to do, leave the life of success to move towards the life of purpose. I would love to see that happen." Quoted one of the founders of TiE, Dr. Ganesh Natrajan.
"We are so glad to finally launch DLC, Pune. The purpose of DLC is to help Entrepreneurs, Professionals and Young Leaders create future-fit organisations and drive global social impact. Today's leaders have a calling beyond just building their businesses - they want to help others while making a meaningful contribution to their industry and to society, at large. This is what exactly the DLC seeks to provide and be a catalyst of positive change," said Mr. Mistry.
DLC Global Community today has more than 2250 Men and Women of Eminence, who have joined as Honorary Committee Members across 26 Committees in 15 Global Chapter cities; including New York, London, Dubai, Hong Kong, Bangkok, Singapore, Mumbai, Delhi, Bengaluru, Pune, Hyderabad, Chennai, Kolkata, Indore, Ahmedabad and a Global Chapter.
Join the Community - DLC has now announced paid memberships across the globe. Mr. Jimmy Mistry states, "With the launch of DLC Pune Chapter, paid memberships for Pune residents are open now. Do join the Waitlist (www.dellaleaders.com) to become a member of the Invite-Only Global Community.
About Della Leaders Club
Della Leaders Club has over 2,000 Global Honorary Committee Members across 15 cities globally. Cities include New York, London, Dubai, Hong Kong, Singapore, Bangkok, Mumbai, Delhi, Bengaluru, Hyderabad, Chennai, Kolkata, Pune, Ahmedabad, Indore.
The purpose of the technology platform is to give ready-to-apply business knowledge across 26 management and lifestyle disciplines, covering the latest trends to keep business leaders ahead of the curve. DLC concept has already gone viral. Hence we have successfully been able to onboard men and women of eminence coming from IVY leagues and their alumni associations to 9 unicorns, startup founders, EO, YPO members, Forbes listers, NYC best sellers, Grammy award winners, top government attorneys and UN affiliates. The organization lives by an ethos of diversity and equality that encompasses all nationalities, faiths, genders and ages and area tied together by the spirit of entrepreneurship.
Disclaimer - This is a company press release. No HT journalist is involved in creation of this content.