Kayasetu brings you an array of healthy, organic, and vegan superfoods at a single platform
Kayasetu combines comfort and health by bringing a wide array of healthy and organic superfoods in one single platform.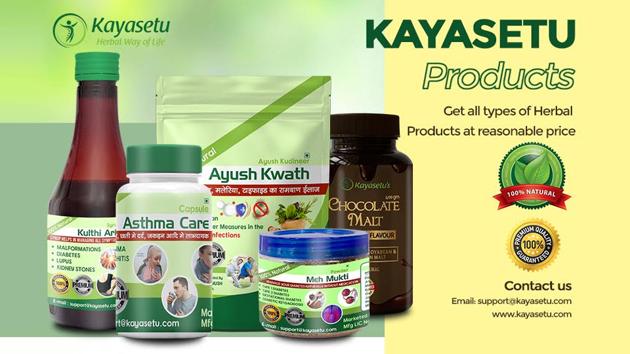 Updated on Sep 25, 2020 05:32 PM IST
If you search for good quality and pure Ayurvedic medicines, then Kayasetu brings a diverse range of products under one roof. They have a dedicated eCommerce website that offers a plethora of vegan & organic medicines.
One of the best reasons to buy their products is that you will find no impurities in their medicines. They are organic and unadulterated products, which can boost your health and help you focus on your body's well being. Kayasetu offers fantastic nourishment that can help the gut, immunity, and overall health.
Kayasetu combines comfort and health by bringing a wide array of healthy and organic superfoods in one single platform. If you have been struggling to get hold of organic and good quality Ayurvedic products, then Kayasetu is going to be your savior.
Their products are delicious and promote good health. Kayasetu has put into use this ancient science of health and wellness in the best possible manner.
Top products available at Kayasetu
Kayasetu brings you a myriad of unique Ayurvedic products that deliver the best results for many medical issues. Take a look at them -
Kayasetu Memory Enhancer is made of different ingredients like Brahmi, Shakhpushpi, Ashwagandha, Shatavari, and Jatamasi. This helps to boost your memory and metabolism as well. It helps to revamp your concentration and to grasp big power time also.
Kayasetu Stone Cutter is the best Ayurvedic medicine that can help you get rid of Struvite stones, Uric Acid Stones, and even Cystine Stones. It is made of 100% organic ingredients and has no impurities present in it.
Kayasetu Artho Safe helps to offer instant relief from pain in the joints and bones. It can also help treat pain, arthritis, muscle pain, fibromyalgia, and ligament pain. This medicine consists of 20 different ingredients: Safed Musli, Ashwagandha, Chopchini, Kulajan, Nagarmotha, etc.
Kayasetu Meh Mukti is a great product that helps your metabolism fight with diabetes. It ensures that the sugar present in the bloodstream gets utilized in the best possible manner. It keeps your body safe from Gestational Diabetes and Diabetes Ketoacidosis.
Kayasetu Asthma Care is made of natural and Ayurvedic ingredients like Yashtimadhu, Pipal, Marich, Tulsi, Kantkari, and Yashtimadhu. It has high levels of allergic balancing powers that help to reduce your symptoms of asthma big time.
Kayasetu Ayush Kadha is another value money product you can buy. It comprises a wide range of spices that include bhumi amla, gazwan, tulsi, and even giloy. All these elements together help to fight different kinds of bacteria. This medicine also works as an antiviral, antibiotic & anti-oxidant.
All these amazing Ayurvedic products are available just at the Kayasetu website. Their site is packed with all such kinds of Ayurvedic medicines that can help you lead a better life.
These are the most used herbal products that you can find at Kayasetu. Each of the items has its own set of benefits and offers a fantastic remedy to many medical issues.
Why use Ayurvedic products?
If you are skeptical about using Ayurvedic products, you should know that all Kayasetu products are well proven. Each of the Ayurvedic medicines we just discussed is made of the best quality elements with unique features.
The best part about them is that they allow your body and the metabolism to work on its own to fight a medical issue. It prepares the body to adapt to the problems and come out of it over time. That is why Kayasetu products are so much popular in the market and such demand.
Disclaimer: This is a company press release. No HT journalist was involved in the creation of this content.
Topics
Close Story