Law Prep Tutorial, Patna makes cracking CLAT look easy
In the short period of time, Law Prep Tutorial has opened its second centre in Bihar in Patna after the success of its first centre which was launched in Muzaffarpur last year.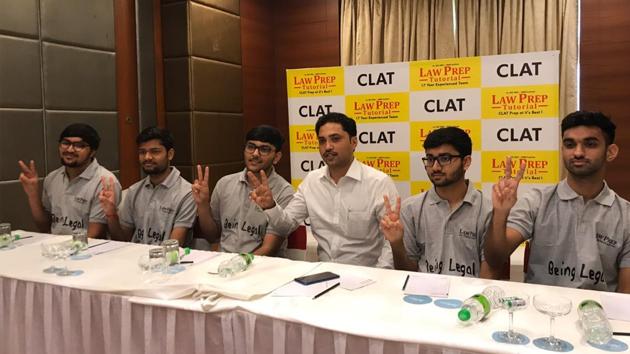 Updated on Apr 13, 2020 05:17 PM IST
Law since generations has been regarded as an honorable and lucrative career option. The wide array of opportunities that Law provides make it a more diverse career option than the mainstreams such as Engineering and Medical Science. A law degree holder can practice law in various way which includes court practice or litigation, opting for judicial services, join corporate law firms/in-house counsels/legal advisors or work as part of the management team in big corporations. In a larger picture, lawyers have also been seen as dominating figure in social career such as politics, human right activist and policy making.
Bihar being a hub of students opting for competitive exams and giving exemplary result has shown a significant rise in opting Law as career. One of the front runners to whom this rise can be attributed is Mr. Abhishek and his team. Abhishek and his team comprising of NLU graduates mostly belonging from various parts of India, launched an awareness drive in most part of the state motivating students to opt law as career option. Abhishek dedicates this idea to Dr. Subramanian Swamy (Member of Parliament, Rajya Sabha) and Mr. Salman Khurshid (Senior Advocate, Supreme Court) who motivated him to launch such law awareness drive in Bihar. The drive was said to be successful noting huge turnouts of students with their parents and wide coverage provided by the print media. Taking this initiative further and providing a more significant assistance to aspirants from Bihar, Abhishek and his team has come up with the best CLAT coaching center in Bihar : "Law Prep Tutorial".
Law Prep Tutorial is regarded as one of the best CLAT coaching in India, established in 2001 by Mr. Sagar Joshi in Jodhpur Rajasthan. By the relentless efforts, hardwork & guidance by the expert team of Law Prep Tutorial more than 4000 students were selected in National Law Universities till date. Law Prep Tutorial has been successful in giving record selections in major law entrances like CLAT, AILET, SLAT & MHCET. The feathers in the cap are CLAT 2019 All India Rank 1 Saumya Singh, CLAT 2018 All India Rank 1 Girls Category Gunjan Jadia & CLAT 2017 All India Rank 1 Rajat Maloo. Law Prep Tutorial marks presence national wide having its latest addition in Bihar under the team of Mr. Abhishek (Founder) and Mr. Himanshu Shekhar (Co-Founder).
In the short period of time, the Law Prep Tutorial has opened its second centre in Bihar in Patna after the success of its first centre which was launched in Muzaffarpur last year. The Muzaffarpur centre witnessed an overwhelming response in terms of enrolments under the Law Prep Tutorial clat coaching programme.
Noting this success, Mr. Abhishek says: "Law Prep claims to offers first of its kind CLAT preparation solution. It has precise and to the point subject analysis and unique methodology of simple techniques to learn concepts. The course material is latest, graded in toughness, scientifically designed and revised according to the latest examination patterns.One of the unique features of Law Prep Tutorial program is 'learning solution'. All the important areas, difficult concepts, and doubts will be explained by the teachers through virtual classrooms. All the Mock Tests are personally designed by the Senior Expert of every subject. Tests are designed to be comprehensive (cover all important topics), balanced (at the right level of difficulty) and disruptive (introduce new elements to catch students unawares). These tests incorporate learning from previous law school entrance papers and predictions on their future design. Each mock test comes with detailed solutions and analyses to help you identify your areas of weakness and strength".
Adding about the new centre launched in Patna, Mr. Himanshu says: "Keeping in mind the recent changes in the examination pattern of CLAT, the Law Prep Tutorial programme has equipped itself with all the necessary amendments. The Centre at Patna brings with itself the best teaching faculties from different parts of India having years of experience with such law entrances. This undoubtedly makes Law Prep Tutorial the best clat coaching in Patna and Muzaffarpur.
For the objective of ensuring that all the aspirants from Bihar get integral guidance and succeed in bringing major representation of State at different NLU's, having two centres in prominent cities of Bihar is a laudable step. The new centre in Patna which aims to provide best coaching for CLAT will also carter the need of aspirants coming from different parts of Bihar either to complete their secondary schooling or in quest of best coaching centre for competitive examinations. The admission in the Crash Course (both online and offline) at Patna and Muzaffarpur Centres are ongoing for the CLAT 2020 examination. It is expected that these initiative will certainly boost the number of students from Bihar in the Law entrances examinations guaranting better results."
Disclaimer: This is a company press release. No HT journalist was involved in the creation of this content.
Topics
Close Story