Live life full of self-reliance and self-dependence: Dr. Kiran Bedi
Dr. Bedi, Lieutenant Governor of Puducherry, was conducting an online lecture, which was organized as a part of the Symbiosis Golden Jubilee Lecture Series.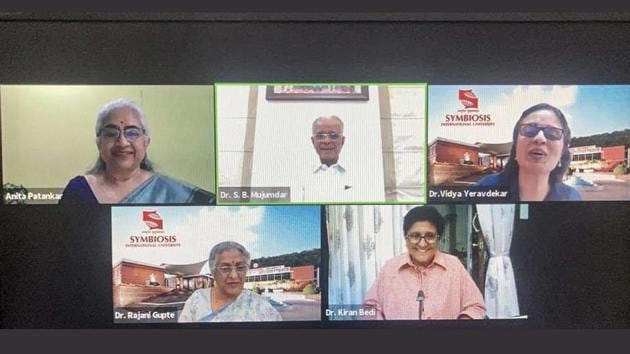 Updated on Dec 15, 2020 01:42 PM IST
Pune: 10/12/2020: "You are a product of your own, you are not different. What you think, you become. It totally depends on where you spend your time and energy. If you spend it on positive things, you will get the benefits out of it and if you spend it on negative things, you will suffer," said Dr. Kiran Bedi, Lieutenant Governor of Puducherry, during an online lecture on Thursday. The topic was, "Perseverance- Instances from My Life". The lecture was conducted as a part of the Symbiosis Golden Jubilee Lecture Series.
Speaking on the occasion, Dr. Bedi gave valuable advice to students on how to attain success with one's own actions.
She said, "We all get 24 hours in a day and it's in our hands where to spend those, in heaven or hell. Make your choices every day. Take an example of the sun, which never fails to lighten our day. Pick up a profession which makes you happy. Your profession should be an extension of your own. Live life on your own terms, always be sure of yourself, and build that confidence within you. Ask yourself what kind of life you want to live. It should be of self-reliance, self-dependence in abundance of hard work, self-core."
Dr. Bedi gave emphasis on health. She said, "Never forget to keep yourself healthy. If you are healthy, only then will you be able to perform and do things in life. Health should be your first priority."
"Always have a positive perspective towards everything in life. Don't look at anything as hurdle. Look at it as opportunity. If everything is going good all the time, then something is wrong. Always search for areas of improvement," she said.
Talking about her current role as the Lieutenant Governor of Puducherry, Dr. Bedi said, "In the immediate future, Puducherry will become a favorite tourist destination of India, as the central government has invested a lot of money for improving the infrastructure and the other resources in Puducherry. Both Goa and Puducherry are spiritually gifted."
Dr. S.B. Mujumdar, Founder and President of Symbiosis, in his welcome speech, said, "Dr. Bedi is a fountain of energy and enthusiasm. Students are always eager to listen to her."
Talking about the pandemic, Dr. Mujumdar said, "Corona is a good teacher, as it has taught us what life is all about. It has taught us the value of simplicity, spirituality, and uncertainty."
Dr Vidya Yeravdekar, Pro- Chancellor, Symbiosis International University, gave opening remarks. Dr. Rajani Gupte, Vice Chancellor, SIU gave the Vote of Thanks and Dr. Anita Patankar was the anchor of the program.
For media queries contact:
Mr. Prafulla N. Kulkarni
prafulla.kulkarni@symbiosis.ac.in 88888 47946.
Close Story
Personalise your news feed. Follow trending topics