Lodha is creating the world's finest developments, redefining real estate
Oct 12, 2020 06:03 PM IST
Recently, Lodha was adjudged as the 'Top Developer of the Year' at the Times Real Estate Icons West India 2020 basis a survey conducted by OMS – a division of Times Internet Ltd.
Real estate is more than just building the proverbial 4 walls, it's about "Building a Better Life". This is the ideology with which Lodha has delivered some of the most iconic addresses in India as well as most desirable residences in London. Whether it's transforming the skyline of Mumbai with an iconic development or delivering exclusive residences for Mumbai's swish set; creating future-ready well-thought offices spaces for discerning clients or bringing to life India's No. 1 Smart City with the highest liveability quotient*, Lodha has emerged as India's largest realty player for the last 7 years and has given landmark developments comparable to the world's best.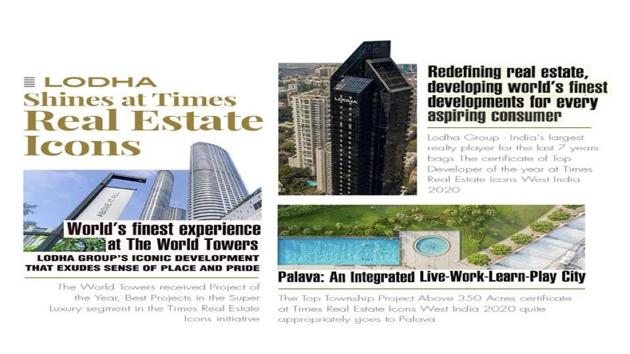 The impressive sales figure of 50,000 crores in the last seven years, bears testament to Lodha's ability to deliver spaces with no compromise in quality. Lodha were among the first developers in the country to employ technological processes to bring in transparency in transactions. It also continues to be forerunner when it comes to adopting global best practices and innovations in construction to deliver with speed and safety. This has enabled Lodha to be able to be ahead of the curve. Coupled with deep understanding of the consumer needs and demands of the evolving times, Lodha has been able to deliver homes and offices to meet requirement of every consumer segment.
A Lodha development is equipped to provide holistic lifestyle and ensure well-being of its residents with its wide range of amenities, large green and open spaces to spend quality time with their loved ones. It's known for its penchant for quality, focus on details, elegant craftsmanship. The developments are built to provide avenues for recreation, comfort and convenience.
To bring the idea to fruition, Lodha has collaborated with renowned names globally, right from Trump Towers, Armani/Casa, Jade Jagger, YOO Studios, Pei Cobb Freed & Partners to reimaging personalised service in luxury with Saint Amand to name a few.
Lodha's residential spaces are aimed at every segment, right from super luxury to budget, thereby enabling every consumer to fulfil their dream.
Disclaimer: This is a company press release. No HT journalist is involved in creation of this content.