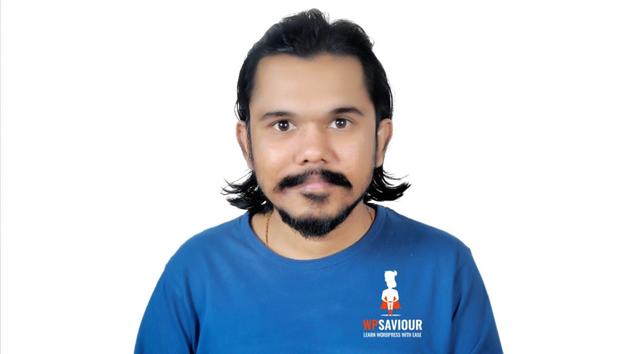 Making websites with WPSaviour
Talking about the USP of the project, Prathamesh shared WPSaviour majorly aims at solving each and every WordPress related problems
UPDATED ON NOV 05, 2020 06:07 PM IST
From a simple blog or informative website to a full-fledged e-commerce website, WordPress is one of the most trusted and preferred website development platforms, especially for beginners from around the globe. It can be used to develop all sorts of websites under the sun. However, not everyone who puts up a website on WordPress knows the platform that well and often ends up having a hoard of queries which stay unresolved.
Realizing the need to solve these queries and make WordPress easy to use even by those WordPress users and enthusiasts who lack a technical or website development background, a young WordPress developer, Prathamesh Patil had bitten his entrepreneurial cookie and laid the foundation of WPSaviour. Wherein they strive to resolve all WordPress related problems, be it resolving doubts or training the clients to build their own websites on WordPress in the most intuitive, easy to understand and implement manner or personally looking into every client. It's like a complete process and guide one can ask for when it comes to WordPress.
When asked about WPSaviour, Prathamesh shares "WPSaviour owns a Website & Mobile App that lets you stay updated with everything that's happening around WordPress, along with that the app also has a feature called QUIZ, where one can browse all the articles throughout the app/website and then come back to our Quizzes to self-examine themselves.
On asking upon inception story behind the start-up, he shared, "As a high school kid with no life, I spent most of my lunch breaks in the computer lab trying to surf the internet. Since most social sites were blocked by my college firewall, I had learned how to code and built a web proxy to bypass the firewall. In the process, aside from learning how to code, I also learned a lot about monetizing websites with advertising revenue and driving traffic. During this time, I started getting consulting requests from other businesses. I decided to start a small online consultancy App/website to offer SEO and web development services. In 2015, I decided to migrate all of my clients from static websites over to WordPress, so I can get rid of the maintenance part of our business. Next thing you know, all of my clients were asking questions about how to use WordPress. While resolving the queries from my clients about WordPress, the idea of starting a venture in this line hit me. In 2017, I created WPSaviour, the largest free WordPress resource site!"
Talking about the USP of the project, Prathamesh shared WPSaviour majorly aims at solving each and every WordPress related problems. So, let's just say a person with financially tight budget wants to design a website for himself/herself, that's where my brand comes into play - helping them make a website on their own without having to pay anything other than the basic online domain & hosting charges. We have inbuilt features on our App that let the users build their WordPress websites in a matter of minutes."
Remembering the anecdotes during his solo entrepreneurial journey, he recollects "I had started counseling on WordPress and addressing issues from a very early age. One day when I had just reached my office (where I was then working as an employee) and started to work on a project. Within a span of less than an hour, I was flooded with queries on my last post on "how to fix Error in having Database connection". Since it was just the beginning of the day at work, the first thing that struck my mind was that I could neither reply to them from the system I was working nor from my mobile, as it would have marred my image at my workplace. While I was trying to find a resolution to this dilemma, my attention was reasonably split between the system I was working on, my mobile, my colleagues around me, and my boss's cabin. I was trying to resolve the queries that had come to me while not being noticed by my peers and boss at work or without violating the professional codes. This was my Eureka moment. I realized that whether it is the greenhorns or the professionals, what they were lacking in was updating themselves. This world of technology changes every second & keeping up with its pace is not everyone's cup of tea. My addiction to checking every moment, checking everything in the field, keeping up to the rhythm was nothing but an urge to keep myself updated. And I found a new avenue to update myself and the learners on a large scale with my venture."
Prathamesh started as a self-funded company having more than INR 500,000 invested since its inception. WPSaviour aims at developing digital educational resources in this space by mid next year. "We are planning to implement a subscription-based model for professional WordPress Learning. This means that students will pay a monthly fee to access the course content. We need to raise institutional funding rounds to sustain and take the venture to the next level. We are working towards preparing a robust business proposition and monetization strategy to address the incumbent issues. To help developers/website holders selflessly – This will remain WPSaviour's Lifetime motto.", Prathamesh Signed off.
Instagram: @wpsaviour
Website Link: https://wpsaviour.com/
App Link: https://wpsaviour.app.link/wYI7qWSBq9
LinkedIn: https://www.linkedin.com/company/wpsaviour/
Disclaimer: This is a company press release. No HT journalist was involved in the creation of this content.
Close