Manoj Patil, a successful athlete, dreamer & chaser is inspiring youth towards a healthy lifestyle
Despite being born in a middle-class family, Manoj had to start working at the young age of 13.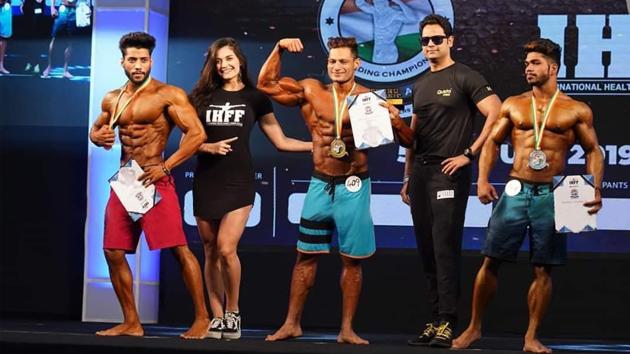 Updated on Aug 24, 2020 05:20 PM IST
Born in the year 1992, Manoj Patil was 24 when he won the title of Mr. India Men's Physique Overall Championship. The year was 2016 and that was just the start of Manoj's dreams coming true and also that of his career as an "athlete, dreamer & chaser" as he writes on his Instagram handle. His biggest achievement came in the form of being the winner of the Sheru Classic IFBB (International Federation of Bodybuilding) Pro Card in the overall Men's Physique category in 2019. That was the highlight of his career as a renowned model, bodybuilder, athlete and a trainer too.
However, what sets him apart from other bodybuilders in India is his sense of dedication towards his motherland. For him being a bodybuilder may be his dream career, but the motherland is what means the most to him. As he says, "As an athlete, my outlook is not limited to just being IFBB Pro or Mr. India. I love my country and I would do anything that is required to keep it safe from inside. I may not be in the Army but I will always remain my country's loyal soldier."
His hard work and dedication towards bodybuilding has brought him laurels from everywhere – within India as well as outside. Despite being born in a middle-class family, Manoj had to start working at the young age of 13. He started with distributing newspapers, selling milk and washing cars, just to be able to earn upto Rs. 500 per month. Around this time, his brother was already into bodybuilding and watching him pump iron daily, Manoj got inspired and he joined a neighborhood gym at the age of 16. Little did he know that in the next 8 years, his life was going to change dramatically! By the time he was 18, he started participating in various bodybuilding contests but despite not winning a single one, he didn't let himself feel discouraged. Instead, he kept exercising and working on his body. With this never-give-up attitude, he took part in about 10 competitions at the age of 20 and managed to win a few. However, it was only after he had turned 21 that he won his first Gold medal at the Junior Mr. Mumbai competition. Next came the Mr. Maharashtra competition, where he won the Silver medal.
Since then, there was no looking back for Manoj, who used Google and YouTube to find out more about bodybuilding competition as well as learn about the finer technical aspects of the sport. He worked hard and in the coming years, Manoj won Mr. India Men's Physique title in 2016, represented the country at Mr. Olympia Amateur, won Silver medal at National Championship 2017, won Silver at Olympia India 2018, Bronze at Olympia Italy 2018 and Silver at Olympia China 2019. However, his most significant achievement remains the IFBB Pro Card and he holds it dear to his heart. His humility is visible in his statement where Manoj says, "Whatever I have won or achieved so far is dedicated to my country, my motherland!"
In fact, he is seriously involved in inspiring the youth of today to move away from drugs, booze and other such habits and get involved in bodybuilding so that they can use their energy in a constructive manner. Manoj's motto in life is to stay fit and inspire others around him to stay fit as well. His commitment to gymming can be gauged from the fact that during the current COVID-19 pandemic, Manoj participated whole-heartedly in several protests across Mumbai, seeking re-opening of gyms and health businesses. About that Manoj says, "It is high time that gyms and other such establishments are allowed to re-open because it hasn't only affected the bodybuilders, but the business owners too." As for the affected businessmen, Manoj adds, "We need to be united and face the situation together. We need lend a helping hand wherever we can, so that those without any resources can also carry on despite the global crisis."
His message for the Indian youth is to be careful about their dietary habits, their lifestyle and their body. He exhorts them to join the fitness industry and motivate others around them as well. He says, "Fitness is the real wealth in today's age because if you are fit, you can live longer and do better things in life than those who are unfit."
As for his own journey, Manoj says, "It took me more than 10 years to reach where I am but I am still a work in progress. I have faced many failures but did not give up on my dreams. If someone like me, who did not even have the money to buy eggs, could make it till here, then all of you can do it, just have that dedication and a never-give-up attitude."
Disclaimer: This is a company press release. No HT journalist was involved in the creation of this content.
Close Story