Meet new-age author Swapnil Saurav from Hyderabad
Updated on Apr 14, 2020 04:30 PM IST
An experienced software engineer by profession and a writer by passion, Swapnil has achieved quite a feat by publishing 13 books, a collection of poems and a few short stories in a span of just 9 years.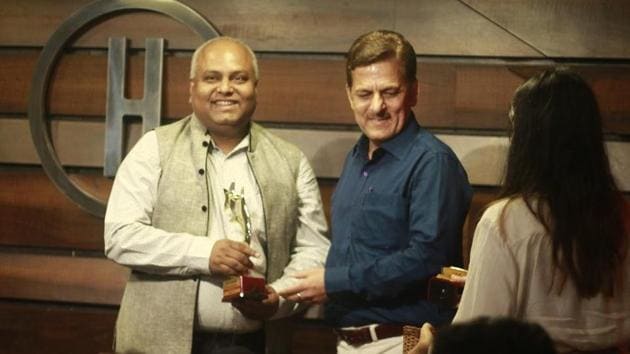 Writers come and go but there are only few who create a virtual portal within the existing space and take us to a different realm, invoking many emotions within the reader at once. They touch our inner souls, like no one does and embed within us the seeds that grows into a thriving tree of thoughts. One such writer whose work is a breath of fresh air is Swapnil Saurav. Author of the best selling book "The journey beneath the system", he sure has come a long way. An experienced software engineer by profession and a writer by passion, Swapnil has achieved quite a feat by publishing 13 books, a collection of poems and a few short stories in a span of just 9 years. A marathoner and a speaker, he has also written a couple songs that are available on various platforms. It would be safe to say that this writer from Hyderabad is someone to watch out for in the literature world.
From being a typical corporate slave to an acknowledged writer, Swapnil Saurav has come a long way. Born in 1981 in a small town of Purnia, Bihar, who would've thought that this man would pave his way to become the author of 13 books, 70 poems and many Short stories which has massive demand among readers on Amazon. An accomplished author, a software engineer, an entrepreneur, A full-fledged marathoner and a budding songwriter, this man is a master of all trades. But this was not always how it used to be. Coming from a humble beginning, Swapnil's father Mr Chandra Mohan Karn, retired engineer and an author himself and a well known personality in the Maithili literature world. Hi family moved to Hyderabad in 1990 and since then Hyderabad is his home. He studied in Bhartiya Vidya Bhavan school, BHEL Campus and much of his early education was completed there. "My father is a renowned author in Maithili, one of the native languages of Bihar". "I believe this is one of the reasons for my inclination towards reading right from childhood" says Swapnil. He grew up reading story books and novels and this gave him the confidence to participate in essay writing competitions in School. He would end up winning many of these literature writing competitions, reinforcing the idea of writing longer versions of the work. However, luck had other designs in store for Swapnil. He took admission for a computer science degree and graduated as an engineer in 2003. "I wasn't very sure about pursuing writing as a full fledged career, things were very different in those days'' he says with a serious look on his face. "Like everybody else, I wanted financial security and computer technology was rapidly evolving in that era, with a promising career" Swapnil, now with a slight smile on his face. Swapnil's first job was for a tech startup called Churchill Software in Bangalore. He wanted to try different things but stuck in a 9-5 clock, he couldn't do anything. He then worked for GE healthcare for the next 5 years but his heart was always into writing. He decided to do MBA and later joined a company called JDA software in his home town, that dealt in designing softwares for supply chain. Involved in work made him learn a lot about supply chain management and the writer in him finally decided to draft a book. That is how he authored his first book "A-Z of Retail Management" with his colleague Mr Ravi Potti and Eka Publishers in 2011. For next 5 years he focused on writing Tech and Management books. He published following books 'Learn and Practice Python programming', 'the A to Z of cloud computing for beginners', 'Kick start your career as a Business Analyst', 'Boost your career', 'Learn and Practice SQL Programming' and 'How to start your business after a failure'. This was the beginning of his long relationship with Eka, which stands firm even today.
Life was going okay and Swapnil finally met the love of his Life and he and his now-wife Rupali tied the knot in 2012. Saurav took a break from writing for 3 years to give time to his relationship. In 2017, their son Ojass was born and the couple couldn't be any happier. In 2017, his sister Smriti started "Replay Social Cafe", a one of its kind cafe where people would get coffee and formal training on career related aspects and requested him to take classes. One fine day, Mr Mahboob Hussain, the founder of HYD Raw (Hyderabad Readers and Writers club), walked in looking for a place to conduct his club events. Thus, Swapnil came in contact with writers who would inspire him to write fiction for the first time. Swapnil came up with an idea to write fiction stories for children now that he was a father himself, as a gift for his son. His first fiction book for children, a collection of short stories "Bottles under the banyan tree and other stories' was published in 2018 to a roaring success among tiny tots and their parents, inspiring him to write more children's books. In 2019, Swapnil wrote 'Ojass, the superhero of Shyamavali', dedicating it to his son "Ojass". The book went on to become a huge success thus convincing Swapnil for its translation into 6 languages. Swapnil's father Mr. Chandra Mohan Karn took it to himself to translate this book for Maithili readers. Dr. Surya Kaladhar, Dr. Anil kumar, Mr. Navneet Singh and Ms Chen agreed to translate it into Telugu, Portuguese, French and Chinese respectively. Swapnil translated it into Hindi. While Children's book was doing great, he decided to write fiction for his grown-up readers, something that would stir them up to the core. His mentor, Mr. Mahboob Hussain and friend Mr. Navneet Singh helped him come up with two novels that are deemed to be his best work as a writer. 'The journey beneath the system', a tale of 4 friends who leave behind their relaxed life in the village and shift to the city for a better chance, speaks volumes about the struggles people face initially in order to make a name for themselves. 'Fall in love, again!' is a romantic novel expressing a woman's feeling after breakup and her odyssey towards forgiving herself to let go of the past, and giving herself a second chance.
Swapnil published his lucky 13th book, his first collection of poems this year on 14th February. Its title is "Magical moments" and it has collection of love poems in two languages Hindi and English. It's a bilingual release, an experiment in his opinion as there is a good population that knows English and Hindi. Couple of the poems have been recorded as songs by Nishant Bhosle and are available on Saavn, Amazon Music and other platforms worldwide.
When asked about his future plans, Swapnil grins and suggests things to be left for anticipation and surprise. He concludes with a note that writing has given him the best gifts in his life and he has no plans to stop anytime soon. He advises young writers to continue writing, no matter the platform, pay or capacity, and the way to improve is to continue reading extensively, since, he adds, "A good writer is a voracious reader!"
Disclaimer: This is a company press release. No HT journalist is involved in creation of this content.