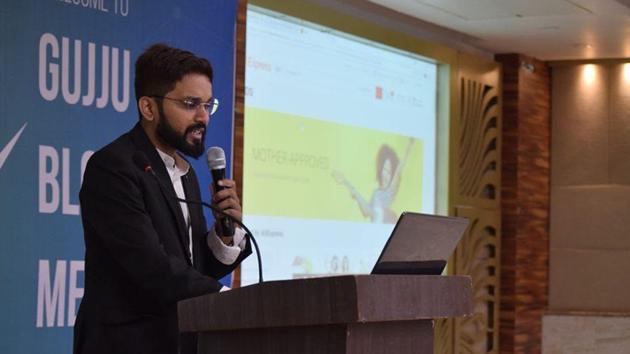 Meet Nilay Chakrapani, a digital entrepreneur who went from Rs. 72 in the bank account to clocking Rs. 30 crores in E-commerce sales
Strategic planning and the right focus is the key to success.
UPDATED ON SEP 04, 2020 05:02 PM IST
The terms "digital marketing" and "ecommerce" is not unheard of. Almost all small, medium, and large scale businesses in India utilize digital marketing activities and ecommerce platforms to build a brand image and generate higher revenue. While a boom in these fields became visible in the late 2015 onwards, few stalwarts of the industry have been in existence much before digital marketing became known as a career option.
One of them is Nilay Chakrapani, a digital entrepreneur in his late 20s who spends his days consulting brands on their digital growth strategies, expanding to newer dropshipping markets, and training people to begin their ecommerce journey. But, from where did Nilay start? This is his story.
A freshman out of high school, Nilay was preparing for his IIT-JEE exams when he stumbled upon international digital marketing experts who were making money flipping Facebook Pages. After speaking to a few of them and with his research, Nilay started by creating Facebook Pages, growing its audience, and then selling them at a margin.
He was scaling this up when tragedy struck. He met with an accident before the IIT-JEE entrance exam due to which he could not attempt it. He did not give up on his dreams of becoming an engineer and joined the Vellore Institute of Technology (VIT) for B.Tech. He continued to explore marketing strategies through Facebook when another personal tragedy during his 2nd year of college took his concentration and focus out of his work. Around six to seven months went into recuperating from the personal loss.
Now, trends change all the time in the digital space. When Nilay returned to his work with Facebook Pages, he found the market to be completely saturated. Facebook policies had changed, and his business model was not sustainable anymore. He was still in college and began to reach out to potential clients with the offer of managing their brand Facebook pages. Businesses often outsource their social media marketing work, and Nilay got the opportunity to work with a few notable brands.
On the side, he was searching for new business models that can be set up and operational online. Like he had stumbled upon the Facebook Pages business model a few years back, he came to know about the dropshipping business model. Many international digital marketers and entrepreneurs were successfully running dropshipping websites from their home office and earning millions.
Intrigued, Nilay began to research the business model, attended various seminars and webinars, and created his first dropshipping website with a handful of products in December of 2015.
Unlike the various tutorials and how-to guides available today on YouTube and other platforms about scaling a dropshipping business, there were only a handful of scarce resources in 2015. Armed with his research and few marketing strategies, Nilay started investing whatever he earned from social media clients into the dropshipping business.
He tested many marketing and sales strategies and invested over Rs. 1.8 lakh in the first six months of the business going live. At one point, he just had Rs. 72 left in his bank account - survival was at stake! But, it is said that success comes to only those who persevere, and finally, the day came when his efforts paid off, and the first ecommerce sale rolled in!
Nilay's website started making sales, and slowly the volume increased. He learned about how Facebook Ads functioned and how to scale his dropshipping ecommerce business. He began to replicate the first dropshipping website's success and created numerous others that served customers in the USA, Canada, Australia, and the UK market.
Next, he turned his focus to the Indian market in November of 2018. By now, he had a solid three years of dropshipping ecommerce model experience. The Indian ecommerce industry had grown leaps and bounds, which made it ripe for experimenting with his dropshipping model.
Nilay collaborated with Dermacol, a beauty and skincare brand, to go online and scale its business in India through strategic marketing channels and sales funnel. As a result, Dermacol saw a few crores in sales, and the brand took off digitally. Nilay similarly collaborated with other brands and also established his dropshipping funnels based on the Indian market.
Nilay clocked more than Rs. 30 crores sales in India and feels that the current market trend offers enormous opportunities. He works closely with aggregators and tries to solve issues plaguing the Indian ecommerce market. He trains other people interested in beginning their ecommerce journey and consults brands likewise.
Nilay Chakrapani's success story is one of grit and determination that can inspire many to become successful entrepreneurs.
Disclaimer: This is a company press release. No HT journalist was involved in the creation of this content.
Close