NeoLacta's unique, 100% human milk products save lives of preterm babies in India
Dec 08, 2020 06:14 PM IST
The only company in Asia to develop 100% human milk products, NeoLacta Lifesciences, works with 200+ hospitals in India to establish a complete human milk diet protocol for premature infants.
BANGALORE: More than 3.5 million babies in India are born preterm (before 37 weeks of gestation) every year. Only 41.6% of newborns receive human milk feeding within the golden hour (one hour of birth). A mother's milk is universally accepted as one of the best sources of nutrition for a newborn, including preterm babies. Breast milk is superfood for infants, providing protection from infection, inflammation, and contributing to the maturity of the immune system, development of organs and colonisation of healthy microbes.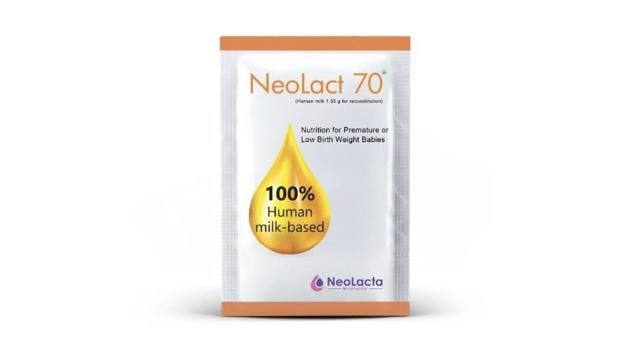 There are various reasons why breast milk may not be available for some babies - including inadequate milk production, maternal death, breast surgeries, use of medication, or if the mother is suffering from an infectious disease. At such times, doctors often recommend donor milk or fortified products to help meet the infant's nutritional requirements. Unlike formula milk – which is made of cow's milk – human milk is easily digested, making it the perfect food for babies. Studies find that the sodium content in cow's milk makes it difficult to digest and increases the risk of certain health complications, which may call for prolonged stay in neonatal intensive care units (NICUs).
NeoLacta Lifesciences, the only company in Asia to develop 100% human milk products, caters to the unique nutritional needs of premature babies. As India's only FSSAI licensed, ISO 22000 and GMP certified human milk facility, the company works with 200+ hospitals in India to establish a 100% human milk diet protocol for premature infants.
Dr Vikram Reddy, Chief Scientific Officer, NeoLacta said "Studies show that developing countries are at higher risk of premature deliveries, with 12% infants born before 37 weeks of gestation as compared to 9% in higher-income countries. Around one million premature babies die across the world every year, and preterm mortality is one of the leading causes of death in children under five years. Many who survive are known to face learning disabilities, visual and hearing issues, among other lifelong challenges. At NeoLacta, we are working towards addressing this pressing public health challenge. Our mission is to increase the human milk feeding rates from the current 41.6% to 60% within the first hour of birth in next five years."
Studies show that cow milk-based products have increased risk of deadly complications such as Necrotizing Enterocolitis (NEC), chronic lung disease (CLD), feeding intolerance and other long-term challenges like cardiovascular disorders, obesity, diabetes and asthma. NeoLacta's patented products are known to agree well with preterm babies' delicate digestive systems, while providing them with essential nutrients.
Dr Reddy further adds, "Earlier this year, we conducted a first-of-its-kind survey among 100 neonatologists and 152 NICU nurses in India. Although 98% respondents believed that a 100% human milk diet was crucial for preterm babies, more than half of the surveyed doctors and nurses admitted that they used a cow milk-based diet for 50% of the preterm infants. Data shows that in India only 54.9% of infants receive exclusive human milk diet till six months of age. At NeoLacta, our aim is to facilitate maximum possible human milk feeds to preterm infants so that they have optimal chance at survival and growth."
Globally, Brazil has the highest number of milk banks, which currently stands at 214. Brazil's milk banking system was a vital intervention that helped reduce the country's infant mortality rate by 73% in less than two decades - from 63.2 per 1,000 births in 1985 to 19.6 per 1,000 births in 2013. In India, there are merely 50 milk banks, where a lactating mother can donate milk to help other infants. The need of the hour is to create greater awareness about human milk banks as well as to adopt human milk-based fortifiers. Further information can be accessed at www.neolacta.com.
Disclaimer: This is a company press release. No HT journalist is involved in creation of this content.