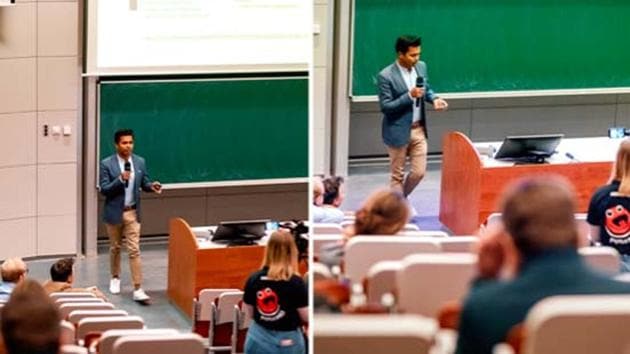 NRI scientist Indrajeet Prasad mentors Czech & Indian students for research career
He is working in Prague as a Junior Scientist with European Commission's Horizon 2020 project, AVA: Accelerators Validating Antimatter Physics.
UPDATED ON MAR 31, 2020 04:40 PM IST
Indrajeet Prasad may be an award-winning scientist with the European Commission but he is fulfilling his duty towards science by mentoring Czech and Indian students towards a career abroad. This NRI scientist is working as a Junior Scientist with European Commission's Horizon 2020 project, AVA: Accelerators Validating Antimatter Physics. He is based out of Prague, Czech Republic.
If you would take a look at Indrajeet's LinkedIn profile, you will come to know that he is a brilliant mind, not only for himself but for others as well. Living in Europe since 2011 as an Indian expat, he has been 2 times winner of EU's Horizon 2020 Marie Curie Research Fellowship Award. He has five years of experience in Electrical-Electronics R&D Engineering, International research, product development and project management. He also has a long experience in public speaking at events such as R&D conferences.
The research consortium where Indrajeet's is employed also comprises of some of the most prestigious and best research institutions of the world, like CERN, the University of Liverpool, OEAW of Austria, etc.
Indrajeet is not your regular NRI based in Prague but he continues to make his country proud by mentoring Indian & Czech students and helping them find the best research opportunities in Europe. This humanitarian step to aid young students to pursue an education abroad comes from Indrajeet's innate desire to see brilliant young minds employed in the right direction.
He goes to many events to speak about the Marie Curie Fellowship and most recently, in 2019, he made a presentation, which was attended by the Bachelor and Master degree students from the Departments of Physics and Electronics & Electrical Engineering of the Czech Technical University (CTU). The purpose of this presentation was to spread awareness regarding Ph.D. opportunities under various Marie Curie research projects.
Indrajeet has also been using his social media platforms to provide even minuscule details to aspiring students and resolving their doubts or any myths they may have about studying abroad. In addition to connecting the students to multiple scholarship opportunities, he also clarifies the ground realities to them about studying abroad.
We can only wish Indrajeet good luck in this noble venture!
Disclaimer: This is a company press release. No HT journalist is involved in creation of this content.
Close