Philanthropy isn't easy but it is necessary: Ali Merchant, Founder and CEO, AM Infoweb
Nov 17, 2020 06:54 PM IST
AM Infoweb is India's leading Health Information Management Outsourcing company.
Meet the multimillionaire mentor, life coach, and philanthropist, Ali Merchant – CEO of AM Infoweb, India's leading Health Information Management Outsourcing company. A man who has soared into the sky and yet chooses to stay grounded to help and support his fellow beings. We interviewed Ali Merchant, a name synonymous with philanthropy. Here is an extract from the interview.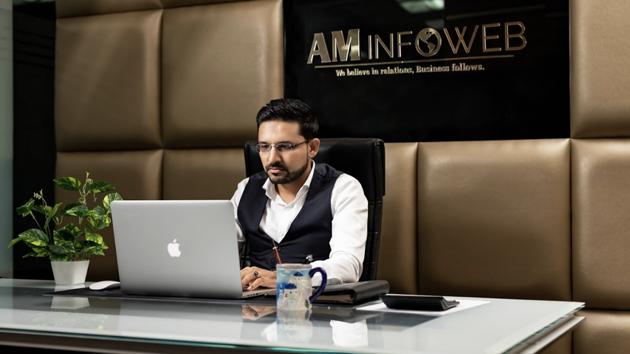 What made you venture into philanthropy?
Stay tuned with breaking news on HT Channel on Facebook.
Join Now
He says, "I can't really settle on a particular reason because it's more an emotion that demands action. I always had this inherent need to do something for the community and environment that nurtures my living. God has been kind and has blessed me with more than I could ask for. So, if I can use my blessings to better the life of my fellow beings, it would be the best possible manner in which I could express my gratitude and alleviate the pain I felt on realizing how much can be done vs. how little is being done."
How has it changed your life and the life of others?
Ali Merchant reveals, "All my philanthropic activities are an evolving process so always ongoing. I personally like to explore avenues to identify the need for my philanthropic work. And as such, realized there is so much more scope for philanthropy in the field of health and education, especially for children, that's beside the usual concerns of starvation, lack of basic necessities for a decent living, and unemployment related problems.
I believe we must invest in the future of our nation and the world. If children lack proper physical and mental nourishment, education, and ethical upbringing, the future looks bleak. Starved tummies do not understand higher motivation but only the need for food and anything to meet that end. To be able to think beyond that, they need good health and proper nourishment. And it's with this objective in mind that we established the 'BandeKhuda Trust' – a non-profit social welfare organization that is involved in food and blood donations, livelihood opportunity generation, and health care facilities, above all funding initiatives for children's education." It's a pleasure to know a man who preaches by example.
What kind of challenges do you face in the course of your philanthropic activities?
Mr. Merchant smiles and says, "My favorite question!" We are amused but he continues, "Quite often I have come across statements like – it's easy to do charity work when you are a multimillionaire! I beg to differ; philanthropy is not a single act of charity but an ongoing process. Like I already mentioned, I am always on the lookout for newer and better avenues to channel my philanthropy. It requires a whole lot more than just money! A lot of groundwork goes into it. Yes, I have a team to do that work, but I personally look into it on a regular basis to add my inputs. A lot of planning in terms of sourcing of materials for donation, logistics, need analysis to evaluate the authenticity of the need and follow-up, time and effort goes into one such initiative. So to do it over and over again over a period of many years is not easy."
How do your employees feel about it?
"I proudly say, that my family - personal and professional is fundamentally involved in my philanthropic work. It is not forced; they have the freedom to get involved only if interested. Let me be honest here, it also boosts employee engagement and motivates them to perform better even at work, though that is not the goal, it's just the side benefit of being able to create a difference together. I am also involved in mentorship programs to help my industry comrades in coping with ongoing and upcoming challenges in life and work. There is so much more positivity when you give back to your community. My mind finds peace in it!" A very reasonable and honest exposition!
Ali Merchant's philanthropic ideas are a mirror to his altruistic nature, sure to make our readers go all heart over him and we truly salute his benevolent spirit!
Disclaimer: This is a company press release. No HT journalist is involved in creation of this content.