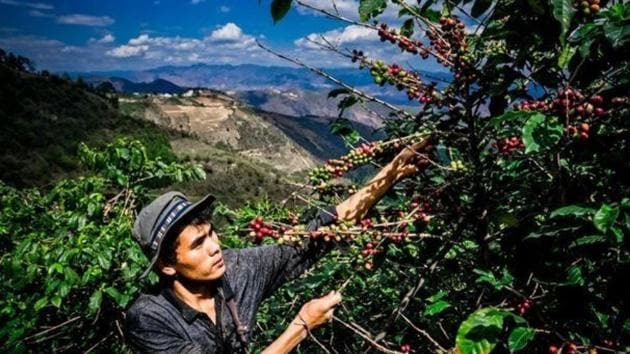 Pinduoduo boosts coffee earnings of Chinese ethnic minority farmers
By connecting the 'first mile' of the coffee production supply chain with the consumers at the 'last mile', farmers can bypass the middlemen and gain more of their labour value.
UPDATED ON NOV 10, 2020 05:23 PM IST
As one of the biggest exporters of coffee in the world, China ships Arabica coffee beans to different overseas markets, including the United States, Japan, and Singapore. The country also produces for multinational companies like Nestlé and Starbucks, making it a top supplier for many coffee drinkers in different regions.
But for the Li Su ethnic group, one of China's coffee farmer groups, environmental forces, and supply chain problems still continue to threaten how they produce the agricultural product.
These factors, coupled with growing concerns over the farmers' inability to make ends meet, is what Pinduoduo has been actively working towards to solve.
Pinduoduo's agricultural mission
As the leading online marketplace for agriculture in China, Pinduoduo has made it its core mission to boost the country's agricultural productivity and develop the best industry practices. Along with these initiatives, the e-commerce company also uses its platform to actively promote agricultural products to its close to 700 million users.
The main highlight of these efforts is the Duo Duo Farm, a program that empowers farmers and helps alleviate poverty in rural areas. This is done through partnerships with local authorities and agricultural institutes to raise farm productivity, build premium brands, and improve market access through e-commerce.
This effort also aims to address the ongoing plight that many upstream farmers are currently experiencing — low labor values that only reinforce poverty issues.
For instance, growers from the Li Su ethnic group only get about 17.1 yuan per kg for the coffee beans produced. This pales in comparison to the 83 yuan per kg that goes to the middlemen processing the coffee beans. By the time the coffee gets to downstream retailers, the coffee fetches a whopping 1,567 yuan per kg.
By connecting the "first mile" of the coffee production supply chain with the consumers at the "last mile," farmers can bypass the middlemen and gain more of their labor value.
Education and training through E-commerce technology
Aside from long-term partnerships that enable a better playing field for these farmers, Pinduoduo also provides education and training support for improved livelihoods.
For instance, in the city of Baoshan, the e-commerce giant has closely worked with the Yunnan Institute of Tropical Cash Crops to select high-quality coffee varieties suitable for the climate and soil conditions.
Farmers at the inaugural Duo Duo Farm receive training from agronomists on how to change their coffee variety with minimal disruption. They also learn about different methods for the initial processing of coffee beans.
With the help of e-commerce, Pinduoduo also facilitates training programs to educate coffee farmers on how to kickstart their business on the platform as a merchant. It's part of the company's ongoing mission to provide farmers with additional sales channels, boosting their revenue and allowing them to expand their resources.
To ensure farmers are equipped with data-driven insights, farming suggestions are also given. This includes predicted purchase patterns for crops and down to delivery schedules for customers. By empowering them with more information, Pinduoduo hopes that they can plan better and ensure more control over their pricing — an important factor in earning more from their products on the site.
The future of Chinese agriculture
From coffee beans to traditional agricultural products, Pinduoduo hopes to employ the latest in e-commerce technology to bring the best of the digital economy to farmers in China. By doing so, the company envisions a future of Chinese agriculture where farmers are more empowered for success.
Disclaimer: This content is released by Digpu News Network. No HT journalist was involved in the creation of this content.
Close