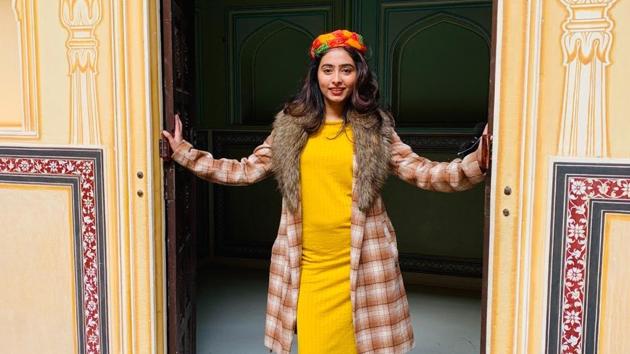 Priyanka Sarmacharjee says making things happen is more satisfying rather than dreaming about them
Priyanka Sarmacharjee's brand 'P' is launching with its very first luxury eyelash (P-LASH) followed by her luxury makeup brushes (P-BRUSH).
UPDATED ON SEP 10, 2020 05:49 PM IST
Priyanka is a pro makeup artist and an entrepreneur, who owns a mobile marketplace and E-commerce company (Feelpretty) and is just stepping into beauty products. She belongs to a small city of Assam named Karimganj but settled in Bangalore. Priyanka is a 23 years old entrepreneur, who was recently awarded as "Best Makeup artist and Young Entrepreneur of the year 2020 by ACE Business Awards. Apart from that, she is a master's student.
'P' is the brand name of Priyanka's new luxury makeup products, which is going to be launched on or before the 18th of October 2020. It looks forward to sustainable, cruelty-free, made in India products without compromising the quality. Feelpretty promises to endorse made in India as much as possible and help to grow the Indian market into the global market. The brand is for all color, shape, gender, and place and believes in uplifting each other and enhancing one's natural beauty.
Priyanka started her career from scratch and today she reached a place where she has her permanent reputed clients as well as daily new clients. Priyanka is a bridal and celebrity makeup artist. Her clients are mostly from the sandalwood industry, fashion industry & small screen Bollywood industry too. Priyanka started working at the age of 19, she learned makeup on her own and bought her makeup-kit saving from her pocket money, that's how her makeup artists career began. Being a self-trained artist she used to look forward to opportunities to work, and chose to work independently rather than assisting anyone else. Now she is assisted by two people and has a team of twelve people, who handles her services all over Bangalore. Priyanka is working on this particular project and trying to expand her services through her company to all the metro cities of India and with the help of technology she is trying to make an opportunity for other artists as well.
Priyanka Sarmacharjee's brand 'P' is launching with its very first luxury eyelash (P-LASH) followed by her luxury makeup brushes (P-BRUSH). She has a plan to enter into color cosmetics soon. In this project, she is collaborating with Anmol Chaudhary for one of the permanent collections of eyelashes and she has few other celebrities also collaborating shortly.
Priyanka included, she always craved to do something big and she got inspired by her mother (Kajari Sarmacharjee) who is also the other shareholder of her company 'Feelpretty'. She also said the constant support of her father, grandfather, and her close friends is commendable, she wouldn't have come so far and might not decide to start her company 'Feelpretty' without them. Priyanka believes everything happens for a reason thus she started doing makeup & it helped her to work on her dream project today. She didn't even know that she could do makeup or create her brand someday but it's happening! Now, she is looking forward to the love and support of the consumers of 'P' by 'Feelpretty'. All the products are made in India with proper care, love, and quality which is the utmost priority for the brand. A percentage of the profit earned from 'P', will be used for the cause of needy people or women empowerment after a while. Feelpretty is open for ideas, suggestions, and innovative minds so that 'Feelpretty' can grow and update at the same time. Priyanka helps startups to grow and boot step their ideas because she knows how it takes to implement an idea to a company and especially when you got no-one to guide you.
Priyanka Sarmacharjee always dreamt of becoming a public figure and to be recognized for her work, today she can say yes she is on the right path. She also added 'Trying hard leads us to success but hard work and intelligence together help in long-lasting success '.
Priyanka is sending you all a warm invitation for the digital launch of her brand to make it a grand success.
Instagram : https://www.instagram.com/priyanka_sarmacharjee/
Disclaimer: This is a company press release. No HT journalist was involved in the creation of this content.
Close