Public figure Chandni speaks about her daily routine for a fit lifestyle
According to her, fitness doesn't mean starving, rather a little exercise each day, and your work is done.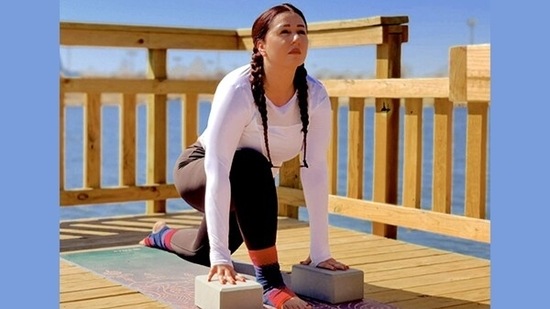 Published on Jul 29, 2021 05:44 PM IST
Fitness is a crucial component when it comes to living a healthy life. Moreover, when fatal viruses surround us at this age and time, it is of utmost importance to take good care of the body. As a result, people across the world are promoting the means and mode of getting fit.
A major chunk of the fitness promoters hails from the social media influencing world. They have undoubtedly changed the perspective of the world regarding healthy lifestyles. Starting from healthy breakfast to midnight snacks, the list of suggestions is piled up on social media.
Among many other social media influencers, Chandni from Texas, USA, is presently inspiring many with her fabulous body. According to her, fitness doesn't mean starving, rather a little exercise each day, and your work is done. She treats her body like a temple. The uber inspiring 30+ mom influencer is a walking example of today's women.
The key to a fit body is to exercise regularly and maintain a diet. The present scenario of working schedules and stress could be overwhelming. This could spike craving food that makes you feel lethargic. Worldwide nutritionists recommend healthy eating. If your diet plan is complimenting the exercises, then getting into the right shape would be an easy journey.
Do you know that getting in shape and building fitness goals could be more profound if you have the proper motivation? Enjoying the result and working towards it could only be possible when you have inspiration in front of you. Social media influencer and fitness enthusiast Chandni has been inspiring the world for a good period of time.
It is often found that if your goal isn't supported by enthusiasm, then it quickly fades. So to make your exercise fun and interesting, Chandni has a fitness regime. She calls it 'getting FAT with Chandni.' Here FAT means being Fearless, Achiever, Trendsetter. The routine is simple and for people of all ages. She aims to help, inspire, train, and guide people to make them the best versions of themselves.
Talking to a magazine, she once shared that after having two kids, it was difficult for her to recognize herself. Though her love for kids is incomparable, she still felt lost. After participating in a beauty pageant, she finally regained her confidence. During the competition, she learned a lot from her peers. She lost the competition but kept the teaching to her heart. The journey of keeping fit started from here. Chandani proudly calls herself a fitness enthusiast. However, she never supports following impossible goals for the sake of getting lean. A healthy body is always better than a lean and weak body. With over a plethora of followers on social media, she is bearing the flag of body positivity. People of all ages are her fans and followers on social media.
Undeniably, having inspiration helps in the fitness journey. It keeps the fire burning and motivates towards fitness goals. Most influencers on social media are presently focusing on fitness videos as they easily go viral than any other curated content. The rise in fitness videos popularity happened since the coronavirus outburst. The period has taught people to pick healthy habits over others. In the quest for stable immunity, people started following influencers. Among all other influencers, Chandni was the one who promoted yoga that helped many in improving their immunity. She spread her mantra of getting FAT among all age groups. Currently, she has hundreds of her fitness videos online that focuses on inspiring people. The routine and diet are also disclosed in the same. As an influencer, Chandni feels it is her responsibility to keep her audience motivated and fit.
Disclaimer: This is a company press release. No HT journalist is involved in creation of this content.
Close Story