Quickcredit.in comes to the rescue of millennials during the pandemic crisis as it serves as a lifeline for instant monetary aid
This Hyderabad stationed fintech company is offering instant cash loans without any physical communication involvement, burdensome documentation, collaterals, and holding off.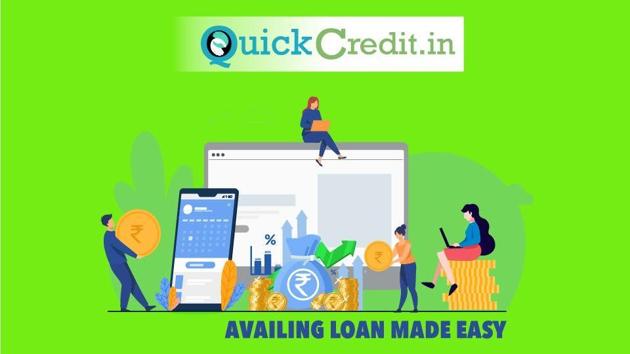 Updated on Jun 05, 2020 05:33 PM IST
In the last few years, the fintech industry has created a storm in the Indian finance sector. With each passing day, it is rapidly evolving and efficiently shifting the borrowers attention towards it from traditional bankers and financial institutions owing to its incredible benefits like instant transactions, instant money lending and minimum fee. The implementation of cutting-edge technologies like artificial intelligence and blockchain, etc. has placed fintech industry at a vantage point. They have enhanced the competence in the modus operandi of the financial institutions and feasibility in pulling out the easy utility of monetary services for the user.
Conversely, the prevailing consequences i.e. lockdown has created more room for fintech platforms to spread their wings among people to their best possible capacity.
Deep-down, bankers and financiers do not render monetary assistance to people unless they meet prescribed eligibility in certain segments like CIBIL score, IT returns, documentation, etc.
In India, QuickCredit stands ahead to most in the list of online fintech firms offering short-timed monetary assistance though instant cash loan, salary advance loan, skill loan, and travel loan to the destitute. This Hyderabad stationed fintech company is offering instant cash loans without any physical communication involvement, burdensome documentation, collaterals, and holding off.
In the year 2016, quick credit has started its operations with a team of 4 enthusiasts, and today has grown to be one of the leading online fintech platforms with more than 50 industry experts working relentlessly to render exceptional monetary services 24/7 across India. With more than 1 million visitors/per day and 7 lakh borrowers, QC has been attributed and broadly acknowledged across the nation. On the contrary, Quick credit's android based instant cash loan app has created a feat by reaching 1 million+ downloads mark.
The steadfast team of QC has designed an enthralling interface for both website and mobile application to ensure an effortless and easy loan borrowing experience. Enforcement of vanguard Artificial Intelligence technology and some complex algorithms to optimize the engagement with customers and expedite user query resolution time. And what is more, this technological integration also facilitates users with the instant eligibility check using the acquired details from the database.
With QC,borrowers can avail instant cash loan in three simple steps at their comfort zone- onetime registration, document submission, and instant loan approval. As soon as the borrower applies for a loan, the backend team analyzes the profile and confirms it for loan approval. Once the loan application is approved, the team will instantly dispense the cash to the borrower's account.
QC never expects the borrowers to meet in person for physical verification. Indeed, every stage of loan approval is completely online and instant, which eventually waives off the efforts and preserves the time. Unlike any bank or financier, QC offers monetary assistance irrespective of the borrower's credit score since it complies with the fact that not every individual will have a decent credit score.
As people prefer comfort over complex, they find operating through mobile applications for monetary assistance would be much easier than visiting banks. Owing to this fact, QC has developed an advanced application on the android platform to allow people to borrow money at their comfort.
Users can download the application from the play store and install instant loan application for loan application. It has taken all measures to ensure an effortless and pleasant loan borrowing experience with a user-friendly dashboard. A support team will always be at your service to assist throughout your journey with QC. All of these aspects have made QC to be ranked among the top 10 online fintech platforms in India today.
Mr. Akhil Kumar Gunda, the Co-founder of Quick Credit says, "QC has always been involved in intense exploration for even better ways than existing to enlarge monetary aid services to every corner in India and will continue to do it."
Disclaimer: This is a company press release. No HT Journalist is involved in creation of this content.
Close Story