Rashmi& Amitabh Shah – Making a difference through a love story
Sep 18, 2020 03:21 PM IST
Both of them gave up their well-paying careers, probably much to the shock of friends and family, to work in for this endeavour and make the most of their education, experience and intent.
Yuva Unstoppable is one of India's premier non-profit organizations, founded and led by Amitabh Shah and his wife Rashmi Amitabh Shah. It has transformed over 1,800 government schools by providing infrastructural support. This includes building better toilets, improved drinking water, scholarships, digital literacy, facilitating workshops for behaviour change and more. It benefits over 700,000 underprivileged children across 41 cities of India with over 100 top institutes as partners. But what is intriguing is how all this also led to a love story for the husband-wife duo.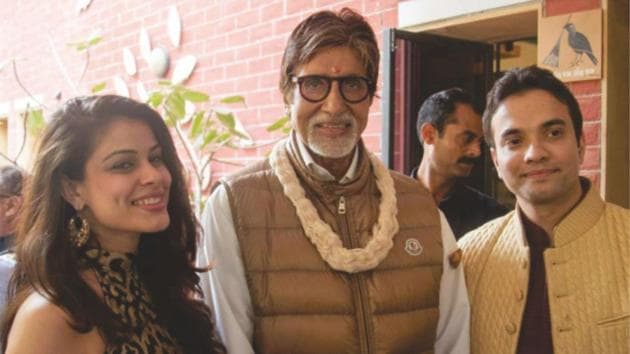 The beginning of the love story
Stay tuned with breaking news on HT Channel on Facebook.
Join Now
Amitabh and Rashmi tied the knot in 2014. And since then, they have both worked together for the projects that Yuva Unstoppable takes up across various government schools. More recently, they are also working for many who came in the line of all the devastation that the pandemic had, and continues to cause. This includes the daily wage workers, sex workers, frontline warriors and more. Both of them gave up their well-paying careers, probably much to the shock of friends and family, to work in for this endeavour and make the most of their education, experience and intent.
Amitabh Shah understands that there is no point of teaching math or science, if the schools lack basic hygiene and sanitation facilities. He believes that students will be able to grow holistically when core values, like compassion, gratitude, and kindness are imparted along with academic training. It is probably this that also gives Amitabh the innovative and aptly put designation as the Founder & Chief Inspiration Officer of Yuva Unstoppable.
In many gatherings, when asked about the work he and his wife do, Amitabh Shah often refers to an anecdote when he and Rashmi had first met. She asked him if they keep serving the humanity, would they have 2 meals a day for themselves. This question was what made him realise that this was the woman he was going to marry. Even before she married Amitabh Shah, Rashmi used to distribute food and clothes to people sitting outside temples on the streets. When she met the former and learnt about what he was doing for society, she too knew she had found the way to follow her heart while working together on YuvaUnstoppable's projects.
Making a difference
Rashmi won the title of Mrs India World Runner-Up 2014. She is a successful entrepreneur, corporate trainer, actor, philanthropist and 'Model for Cause' who wishes to make a difference in society. Director at Yuva Unstoppable, she leads their fund-raising campaigns internationally. She has been instrumental in garnering the support of many global philanthropists and institutions. Carrie Morgridge of the Morgridge Family Foundation, internationally acclaimed author Lord Jeffrey Archer, legendary cricketer of his times Sir Ian Botham are just a few among them.
On one hand, Amitabh Shah is working towards fruition of YuvaUnstoppable's vision by making government schools a better place to learn for children. And on the other, Rashmi Shah is advancing the goal by imparting value-based education and life skills training to youth. She has been carrying it forward through her online chat-series where she interacts live with social media audiences. Her Facebook Live campaign - Atmanirbhar Bharat– is a series of digital dialogues inspired by Prime Minister Narendra Modi's vision of building a self-reliant nation. She hosts informal discussions with people from different walks of life and touches upon topics like dressing for success, overcoming addictions, building an attitude of gratitude, body language, interviews skills and others. Her online talks during the pandemic lockdown have been viewed by lakhs of youth.
More about Yuva Unstoppable
In the past, Prime Minister NarendraModi, late president APJ Kalam, superstars Akshay Kumar and Amitabh Bachchan, award-winning directors Rakesh Omprakash Mehra and R. Balki, cricketers VVS Laxman, Parthiv Patel, Irfan and Yusuf Pathan and Sir Ian Botham, global legends like Author Lord Jeffrey Archer and Paul Polman (Former Global CEO Uniliver) have participated in YuvaUnstoppable's initiatives.
Actor Ashton Kutcher's A-Plus Media, Morgridge Family Foundation and Chicken Soup for the Soul have made a 4-minute short film on YuvaUnstoppable's school transformation program of improving toilets and education facilities in government schools and of empowering girls across the country. It was premiered at the Yale CEO Summit 2019 in NYC with CEOs of Iconic companies, like Merck, Wells Fargo, Dunkin Donuts, Goldman Sachs, IBM, among others.
Disclaimer: This is a company press release. No HT journalist was involved in the creation of this content.