Reshant Ghosh: A young genius commanding Anondita Healthcare to greater heights of glory
May 22, 2020 04:42 PM IST
Widely admired for his dynamic approach and youthful energy, Reshant Ghosh, Director, Anondita Healthcare, is spearheading his company to a fast trajectory of growth. Winning industry accolades in his prime, he is a role model and a great source of inspiration for young and upcoming entrepreneurs.
Anondita Healthcare, India's leading condoms and surgical gloves manufacturer, has successfully captured a sizeable market share in India and overseas. Steered by Mr. Reshant Ghosh as Director, Anondita Healthcare has successfully been able to bring condoms in the mainstream among the youths, making them lifestyle products with some of the brand names as colourful as their product range.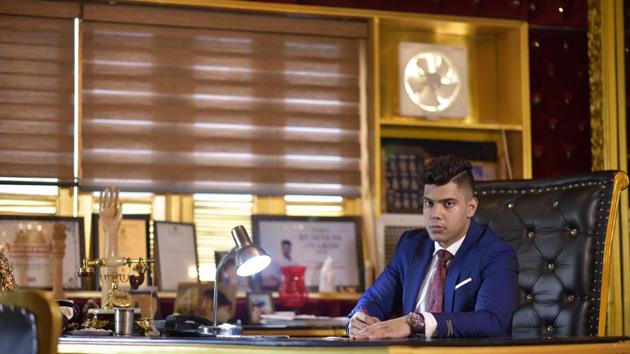 These condoms have sensuous aromas and flavours like Nimbu, Jamun, Kacha Aam, Orange, Strawberry, Mint, Chocolate, Butterscotch, Coffee, Bubblegum Banana, and Paan. "Condoms are not a taboo, but healthy lifestyle products with a potential to ensure the elimination of sexually-communicated diseases like HIV and many other STDs. There is an urgent requirement for comprehensive sex education in India, where there is a lack of honest and age-appropriate information necessary to help the youth take effective preventive measures for their health and wellbeing," says Reshant.
An entrepreneur with a heart of gold, Reshant believes in giving back to society. In light of the rising number of Covid-19 cases, he recently, took charge of doubling the production of surgical gloves at Anondita Healthcare..
He says, "At this unprecedented time, when doctors and other healthcare workers are working day and night to serve the patients, that, too, without caring for their own lives, it's our moral responsibility to ensure their utmost protection from infection as much as we can. I hope that we soon win this battle against the COVID-19 pandemic."
Anondita Healthcare, the only World Health Organisation (WHO)-certified manufacturer of condoms and surgical gloves in North India, contributes to over 70% subsidized condoms distributed by the central and state governments..
Anondita Healthcare has emerged as India's prominent third-party manufacturer for other branded players like Barkat, Tamanna, Force, Ek Lamha, and the immensely popular Nirodh. Condoms manufactured by Anondita are 100% electronically tested and exhibit display attractive designs and pictures. Export-quality packing material is another specialty of Anondita's products.
Besides articulating his forward-looking vision and commitment to excellence in the product portfolio expansion of Anondita Healthcare, Reshant is instrumental in driving its expansion goals. Anondita Healthcare already enjoys a dominant market share in Northern and Eastern India. The statesinclude Delhi-NCR, Rajasthan, Himachal Pradesh, Odisha, West Bengal, Bihar, and Jharkhand.
Reshant has been the driving force behind the company's significant global presence across several continents. Currently, Anondita Healthcare is eyeing even deeper penetration in global territories, especially Ghana and its neighbouring African countries, where it aims to ensure regular bulk supplies of high-quality condoms. Poland is another country on the expansion radar of Anondita.
In India, Anondita wants to cater to the growing demand for contraceptives in the North-East, besides generating employment and supporting family planning initiatives there. Anondita Healthcare is looking to expand deeper in Arunachal Pradesh, Assam, Manipur, Meghalaya, Mizoram, Nagaland, Sikkim and Tripura. It has already launched a manufacturing facility in Guwahati.
Reshant is looked up for inspiration by many. Better known for its bestselling condoms brands like Cobra and Midnight, the company has an installed a capacity of nearly 550 million condoms and 60 million surgical gloves per annum. It also manufacturers its own condom-making machines, which is one of its prime USPs. It has been manufacturing condoms for domestic pharmaceutical players like Mankind (Manforce Condoms), Zydus Cadila (VIGORA condoms ), and Wockardt Ltd. (Vigo XXX condoms), among others.
Reshant is a respected thought leader, especially on family planning initiatives and other issues of social importance. The other social initiatives that he spearheads at Anondita Healthcare include offering employment to the differently-abled and extending a helping hand to charitable trusts actively involved in providing free medicines and medical equipment to hospitals.
Reshant regularly appears in talk shows on national media platforms. At such a young age, he has achieved the distinction of being an authority in his area of expertise, including leadership and entrepreneurship, among others. His authored articles have also gained attention in the magazines of national repute. He believes that there is an urgent necessity to develop comprehensive perspective on the issues plaguing the growth of the country. An auto enthusiast, he loves to go for long drives and is curious about the engineering that goes into every vehicle.
Committed to serve as an anti-AIDS crusader, Anondita Healthcare recently won the Emerging Healthcare Award at Times Business Awards due to its active participation in regular bulk supplies of surgical gloves and condoms in the state-run hospitals of Maharashtra and Karnataka, besides supplying its products in Army hospitals in Delhi, Rajasthan and Himachal Pradesh. Anondita Healthcare was also praised by the National AIDS Control Society when a team visited its manufacturing unit.
Disclaimer: This is a company press release. No HT Group journalist is involved in the creation of this content.