Rohit Rajput: A dashing bodybuilder with invincible attitude towards life
The gentleman is a true fighter, and will surely make India proud with his achievements and positive attitude towards life.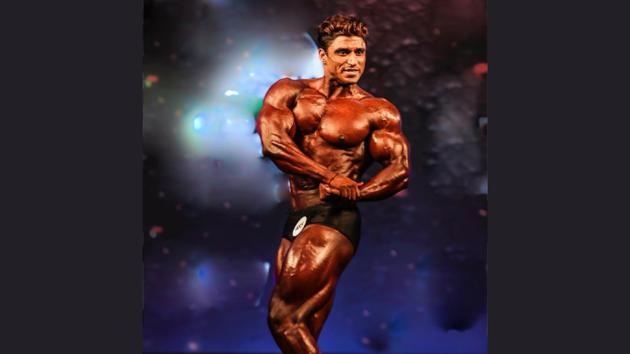 Published on Sep 07, 2020 05:58 PM IST
Rohit Rajput, the charismatic bodybuilder has figured how to stand out in the world full of fitness freaks, all because of his hard work and dashing personality. He has attracted followers from every country and strata of life. From a common man to celebrity, no one can escape from Rohit's charm. He has been one of the most adored bodybuilders in India and it's his dream to win the title of Mr. Olympia, having a look at his training sessions, it won't be surprising if he accomplishes it soon. Genes have the power to pass on talents, but in his case, the hard work was also the key. He started getting training from an early age and since hasn't looked back. He spends around 13-18 hours regularly on his training, and it has taken him his blood, sweat, and tears to attain this level.
Scrolling through his Instagram handle, undefeatable_rohit_rajput you will get a glimpse of his dedicated fan base, and the love that they shower on him is infinite. The way he carries himself demonstrates that he has a good sense of fashion too. He has a versatile set of followers, including college-going students to sportsmen to businessmen, who just love to preach his style. The sophisticated funky collection doesn't leave any chance to grab the eyeballs of his followers and they instantly make it a hit by copying the same. And because of this, the enthusiastic athlete has even managed to become a top fashion blogger of India.
Rohit, from a very young age, was mesmerized by fitness. Being born in Haryana proved to be good for him as there he came across with the tradition of "Akhada", he used to see his cousins go over there and soon indulged himself into the training. With flying time he started noticing an improvement in his physique and after passing 10th standard he joined a gym. By then he moved to Delhi along with his family. He was motivated by the exposure that he was getting in the city but gym training has its expenses and at this point, it got difficult for him. But he was ready to keep his nose to the grindstone and soon found a way out; he decided to run a business with his few friends to manage his expenses. Rohit being a newbie was usually avoided by the people around him as he didn't have a physique and knowledge like them.
But he knew that he has to stay focused and need to channelize his energy in the workout. Within 2 years he won the YMCA contest and became the star of his gym. He started to win every competition he used to participate in, named Junior Mr. Haryana, Mr. Delhi-4 times, Mr. North India, Mr. India, and many more. The same bunch of people who used to avoid him now used to seek him for professional advice. He also got honored with the title of Sheru Classic. Even he became Asia's 1st and World's 2nd winner of the Sheru Classic Men's Physique title. These achievements took him to the next level in his career, and he started getting various ad offers to be the Brand Ambassador of national and international supplement brands and also got shot different ads for a variety of brands.
While Rohit was on the top passage of his career, he got his back injured, and even after the refusal of his doctors he did not give up his training. He pursued his passion for bodybuilding and continued his regime both inside and even outside the gym. His never say never attitude made him participate in the Amateur Olympia Competition within a year of his back injury. Not only this, but he also participated in the PRO Qualifier and won the Gold medal in the Classic Physique category.
Talking about the hardships he faced, Rohit says, "Problems are a part of success. If you get demotivated or loose against these problems, you'll never be successful. Even after my back injury, I decided to stay focused towards my passion. I worked slow during that time but never stopped. This is how one has to follow their passion to be successful. Always believe in doing hard work." Also, while discussing his future plans he says "I am very grateful for the genetics that I have, which has helped me reach where I am today. But this does not mean that I did not face difficulties. While at the peak of my career, I was advised to stop bodybuilding, but I did not give up. This is why I am now going to live my dream of representing India in the Olympia. I want to bring the Title home for my Country."
The gentleman is a true fighter, and will surely make India proud with his achievements and positive attitude towards life.
Disclaimer: This is a company press release. No HT journalist was involved in the creation of this content.
Close Story
Personalise your news feed. Follow trending topics