Rust-X provides nonpareil corrosion prevention solutions across steel and automotive industries
Aug 21, 2020 02:54 PM IST
Mumbai based company Rust-X, is rendering corrosion prevention services to Automotive, Steel, Aerospace and Power industries.
Rust-X, a global leader in Corrosion Prevention Technology, has 7 manufacturing facilities in India, approx. 4,000 customers, manufacturing in 4 continents, and presence in around 45 countries globally making us a Star Export House.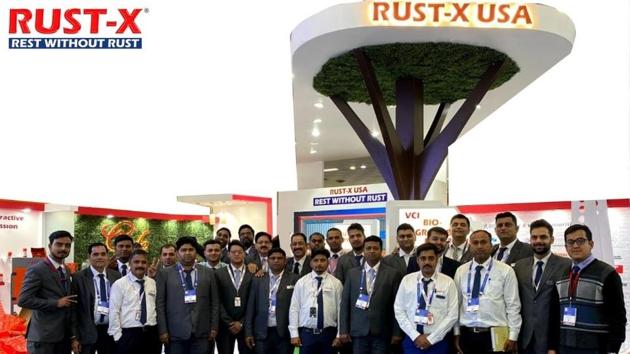 Rust-X is one of the fastest-growing rust preventive packaging and liquids manufacturers which adheres to the principle of sustainability i.e. finding ways to align our business values and reducing our carbon footprint thus creating value for society and the environment. Consequentially, this responsible company is investing in water-based and biodegradable products to minimize the industry's impacts on the environment.
Stay tuned with breaking news on HT Channel on Facebook.
Join Now
It has invested largely in its Intellectual Property through wide registrations in patent and trademarks nationally and internationally for its products Vapor Corrosion Inhibitors or VCI® Technology making products like VCI® Papers, VCI® Liquids, VCI® Plastics, and VCI® Emitters & Desiccants, Anti Counterfeit Packaging, Dry Packaging and Additives for short- and Long-Term preservation. This allows the customers to rely on Rust-X technology on providing complete packaging solutions and corrosion prevention helping their businesses to grow efficiently.
"Our strength lies in our in-depth knowledge about Corrosion, its prevention, and the ability to provide a guaranteed solution to our clients. With an excellent track record on Corrosion Prevention, we are proud to have 100% customer loyalty based on the levels of our product quality, pricing and service. We are also an environmentally conscious company that tries to utilize sustainable processes" says Mr Leonard Parker, VP Sales & Sustainability, Rust-X USA, California, USA.
Rust-X promotes PM Modi's 'Atmanirbhar Bharat' and 'Make in India' vision
What started from a humble beginning, Rust-XIndianowhas 300,000 sq. ft covered area practising a Just-In-Time (JIT) manufacturing approach where we cater to customer needs within 24 hours anywhere across the length and breadth of the country. They want to be a one-stop-shop for our customers' rust and corrosion prevention solutions, thereby, making them Atmanirbhar.
With plants in Chennai, Mumbai, Gurgaon, and Punjab, we support PM Modi's Make in India vision, we manufacture our products in India and employ around 1000 employees of which around 50% are females promoting the women empowerment. The team has a common passion of 'Doing Better Every time'.
Our dedicated team of Engineers in every state of India provides end to end customer support and meet their R&D requirements. Besides India, we have an excellent support network in Europe, USA, Canada, Latin America, Australia, South Africa and China.
Rust-X Solving Industry problems and its Marquee Clients
The company with its tagline 'Rest without Rust' is a solution provider in corrosion problems faced by the Automotive, Steel, Oil & Gas and Aerospace Industry. By using its patented VCI® technology products, Rust-X has managed to preserve from corrosion products ranging from sewing needles to aircraft parts, storage, and shipment, thereby, earning merits in successful performance by catering to the corrosion woes the industry undergoes. Rust-X's impressive clientele includes BHEL, Indian Air Force, Indian Ordnance Factory, Hindustan Aeronautics Ltd, Larsen & Toubro, ABB, Siemens, Jindal Steels, TATA Group, Aercelor Mittal, Maruti Suzuki, Honda, Yamaha, New Holland Tractors, Delta Electronics, GE, Caterpillar. Rust-X USA, an associate company is headquartered in California, USA.
Its campaign #Rustxglobal360 is a support to the Steel & Automotive Industry to utilize its global services. A recent example can be seen in its new contract with Bharat Forge Ltd, a Pune based manufacturer of crankshafts and machined forgings who utilized their corrosion prevention products and extended support services in India, Mexico, and the USA.
While a lot of businesses took a huge hit because of the Covid-19 pandemic, Rust-X outperformed with proper planning and pan India manufacturing to cater to its clients' needs, preserve, protect and ship their equipment's and components rust-free globally.
"Our turnaround time is exemplary; we were highly appreciated for a recent business tender with Government of India enterprise Bharat Heavy Electricals Ltd. Such praise boosts RustX to maintain an unmatched leadership in the industry offering a reliable product and service, at the right price and with the best deliveries accompanied by global support", Mr V KrishnaMurthy, GM Marketing, South concludes.
For more information, visit http://rustxusa.com/ and http://www.rustx.net
Source: Digpu
Disclaimer: This content is distributed by Digpu News Network. No HT journalist is involved in creation of this content.