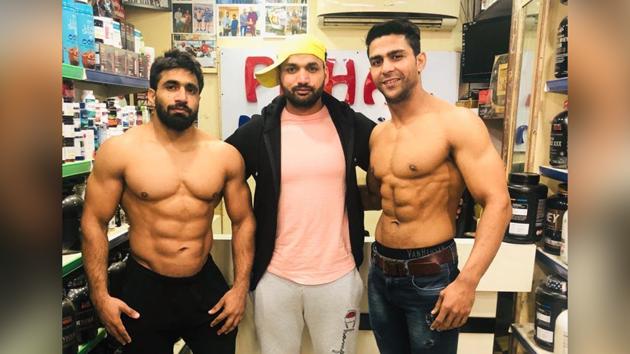 Sandeep Deswal, Virender Pahal, Mohan Pahal – 3 trainers show the way to fitness
Their nutrition guide, Pahal Nutrition, has millions of followers on social media. So far, they have helped train huge names in the worlds of entertainment, athletics and films.
UPDATED ON APR 03, 2020 01:30 PM IST
If you think one trainer is not enough to get you into the right shape, try three! Yes! Three fitness trainers are better than just one any day and the three mavericks who prove this are Virender Pahal, Mohan Pahal and Sandeep Deswal. While the Pahals are already rising stars on YouTube and Tik Tok for their fitness videos, Deswal is close behind them in terms of popularity as a fitness coach.
The Pahals are probably the only fitness coaches in India who have insane following on social media platforms. Their nutrition guide, Pahal Nutrition, is very famous on social media, with millions of followers considering this to be the best nutrition supplement. The Pahals design customized workouts for their clients and followers, allowing them to get fit in the most effective way. Moreover, with their regular videos, they also motivate people to stay fit.
Online fitness training is a trend in the world of health and lifestyle, and these three young men are cashing in on that very well. Both Virender and Mohan realize that people lead a busy life these days, with no time for self-improvement. In such a scenario, providing fitness training online is the best possible outcome for both the provider and the client.
These new-age trainers also understand that losing weight is the most difficult task to achieve. But more than that, staying in the right shape is even more difficult. In such a situation, having fitness training online, in your hands, on your phone, is the best fitness coaching to provide.
Not satisfied with just being fitness trainers, the Pahals are also sports instructors and personal trainers. Their services include online workout programs and nutrition guides. In addition, they provide video fitness sessions and are available on chat online. This gives their clients round-the-clock facilities to stay fit. So far, the Pahals have helped train huge names in the worlds of entertainment, athletics and films.
Together, the Pahals and Deswal are the best in the business. With millions of fans online, if you need to be lean, ripped or muscular, you can pick this trio of fitness coaching and achieve the best results. You can connect with them on Instagram, YouTube or their website Pal Nutrition.
Disclaimer: This is a company press release. No HT journalist is involved in the creation of this content.
Close