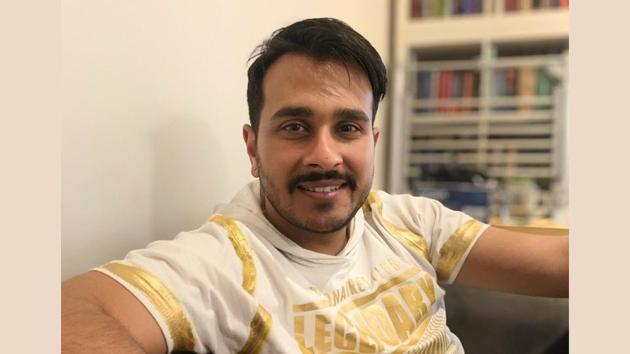 Singer Vee Kapoor and lyricist Prashant Ingole to release a romantic song soon
While Kapoor is known for soulful devotional songs like 'Giridhari' and 'Saavaro', Ingole is known for tracks in 'Purani Jeans', 'Mary Kom' and 'Bajirao Mastani'.
UPDATED ON AUG 20, 2020 07:12 PM IST
Singer Vee Kapoor, who is known for soulful devotional songs like 'Giridhari' and 'Saavaro'—released by prominent music labels like Times Music—is coming up with a new single very soon.
He has impressed his fans and followers with several songs released before. He is most liked for his unique singing style and the texture in his voice.
Vee says, "Music has been my constant companion. Ever since I can remember, singing came to me naturally... and I was always thinking about songs, tunes, and rhythm because there was something about it that fascinated me."
Vee Kapoor, who released his first song, Giridhari, in 2019, has been winning a lot more attention from renowned musicians ever since he began posting Western and Indian classical music videos on social media in the last few weeks. "I have been learning music since childhood, but turned a lot more to it during the lockdown," he says.
Vikas Kapoor, whose screen name is Vee Kapoor, has been very active as a singer. Born on born December 4, 1986, he has released singles of international repute. He has been doing cover versions of popular Bollywood numbers and uploading them on his YouTube channel. It has only been a few months since the last song release and the video has already garnered over half a million views on YouTube. The UK-based artist, who comes from a non - entertainment family, has truly made a mark for himself.
On the work front, he has recorded a bunch of songs during the lockdown, which will release soon. One of his upcoming projects includes a single where he has collaborated with renowned lyricist Prashant Ingole ('Purani Jeans', 'Mary Kom' and 'Bajirao Mastani'). When asked about the details of the song, Vee said, "It will be a romantic number... I wish I could share more details, but it's not ready yet. I'm sure it's going to impress the audience with something new and interesting in terms of music and song…"
Disclaimer: This is a company press release. No HT journalist is involved in creation of this content.
Close