Thank you Pukhraj
Everyone goes through a painful experience in life at some point but only a few are kind enough to use that experience to lessen the pain of others. Meet Pukhraj Singh, whose efforts truly reflect the power of love and care in dealing with an ailment. Cadbury Dairy Milk would like to say a heartfelt thanks to Pukhraj for being a pillar of support to the young cancer patients and their families.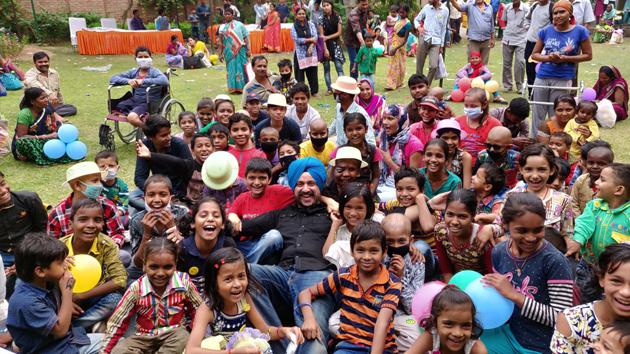 Updated on Jul 31, 2020 10:55 PM IST
Promotional Feature, HT Brand Studio
It is in the life's adverse situations that we find the courage to bounce back with a renewed self and the realisation to give back to the world. Pukhraj Singh is rightly doing so by giving psychological and emotional support to young patients suffering from cancer and their family members.
For the last five years, he has looked after more than 400 of the poorest patients who are getting treatment at AIIMS, New Delhi. There are hundreds of individuals who reside at the pavements and in the Dharamshalas around AIIMS who don't have the means to support the treatment, let alone counselling. Pukhraj's presence ensures they don't feel alone in their journey, they have someone who cares for their emotional well-being. He makes instant connect with people and establishes a bond of care and friendship with any life he touches with his kindness and care.
He conducts a weekly day care programme for 40-50 teens suffering from cancer on a regular basis. In the last one year, Pukhraj has also started working with juveniles who have been drug addicts in a juvenile detention centre in Delhi.
Pukhraj found his life's purpose when his son, who was suffering from cancer, got support from strangers who offered not just financial help but also emotional care. "I was amazed to see that an article my son wrote about his experience has been viewed by people all over the world who are coming forward to help us deal with the situation. It seemed the whole world was praying for him and by god's grace and everyone's blessings, my son had beaten cancer."
This was a huge turning point in Pukhraj's life and he decided to do something for the young souls who are fighting cancer. He joined an organisation called Cansupport and gradually trained himself in various therapies and skills required to be a counsellor. Ever since that day, Pukhraj has helped hundreds of cancer patients and their family members manage and navigate the emotions that they go through. While Pukhraj can't guarantee a cure to the people, it's the empathy and warmth that he displays helps people to cope with their fears. Summing up his process, he says, "I see so many people every day going through different issues but one thing that brings hope in their lives is a warm hug from someone who they know relates to them and is there to hear them out. Sometimes, a jadoo ki jhappi is all one needs."
Topics
Close Story