The meaning of Dragonfly
Updated on Dec 15, 2020 06:22 PM IST
The totem of a dragonfly carries a sense of identity. It ensures the virtue of living freely.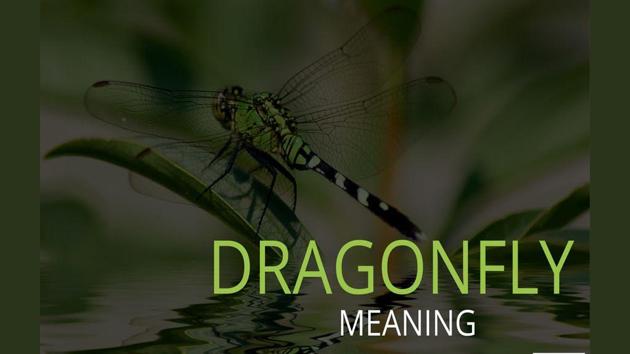 A dragonfly is a symbol of change, transformation and self-realization. It teaches us to love life, to rejoice and have faith even amidst difficulties.
So, dragonfly meaning is no doubt significant. It is time for us to understand the meaning of a dragonfly conveyed in different cultures.
Dragonfly Meaning In Different Cultures
A dragonfly holds a different meaning in different cultures. Let us know a few different meanings of the dragonfly according to different cultures-
Swedish Culture- According to the Swedish culture, dragonflies approach people to measure the purity of their soul. They try to check whether people are evil souls.
Vietnamese Culture-According to the Vietnamese culture, dragonflies predict the weather. If they fly low, they predict rain. On the other hand, if they fly high, the weather is bound to be sunny and bright. If they fly at the medium level, the sky is bound to be overcast.
Danish and Portuguese Culture- According to Danish and Portuguese culture, dragonflies represent dark symbolism. People who believe in either of the two cultures are afraid of the dragonfly symbolism. They are also termed as "eye poker" and " devil's needle."
During their lifetime, these insects are brightly coloured. However, they become colourless and transparent after death.
Native American Culture- For the Native American community, particularly the Navajo community, the dragonfly represents purity and happiness.
Japanese Culture- The dragonfly is an essential part of Japanese culture. They even find mention in the haiku poetry of the Japanese. In the Japanese culture, a dragonfly represents the end of summer and beginning of winter.
Meaning of dragonfly in Dreams
A dragonfly symbolizes love, growth, new development and adaptability. If people dream about being attacked by a dragonfly, it symbolizes a deep hurt, which they haven't revealed to anybody. On the other hand, a flying dragonfly symbolizes a significant change that is about to come to their life.
Meaning Of Seeing A Dragonfly
If a person sees a dragonfly, it has the following different meanings.
●Work silently
●Be fast and energetic
●Adapt to the environment
●Maintain flexibility
Meaning of A Dragonfly Landing On Body
When a dragonfly lands on the body, it has the following meaning-
●Ensured wisdom
●Ensured maturity
●Grace and elegance on the way
●Changes on the way
●New beginnings on the way
●New beginnings and changes coming.
Spiritual Meaning Of Dragonfly
A dragonfly signifies transformation. The spiritual meanings of a dragonfly are as follows-
●Easily expressing emotions
●A call to dive deep within oneself
●New opportunities
●Adaptability
●Happiness
●Connecting with angels
●Prosperity
●Harmony
●Profound thinking
●Wisdom
●The revelation of the true self
●Unmasking the real persona
Dragonfly Spirit Animal
The totem of a dragonfly carries a sense of identity. It ensures the virtue of living freely.
It unmasks the real personality that lies dormant within each individual. They remove any element that is not a part of real life. Often, people suffer from self-doubt. That may hinder their ability to move ahead. Here, a dragonfly urges people to get rid of their doubts and live life fully.
A "wonder animal" is the spirit animal of the dragonfly. It also represents the purity of being. The spirit animal urges people to take chances and realize the potential within them. It helps them understand that they can fully realize their potential. Many mystic people consider a dragonfly to be a messenger from the spirit guides. Their purpose is to reveal the magical path to people.
The totem of dragonfly prevents people from falling into the trap of deception and false hopes in life.
Dragonfly Tattoo meaning
It is a fashion for people to get themselves inked. People who consider a dragonfly to be their spiritual guide, opt for dragonfly tattoos. The dragonfly tattoos have the following meaning-
●Symbolize freedom
●Remind people of prosperity, positivity, good fortune and courage.
Conclusion
In many cultures, an adult dragonfly is believed to be a symbol of death. A few tribes claim that a dragonfly is a transition phase of a beloved one who has passed away. They represent a metaphor of life and death.
They convey the message stating that the old souls must depart, to make way for the new. It helps people shed several emotional barriers they have created. This spirit guide cannot emphasize enough on the necessity of staying pure.
They should embrace their personality with pride. Humans may undergo metamorphosis like a dragonfly.
Disclaimer: This is a company press release. No HT journalist is involved in creation of this content.
Personalise your news feed. Follow trending topics