Top astrologer Dr. Vinay Bajrangi explains the importance of horoscope
Updated on Oct 19, 2020 06:23 PM IST
What makes an astrologer the best are his astrological educational pursuits, patience, intuitiveness, the ability to speak his heart with some caution, and devotion to God. Know more from Dr.Vinay Bajrangi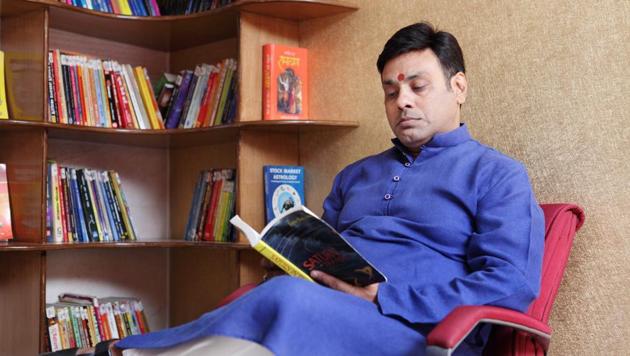 Vedic astrology has its roots emerging from ancient India. Most forms of Vedic Indian astrology are said to originate through the minds of the ancient Indian seers. And since it has its roots here in India, the top astrologer practising Vedic astrology should necessarily be here in India. In this present world, when one does not compromise on quality, connecting to the world's best astrologer becomes the priority of all those who like to mend their fate.
Hindustan Times was in conversation with Dr. Vinay Bajrangi, one of the best astrologers and Karma correctors in India, on this issue. He was upfront in ascribing the qualities of an astrologer who could be considered the best. Here are the excerpts of the interview:
What are the qualities/skills of a good astrologer?
Dr.Vinay Bajrangi: The first point to understand is that there are many schools of astrology. These schools or branches chiefly are the Bhrigu, Ravana, Parashara, K.P., Jaimini, Krishnamoorthy, and the south Indian Nadis. Knowing more than one of these techniques gives better maneuverability and capability to the astrologer, although all the branches are complete in themselves. So, the first quality for an astrologer is to have a firm hand on most of the above astrology techniques; the more, the better.
The astrologer should also be competent to understand and analyze the Desh (country or place), Kaal(time), and Patra(individual). The readings of a person from America cannot be the same as for his counterpart in India though birth time and date are the same. The other qualities that make an astrologer best are his astrological educational pursuits, patience, intuitiveness, the ability to speak his heart with some caution, and devotion to God. The astrologers who have these qualities, we can term them a skilled astrologer who can read the future.
How to locate a good astrologer in India?
Dr. Vinay Bajrangi: I have seen many novices astrologers who have just completed their elementary studies in astrology and start playing with the horoscopes. The key to finding the best astrologer in India is to locate someone with the above-described qualities with sufficient experience.
While describing the qualities of a perfect astrologer to sage Narada, Lord Vishnu had said that those persons who have had the experience of analyzing fifty thousand horoscopes could be termed as an astrologer. By their experience and devotion towards astrology, these astrologers gain the capability to venture into the dark unknown world classified as the future and become competent to resolve the natives' griefs.
So, before placing your horoscope into the hands of an astrologer, check for his experience. A person who reads ten unique horoscopes a day will need fourteen years to complete fifty thousand horoscopes and become worthy of handling horoscopes. He should have a good hand at mathematics and astronomy. These two are the two essential weapons one good astrologer has in his arsenal.
Apart from this, the majority of people should have a reasonable opinion about him. The astrologer who has adequate third party references beyond their own social media tools can also be considered a class apart. Here, before judging the astrologer, one should keep in mind that finding the top best astrologer in India depends significantly on the individual's karma. Sometimes when the stars are not conducive and the natives run the Dasha of a deep malefic, even the best may prove ordinary.
Who can be a good marriage astrologer?
Dr.Vinay Bajrangi: A good marriage astrologer is not easy to find because he has to have the ability to cure most marriage-related problems. Foremost he should be able to suggest ways for making marriage happen. Even the most chronic bachelors can marry following the methods advised by a competent marriage astrologer. He should be capable of making lousy marriages work. He should be able to prevent divorce. If an astrologer is a good marriage astrologer, he can be the best marriage counsellor too. By marriage counselling, I mean astrologer should be capable of handling both the pre-marriage counselling and post-marriage counselling.
I have seen many marriages not happening as the matching of horoscope playing a spoilsport. A good marriage astrologer can help an otherwise non-matching horoscope match. He can suggest karma correction methods that, if applied through the natives' free will, then even the non-matching horoscopes match. The astrologer should be capable enough to read all the charts in tandem that relate to marriage.
So, if an astrologer can efficiently address all the marriage areas, he can be considered a good marriage astrologer.
Who can be a good career and a business astrologer?
Dr.Vinay Bajrangi: I vividly remember that once a wealthy businessman visited my office in Noida to have an audience with me concerning his son. Some astrologer had told him that his son did not have a business yoga, and his son should be serving someone. Similarly, once a very successful top rank executive visited me to enquire about his prospects in business. He felt that the efforts he was putting for his employer if he started putting for himself, would gain immensely. He had come to me to double-check as his astrologer had given him a go ahead and start a business of his own.
In both of the above cases, the reading that the astrologer had given was flawed. In the first case, the astrologer had simply checked the business yoga and gave his verdict. He did not go ahead to check the inheritance business yoga that has an entirely different combination. Similarly, in the second case, the astrologer was convinced that his Laxmi Yoga (inflow of money Yoga) would remain intact even if the native switched from job to business. In-fact had the native switched, the Laxmi Yoga would have become defunct, and he would have lost in heaps.
Therefore, an astrologer who can analyze all the chart's critical details and the supporting charts is a good career and business astrologer. These critical details are not identifiable in the Lagna chart, but one has to see through other finer charts.
Knowledge of a new evolving business is one more thing that really distinguishes between a good and average astrologer. An astrologer should suggest the career and business as per the latest trends from where the client belongs. These suggestions can only be achieved when the astrologer can interpolate this knowledge with the horoscope's relevant significations.
How reliable is astrology for predicting a career? Is it always correct?
Dr.Vinay Bajrangi: Those who are blessed with the ability to check the horoscope for predicting a career can indeed do it with satisfying results. I continue to be a guiding beacon for many youngsters who come to me to read their birth charts for their future career. The results have always been outstanding. Therefore, I can say with pride that astrology is very reliable for predicting a career.
Should we rely on an online astrologer?
Dr.Vinay Bajrangi: It depends upon the type of consultation one is seeking to have. It isn't easy to give an astrological counselling session online, but those sessions which require simple one-liner answers can be taken online. Here I would like to differentiate between short mechanized reports from online counselling sessions. Short mechanized reports may not be accurate as these are generated from short programs that do not consider all the aspects while delivering their reports.
Free astrology predictions – can we believe in them?
Dr.Vinay Bajrangi: "Nothing comes for free." You cannot plan your future on these free astrology predictions. They, however, have good entertainment value, but it seldom comes true. It is a tool used by many websites to pull traffic, but as I have said, these predictions do not come true as they do not have a concrete base for any calculation, but they get randomly pulled from a mechanized pool. So, please do not believe them for making major decisions of your life.
Is an astrologer area-specific, e.g., the best astrologer in Delhi NCR is different from the best astrologer in Mumbai or is different from the top best astrologer in India?
Dr.Vinay Bajrangi: Not long back, the best astrologer in Delhi NCR was different from the best astrologer in Mumbai or any other place. But with the advent of fast means of transportation, a good astrologer shows his presence everywhere. The expertise of astrologer is knowledge and experience-based and not area based.
Therefore the perception of best astrologer near me, best astrologer in Delhi NCR, or for a location or counting like 10 top best astrologer in India somehow does not appeal to me. A good astrologer can conduct sessions from anywhere in the world through widely accepted communication channels. I also hold audiences from remote places through video conferencing.
Therefore, a good astrologer nowadays is not confined to a single place but makes his presence felt everywhere.
How True Is Daily Horoscope?
Dr.Vinay Bajrangi: Looking for a bit of entertainment, encouragement, stimulation, and something to talk about in friends and family, then the 'Daily Horoscope' or 'today's horoscope' is generally true. But do not bank on it to make some significant decisions in life. A daily horoscope can offer a broad guideline for the day. Similarly, a weekly horoscope or a monthly horoscope can give a broad guideline for the week and month, respectively. But again, if you want to make some important decision, get your horoscope read from a good horoscope reader who has adequate experience, as already explained in the preceding questions.
Does Daily Horoscopes really work?
Dr.Vinay Bajrangi: It fuels you, but you have to ignite and propel your engine yourself. If it strikes the correct chord, it can make the day. In all circumstances, it motives the reader. For information, the horoscopes like the daily horoscope, weekly horoscope, monthly horoscope, and the yearly horoscope are on my website www.vinaybajrangi.com. These are drawn and written horoscopes based on the transit of the fast-moving planets. The results are immaculate, and therefore it is recommended to bookmark the page for viewing it daily.
What is the fundamental difference between a horoscope and a daily horoscope?
Dr.Vinay Bajrangi: Kundli or horoscope or birth chart are the different names of the same thing. A horoscope is a pictorial depiction of the sky showing the planets' placement in different signs and constellations at the time, date, and place of birth of the native. It remains constant throughout the life span of the native. Daily horoscope, in contrast, is the daily horoscope prediction for the natives of all moon signs based on the positioning of the moon. Since the prediction done on the daily horoscope is based on just one planet's positioning, it is a generalized prediction. On my website www.vinaybajrangi.com you can find a daily horoscope for free, and also, if people want to have their, they can get it for free with just a click of the button.
Which sign one should follow - Moon or Sun Sign? Should we follow the Moon sign or Sun-sign in daily horoscope/'today's horoscope'?
Dr.Vinay Bajrangi: The Vedic astrologers use the moon sign to predict daily horoscope, whereas the western astrologers use the Sun sign for their predictions. Vedic astrology is thought to be more accurate than its western counterpart. Therefore, I recommend using the moon sign analogy to see the daily horoscope & daily predictions. People not sure of their moon sign can visit my site, www.vinaybajrangi.com, to know their moon sign. For those who wish to know which type of astrology is more accurate- I would say that the Vedic astrology based on the moon sign has to be more accurate than the others.
What is my zodiac sign? Is it the Moon sign or the Sun sign?
Dr. Vinay Bajrangi: If you follow the western astrology, your Zodiac sign is the Sun Sign, whereas if you follow the Vedic astrology, your zodiac sign is your moon sign. It is pertinent to note that the sun sign has some importance in Vedic astrology, but it is never needed to check the daily horoscope.
Career horoscope, Love horoscope, and the 'horoscope today' are, therefore, all generalized predictions?
Dr.Vinay Bajrangi: Definitely, yes! All those predictions that are not based on birth charts are generalized. Career horoscope, love horoscope, and the 'horoscope today' etc. are all based on just your moon sign or sun sign and, therefore, generalized in nature. Please read them, get happy, share it with your family and friends but do not plan your future according to it.
What is the relevance of the birth date, time, and place in the birth chart?
Dr.Vinay Bajrangi: We as astrologers read the type of influence and it's magnitude that each planet had cast at the birth of the individual. This influence brings out the unique characteristics and peculiarity of the native. Through the birth date, time, and place, we calculate the exact positioning of each planet. The characteristics that the planet bestows on to the native depend upon the planets' positioning and the planets' inter-positioning with other planets. Therefore, there is a great significance of the birth date, time, and place in the horoscope/birth chart.
Is daily horoscope useful without birth time also?
Dr. Vinay Bajrangi: As I have explained earlier, the daily horoscope is based on the moon sign. Moon remains in one sign for approximately two and a half days. Therefore, if someone has a faulty time of birth, then he will still benefit from the daily horoscope. If one has a date of birth with an accuracy of two days, he can also benefit daily horoscope.
If some person does not have exact birth details, what to do?
Dr. Vinay Bajrangi: S(he) should get the birth time rectification done. With this technique of birth time rectification, we can ascertain the exact birth details of a person. It is a very elaborate process that can be carried out by some experienced hands only.
What is birth time rectification? Can we get the correct birth time using astrology?
Dr.Vinay Bajrangi: Birth time rectification is a technique through which the birth details of any native can be deduced or corrected. Those who have flawed birth details can benefit from this technique. The more time one spends with the astrologer the more nearer the birth details could be rectified. If one has mastered Shastiamsa (D-60) use for rectifying the birth time, the time so arrived would be accurate for up to two seconds.
But again, the techniques to rectify the birth details are many, and the astrologer takes ages to master anyone of it. So, do not jump with your details to any astrologer as the one chosen by you may not have the competence to do the job.I have mastered the many birth time rectification techniques, and with the collective use of them, even the most erroneous birth details get corrected.
Conclusion: Dr. Vinay Bajrangi, a famous Vedic astrologer, provides complete information on astrology subjects. When it concerns marriage matters, you can get to know the best time and type of marriage for a person, likely age of marriage, marriage stability, the longevity of marriage and relationships with spouse, etc. Connect with him through www.vinaybajrangi.com or call 9278665588 or 9278555588.
Personalise your news feed. Follow trending topics