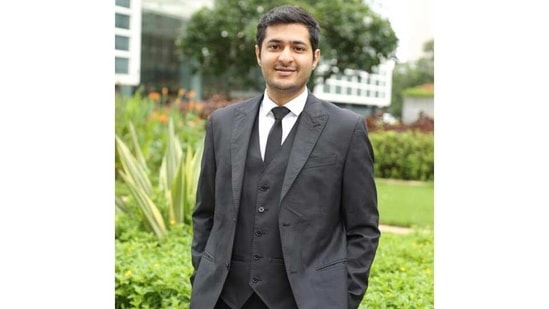 Vatsal Agrawal gets 'The Young and Emerging Entrepreneur of the Year' award 2020
Vatsal Agarwal, the young and dynamic promoter of Simplex coke and Stratmont Industries Limited (BSE Listed) is regarded as one of the enthusiastic young entrepreneurs of India.
By HT Brand Studio
UPDATED ON MAR 09, 2021 07:10 PM IST
A hunger for triumph, earnestness, and persistence to do whatever it takes are a few aspects that helps a man earn his rewards. Mr. Vatsal is one such entrepreneur that has always been working towards his goals, aims and visions with his company 'Simplex coke and Refractory'.
San Marino has appointed Vatsal Agarwal as the Honorary Consul General in Mumbai. San Marino is one of the wealthiest countries in the world in terms of GDP per capita with one of the lowest unemployment rates in Europe. No national debt and a budget surplus and has three million tourist visitors every year, but they do.
Vatsal Agarwal, the young and dynamic promoter of Simplex coke and Stratmont Industries Limited (BSE Listed) is regarded as one of the enthusiastic young entrepreneurs of India. He has launched multiple successful concepts that are going to change the working pattern of the manufacturing industry. It was his strong will, determination and power to take risks in life that led him to the pinnacle of success.
Having always put his best foot forward, Vatsal has received many honours, such as 'Young Achievers Award 2020'from Business World magazine, "World Entrepreneur of the year award 2020" from The Week magazine.
He has a strong vision of making India free of its dependence on China for met coke. He has identified a very big opportunity that exists in India for met coke post-COVID-19 where the government of India, under Prime Minister Narendra Modi has launched the scheme of Atma Nirbhar Bharat with the mantra of 'Local is Vocal'.
Met Coke & World of Coal
Simplex Coke is the 4th largest merchant manufacturer and trader of met coke in India and currently has a market share of approximately 5% in west and north India. It has installed stamp charging technology in its port-based plants located in Kutch & Porbandar. From there they intend to do coastal movement of coke to Haldia, Vizag, Chennai, Goa port and have also tied up with 7 coke manufacturers to build a pan India presence. Vatsal Agarwal has grown his company from a humble turnover of Rs.4 crores to Rs.100 crores in a span of barely 4 years with key customers like Tata Chemical, Nirma, Hindustan Zinc, Hindalco, Jindal Saw, Essar, Kirloskar, JSPL, etc.
Vatsal Agarwal has launched a coal marketplace named 'worldofcoal.com' where anyone could integrate real-time stock positions of various coal traders at different ports present, directly on the portal screen, such that buyers and sellers can match their price expectations as per market conditions with offices in Delhi, Kolkata.
Infrastructure and Equipment Banks
Vatsal plans to grow his company as India's largest Piling Rig rental company. It has been involved in most of the metro projects on a national basis for companies like Tata Projects, HCC, Larsen & Toubro, HPCL's Barmer refinery with Keller India and currently executing Andaman-Nicobar Islands' National highway project.
Vatsal Agrawal will not let his guard down and his constant idea of creating new ventures like Equipment banks which helps large construction companies to re-deploy and earn revenue for this construction equipment's if kept idle is "capital wastage". It includes services like the online sale, purchase, hire, auction transportation, finance, insurance etc.
Loyalty Points and Commodity Banks
Vatsal Agarwal's visionary concept is that if anyone does any spending, he or she is entitled to receive a uniform loyalty point which they can encash at any outlet for buying anything of their choice, as per the points available, people can even use these points as cash withdrawal in case of emergencies the freedom and the flexibility of having universal loyalty points shall make this loyalty program a great hit not only in India but also around the globe.
Vatsal Agrawaal has also a concept of Commodity Banks where both ends that is inwards/raw materials and outwards/finished products both being commodities are financed by comenity bank. It is a bankable proposition as at any given point of time there shall be a commodity under control as collateral.
Entrepreneur Vatsal Agrawal often dreamed of "building a thing huge." He is one of the most mental and youthful business owners of India. He always considered in advance of situations and has always been a visionary efficiently applying for various patents suitable from his college or university times.
It's never too late to accomplish the inner entrepreneur inside you, Vatsal Agrawal has been a great example to all of the upcoming youth who owns the heart of an entrepreneur and the brain of a businessman.
Disclaimer: This is a company press release. No HT journalist is involved in creation of this content
Close