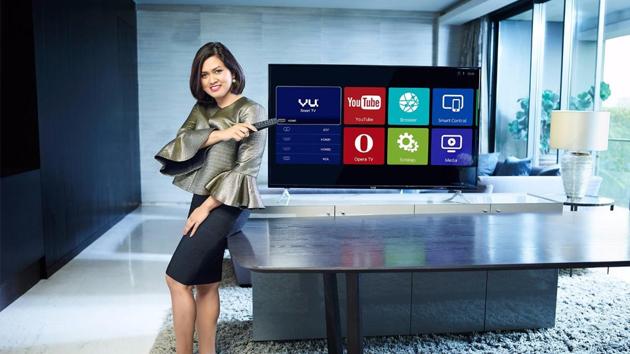 When the going gets tough, the tough get going: Devita saraf's lockdown leadership
Devita Saraf, Chairman and CEO, VU TVs tells us about managing and leading her business ecosystem during the lockdown.
UPDATED ON MAY 29, 2020 04:56 PM IST
The Covid-19 crisis has turned businesses on its head, forcing brand leaders to look for exit strategies in order to survive. Very few have managed to maneuver the uncertain challenges posed by the lockdown and maintain 'business as usual'. In the new normal, individuals like Devita Saraf, Chairman and CEO, VU Televisions, are showing the way ahead.
In the following conversation, she reveals her strategies and offers insights on leveraging the limitations imposed by the Covid-19 crisis.
1. You are in a leadership position in the industry. How are you addressing the challenges faced both internally as well as externally and how are you taking care of your employees?
During the first phase of the lockdown, most of us were making strategies on using the time as a sabbatical assuming the market will pick up from where it has closed, once the lockdown ended. But with Lockdown 4.0 coming into force, everyone discerns that the market is going to be in a very different shape when we start working again. I think the best thing one can do is to stay calm and prepare themselves to piece the business together once the market reopens. We are making sure our employees are getting paid even if it comes at a high cost to the management. We are looking at juggling our finances and budgets in other areas, but we are committed to not give our employees their notice. We believe this will also motivate them to work harder once they come back and contribute to business continuity.
2. How do you plan to lead Vu Televisions during these crucial times and do you feel that business, distribution, compliance and more importantly attitude will be key components for any business?
Yes, it's going to be very difficult for people to get back into the work zone while they go from lockdown to suddenly being rushed into the workplace once again. The important part for any business is to be able to piece the supply chain together so that your vendors, distributors and customers can stay strong because one weak link and your business can be thrown off. So just try and see if you can get your current business chain in order before you actually think of expanding or making any changes to business. I think we have realized that businesses are going to be badly affected in most areas, not necessarily it may be you but may be a supplier is in a different geography or a distributor has run out of liquidity because probably they have stocked up on inventory or you have customers who have less demand. So you will be affected by other people in your ecosystem, if not you directly, so try not to experiment with new ideas in such situations.
3. We heard that you are actively contributing to the community through donations, fund raising, advising entrepreneurs through webinars, live chats? Also tell us about your #Payitwithlove Campaign?
I think more than entrepreneurship, this is a time to show leadership and responsibility for our country and community as much as we can. When I got the opportunities to do all these webinars and fundraisers, I don't think I have said no to a single one of them. I have gone ahead and contributed as much as I can where it's through my time, money or my advice. Interestingly, one of my friends called me a few days before the lockdown and we were discussing the problem of daily wage workers. Keeping in mind the challenges of daily wage workers, I started a campaign called "Pay It With Love" where I was encouraging entrepreneurs to give their salary for the month or their salary for the day. I personally have given 3 months of my salary towards this cause. Even small amounts can mean a lot to these workers. My friend started a campaign "Spread Love, Not Corona'' looking at the logistics and operations part of getting food packets prepared and getting them delivered all over the city. As a country, we all have to be strong. I am sure all of us can do our bit to help our fellow Indians in need.
4. You talk a lot about subjects like power dressing & body confidence in your seminars and live interactions, can you elaborate on this?
At the end of the day what I keep on talking about is leadership. When you are a leader, whether a CEO or a manager in your division, people are always looking at you. They are looking at you for advice, strength, direction and inspiration. Confidence is crucial, it comes out in the way you speak and interact with people. Power dressing is also incredibly important. I was able to build the Vu brand out of my personal love for style. Your sense of style can dictate how people perceive you. If your business has a unique persona, it's because you have a unique persona. So that when you are presenting your business in a press conference or an interview or in daily meetings, really see that your style reflects who you are and reflects what your business is all about. The cohesive optics that you create by always talking in the same language visually helps consumers remember your brand, which is why power dressing is so important.
5. What do think businesses should utilize this time in and come out stronger and positive post the lockdown?
I think just try and do what you were doing first, don't go into new product lines, etc but also make a fall back plan incase if you feel like there is a gap in your distribution or there will be less demand for your product or your customers segment doesn't have the spending power. Definitely come up with plan B, but my personal choice has always been to have a strong plan A. Interestingly fifteen years ago when I wrote the business plan for Vu Technologies, which said it should be a high-end brand which is focused on innovation and customer excellence which is defined by design and style. I am doing the same thing since then and that's a good thing because I think we are not swayed by either a market high where there is a lot of liquidity in the market from investors or a market low like corona. Try and make sure that your current business survives. I think that will always work better than just constantly working on contingencies.
Close