Zara Hayaat's designer salwar suits launched in India on The Fashion Station website
Updated on Dec 29, 2020 06:26 PM IST
Founded in 2005, The Fashion Station is India's leading online fashion platform for authentic and designer Indian and Pakistani suits.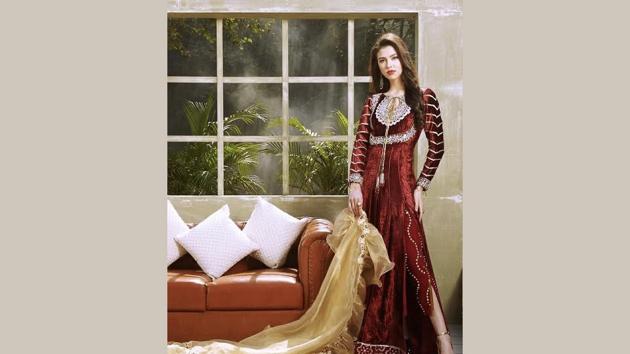 The Fashion Station, India's premium and original designer salwar suits store has a tie-up for distribution of the Zara Hayaat Women's Brand on its online website, www.thefashionstation.in
Founded in 2005, The Fashion Station is India's leading online fashion platform for authentic and designer Indian and Pakistani suits.
Right from the outset, The Fashion Station has been reimagining the fashion market. "We have never been afraid to take risks, on the contrary, with our free delivery and our easy return policy, we have set new standards in service.", says Saba Zaidi, Founder of The Fashion Station.
"For us, the customer is the focus of our mindset and actions. The Fashion Station website is the core of our platform. This is where customers can find exactly the suits they are looking for: traditional suits, festival suits, to exclusive Designer Suits, nobody leaves our site with an empty shopping cart.", says Syed Zaidi, Co-founder.
"The House of Zara Hayaat is one of the most premium quality luxury brand." Says Ms. Saba, Creative Director at the Fashion Station.
Zara Hayaat is coming up with its latest premium organic cotton collection for this summer and Winter 2020 wardrobe. Inspired by the blossom blush of this season and its color hue. A complete range, for all occasions. Intricate self-jacquard is crafted aesthetically by a layer of fancy embroidery and embellishment. Appealing use of gold and silver zari, added an attractive sense of design.
Adorned on the premium organza canvas. Trims accessories every garment. Ornamentation of attractive lace, fancy handmade tassels, glass crystal, fancy pearl, and shining sequin energize and emphasize this collection. Love wearing your designer as we loved creating them.
Every product you buy from this collection – you will receive in Box Packing – all tassels included.
The Fashion Station will also be launching the new Winter Velvet Collection for Winters and Upcoming Wedding Season. Each salwar kameez is crafted using pure velvet and not synthetic velvet, having 10 designs this each suit is unique in itself – and first time, customers will see a design using White Velvet.
Their upcoming collections will be available at pocket friendly price on https://www.thefashionstation.in/
Regarding the Fashion Station, we want to tell our readers that the Fashion Station is the one-stop destination to shop for Original and Branded designer Salwar Suits from Global leading brands, specially – Lawn Dresses – Lawn is a form of the purest form of cotton – perfect for summers. The customers get Cash on Delivery, Free Shipping, and offer easy returns.
With tremendous passion and a strong business sense, in just a few years The Fashion Station has transformed what started out in 2005 as a startup online shop into India's leading online fashion destination for Indian and Pakistani Suits. Today, The Fashion Station has more than 50,000 satisfied customers from all over the world.
"We plan to build the infrastructure that brings together a variety of designer and brands in the growing market for fashion, and therefore create a whole new ecosystem that connects customers, brands and partners." Says Ms. Saba.
"This is all made possible thanks to our strong expertise in the fields of fashion, technology, and convenience, which allows us to offer our customers an unlimited range and convenient services designed to suit their requirements. This is how we reimagine fashion." Says Ms. Saba.
The Indian and Pakistani Suit fashion market is one of the largest and most attractive global consumer markets. The industry is experiencing radical change thanks to digitization. New technologies connect all participants in the fashion ecosystem – customers, brands, retailers, manufacturers, stylists, content providers such as influencers, logistics companies, or service providers – and open new channels for consuming, producing, and doing business. The team at The Fashion Station sees major potential for growth in this market and their association with Zara Hayaat will help them provide the best in fashion when it comes to Indian and Pakistani Suits.