Ziqitza Healthcare has served over 1.09 Lac COVID-19 patient transfers
Sep 11, 2020 08:02 PM IST
It was unprecedented for everyone when COVID -19 pandemic hit countries, business and people irrespective of class, income and boundaries.
Ziqitza Healthcare Ltd. one of Asia's largest EMS service provider companies, today shares the data on "How EMS service has tackled the pandemic situation across India"? The information is gathered through its operations in Madhya Pradesh, Odisha, Punjab and Jharkand with 3000 ambulances on ground and more than 9000 EMS healthcare workers on the frontline fighting the war against COVID 19. The company is working in partnership with the state government and supporting relentlessly in handling this critical situation.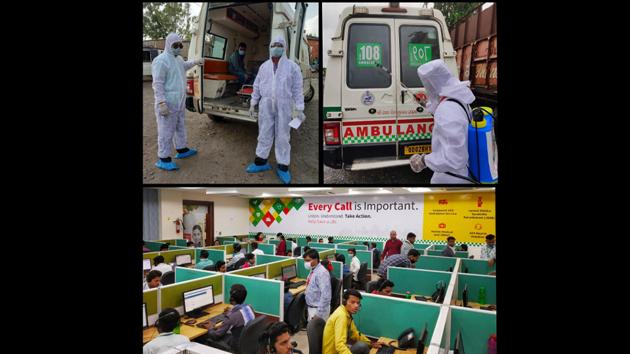 It was unprecedented for everyone when COVID -19 pandemic hit countries, business and people irrespective of class, income and boundaries. For businesses being shut down for over 100 days, people deprived of livelihood and still no clarity on the future with stringent lockdown guidelines to be followed for people safety. Ziqitza being an emergency ambulance service provider (EMS) not only had to ensure the services are delivered but to scale up to manage additional responsibilities shared by respective state governments in Punjab, Madhya Pradesh ,Jharkand and Odisha.
Stay tuned with breaking news on HT Channel on Facebook.
Join Now
At Ziqitza, we are at the forefront of the COVID-19 response in partnership with the various state governments and corporations. The priority was to ensure that our services which are so critical are not hampered at all, as this is the first point of call, for any person who wanted to know about pandemic or looking for transfer to the hospitals for treatment from COVID -19. Along with fighting against the pandemic, we had to ensure our service is available across the 4 states in fully functional manner for transfer of patients to hospitals for any other medical treatments or pregnant women for delivery or new born vaccination as no other public transport or private transport / conveyance are being provided.
One of the most important part of these frontline healthcare workers are the AMBULANCE CREW who are the first to respond to patients transfer affected by COVID -19 to transfer them for testing or stabilizing them on board or during transfers to isolation wards designated by the state governments in India. Ziqitza ambulance crew members and helpline staff worked round the clock to transfer over 1.09 lac COVID-19 patients and attend over 1 million queries at our medical helpline.
Ziqitza Healthcare, which presently operates the helplines 104 / 108 that support the COVID handling, had to scale up their operations and base as per the guidelines and advice from the health ministry, in a short period in hand to manage 10x of calls inflow a day. Which meant, increasing the manpower at the call centers, engaging more paramedics and EMTs on the ground, having a dedicated fleet of highly advanced and equipped ambulances for COVID patients, scaling up the technical support, training of healthcare workers on COVID handling, etc. While doing this they also ensured staff safety at the workplace ensured sitting arrangements were done with social distancing norms, fumigation of office at frequent intervals, or providing buses for their transfers or making food and stay arrangements. This was done along with efficient management of shift timings that are managed from 12hrs to 24hrs to cater to heavy call inflows.
104 Helpline was also instrumental in directing the calls for transfers of COVID-19 suspected/confirmed patients to 108 Helpline in Madhya Pradesh. The Helpline further ensured that the call is sent to the ambulance deputed to transfer COVID suspected /confirmed cases. Since its declaration as the national helpline on COVID, the MP and Odisha centres have witnessed a sudden in the inflow of the calls from 2000 per day to approximately 20,000 - 22,000 calls a day; the mix includes both general health inquiries and COVID-19 specific calls. Wherein fear and anxiety caught everyone's mind, the 104 Helpline in last 30 days has received varied nature of calls asking about COVID, symptoms, precautions, treatment, first line of actions required, hospitals handling COVID, tests to be conducted, self-isolation etc.
Ziqitza Healthcare Ltd is diligently looking into every call and transfer, related to COVID 19 with utmost care as per the protocols received by the Government. Their team comprising of Paramedic and the Driver follow all caution to ensure the well-being of our staff to avoid any cross infection to the patient or their family.
Every query of a caller is addressed to deliver the right information and understand the possibility of a suspect
After understanding the situation of the caller, accordingly, the call center dispatches either (with ventilators, BLS (without ventilators), or other registered ambulances.
The EMT always ensures the availability and provision of an adequate triple-layered mask, PPE, and gloves for patients and attendants.
If a patient is being transported on a ventilator to a higher center, the frontline workers follow ventilator management protocols under the guidance of trained or assisted by a doctor well versed in ventilator management
With the primus objective to serve the state and its people in such trial times, EMS as a unit has been extremely efficient and effective in handling the pandemic alongside the other healthcare entities such as doctors, nurses, caregivers, and hospitals.
Elaborating on this note, Naresh Jain – CEO,Ziqitza Healthcare Ltd, said, "looking at the current situation in the healthcare industry, which is working persistently towards controlling the effects of the pandemic, EMS has mounted as one of the most important elements in the healthcare sector. Our efforts have been to implement all safety norms both at a call center or ambulance is being followed as staff safety is our key priority while dealing with the pandemic. Also, like to add that their contribution has proven that Nation comes first and we are all in it together. We are also thankful to the state governments who have given us this opportunity to serve people during testing times like COVID-19".
The work done by Ziqitza Healthcare Ltd (ZHL) resulted in a prestigious award win- 4th CSR Health Impact Awards 2020 under the Social Impact Category for the contribution during COVID.
About Ziqitza Healthcare Limited:
Ziqitza had been set up with a vision to assist in saving human lives by providing a leading network of fully equipped Advanced and Basic Life Support Ambulances across the developing world. Ziqitza is currently operating Ambulances, Medical Helplines, Mobile Medical units and Corporate Wellness Solutions across Mumbai, Bihar, Kerala, West Bengal, Gujrat, Rajasthan, Karnataka, Punjab and Odisha, MP and Jharkhand. Ziqitza Limited has currently more than 10,000 people working tirelessly, day and night, to serve people in India. Ziqitza is currently operating more than 3300 ambulances across 16 states and has served more than 25 million people till date. Ziqitza Rajasthan thanks the municipalities for upholding the standards of cleanliness even in a pandemic.
Disclaimer: This is a company press release. No HT journalist was involved in the creation of this content.